Consolidating a Culture of Peace in Africa: A Contribution to International Peace and Security
The Honorable Blaise Compaoré, President of Burkina Faso, will give an in-depth look at the current security situation on the continent and will discuss the future challenges to peace in West Africa.
Overview
"For years, Africa has received too little attention" and the U.S. has underestimated al-Qaeda's influence in North Africa, noted Jane Harman, President, Director, and CEO of the Wilson Center. She went on to praise President Compaoré's dedication to peace in West Africa. President Blaise Compaoré highlighted the diversity that exists in Africa and stated that to reduce and manage conflict on the continent, dialogue between people and governments must take place before it has the opportunity to arise. Compaoré emphasized the need for compromise in all sectors of society. In particular, the President cited the need for young people to be trained in mediation and conflict resolution.
President Compaoré said that the West is interested in Africa as internal conflicts spill across porous borders. On this part, there is a great deal of interest in security and the potential proliferation of weapons of mass destruction (WMDs). Burkina Faso, Niger, and other regional actors are also concerned with security in the Sahel holding their citizens' interests and well-being in mind. "We understand that on the question of chemical weapons, the U.S. is at the forefront [of the fight] and indeed has a historical responsibility that is [larger] than Burkina Faso. So, we should [join] our efforts and lead those fights in this historical period and we want to be firm, courageous, and determined together."
Africa and the Diaspora
President Compaoré praised African diaspora communities' "consciousness and awareness [of the importance of participating] in the reconstruction of the continent." He said that the energy and passion that these communities possess is inspiring. The President encouraged the diaspora to organize itself in order to better affect health and education, and democratize their societies. "For Africans, participating in their own destiny is a very important dimension. It echoes the political problems we are seeing today and the problems we are trying to solve. Dialogue should come first... [From a lack of dialogue] comes a lack of trust and then we cannot build anything."
Gaddafi's Downfall
Gaddafi's death adversely impacted the security of the region, as evidenced by the influx of Libyan weapons, being used in the Malian conflict. Gaddafi's heavy hand at the helm had contained much of the ethnic conflict within Libya's borders. However, in the wake of his overthrow, insecurity has reigned, thereby destabilizing many of the neighboring countries. President Compaoré recalled during a state visit to Libya in 2006, the Libyan autocrat had a great deal to say regarding U.S. imperialism.  In hindsight, President Compaoré charged that the problem was not U.S. imperialism that would be his downfall, but rather that Gaddafi's own people who would ultimately rise up against him.
Burkina Faso's Energy Security
"In spite of the limitations of our economy, on most fronts Burkina is moving forward. By 2014 or 2015, we hope for [10% growth]." The country experienced a 13% growth in energy consumption in the first quarter of 2013 alone. Chinese firms have constructed a ten megawatt solar energy plant, which is expected help cope with the newfound demand for power. While there is currently 60% energy coverage nationwide, Burkina Faso has signed a contract with a Canadian firm to construct another ten megawatt plant and talks with Americans concerning similar plans will soon begin.
Cooperation and Mediation in West Africa
When asked about his role as a mediator in some West African conflicts, President Compaoré said "Mediation is not a place we are satisfied. It is a place of tensions and we need to be perseverant." He cited the 50,000 refugees still in Burkina Faso who fled from the conflict in Mali as one area for improvement. Because high refugee populations lead to greater risk of instability and because of this, Mauritania, Niger, and Algeria also work to help the Malian people for their own security interests. Government overthrows, dissolutions of parliaments, and other manifestations of poor governance can all lead to conflict. For these reasons, dialogue and cooperation between leaders in different countries is needed to keep the region stable.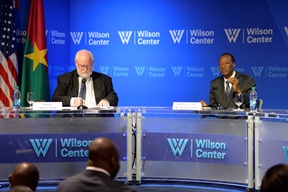 The Economic Community of West African States (ECOWAS) should continue to deepen its integration initiative. "If all the colonies in the early United States had remained [separate], we would never have this country. They understood that they needed to speak to one another to start this federation.  For us, an African federation has been talked about for decades now and we want to step up this integration." Varying tariffs across regional borders lead to outside market interests and interference. Integration and a strong ECOWAS are key if West Africa is to continue to develop. President Compaoré emphasized the importance of African organization and the implementation of reforms that boost economic productivity and alleviate unnecessary bureaucracy. According to the President, with regard to business ventures and foreign direct investment plans, an integrated ECOWAS would be more formidable than any single African state.
Conclusions
Burkina Faso's push for greater cooperation in West Africa will be essential in the coming years, especially as it pertains to peace and security. Dialogue between these countries should remain open, as each is intimately intertwined with others in various respects. The region's troubles surround security, development, energy, trade and investment, and with the assistance and understanding of its neighbors, Burkina Faso may continue to progress.
---
Hosted By
Africa Program
The Africa Program works to address the most critical issues facing Africa and U.S.-Africa relations, build mutually beneficial U.S.-Africa relations, and enhance knowledge and understanding about Africa in the United States. The Program achieves its mission through in-depth research and analyses, including our Africa Up Close blog, public discussion, working groups, and briefings that bring together policymakers, practitioners, and subject matter experts to analyze and offer practical options for tackling key challenges in Africa and in U.S.-Africa relations.   Read more