Hindsight Up Front | View From the Senate on the Russia-Ukraine Crisis
Overview
As the crisis between Russia and Ukraine enters a more dangerous phase, the stability of Eastern Europe may again be in danger. As a member of NATO with deep interests in the fate of Europe and significant concerns about Russia's intentions, these developments have profound consequences for the interests of the United States.
Wilson Center CEO and President Amb. Mark Green will lead a discussion with Senators Jeanne Shaheen (D-NH) and Roger Wicker (R-MS) about the crisis between Russia and Ukraine, how the Senate is looking to shape the U.S. response, and what they saw and heard during their recent congressional visit to Ukraine. They will also discuss the possibility for the imposition of new and tougher sanctions on Russia that could target Putin personally while having a major impact on Russia's economy as well as the profound uncertainties facing American policymakers, such as:
How effective should we expect the threat of sanctions to be in dissuading Russia from attacking Ukraine?
Will our European allies – who have greater trade and economic ties with Russia than the United States – agree to implement such a harsh sanctions program?
How can the United States buttress deterrence in Eastern Europe, and what are the implications for U.S. priorities in other parts of the world? 
Key Takeaways
Senator Shaheen notes that it is unclear if Putin will decide to invade Ukraine and stresses the importance of presenting a united front as a deterrent. Possible legislation, including appropriations and sanctions, would provide support to the Ukrainian people and send a message to Russia that the cost of invading is high.
Putin has relied on staged attacks to justify past military aggressions, and Senator Wicker suggests that he may use the same tactic as a pretext for an invasion of Ukraine. Senator Wicker states that the people of Ukraine should have the freedom to make their own decisions, hold democratic elections, and "chart their own course."
Both Senator Wicker and Senator Shaheen stress the importance of bipartisan cooperation and support for Ukraine. There is still time for deterrence.
Selected Quotes
Senator Jeanne Shaheen
"What's particularly ironic is that while he (Putin) is complaining about the threat to Russia from NATO and from Ukraine and from the West, the fact is that it's his actions that are uniting NATO in ways that it hasn't been united in a very long time. The real threat is coming from Russia, so I look forward to this discussion and we will continue to try and do everything we can in Congress to also provide deterrence to what Putin is doing. There are a number of pieces of legislation that I think help to do that."
"It's important to point out that we expect to see a bill out of the Foreign Relations Committee that's being negotiated by the chair and ranking member, that will address many of the issues that we have heard from the Ukrainians that they're concerned about—sanctions, weapons, and support—looking at what we can do to address some of the most urgent needs."
"It's important for us to continue to make as clear as possible what the costs are going to be for Putin, for his oligarch friends, for the economy of Russia, and ultimately for the people. I remember when Russia went in and seized Crimea and went into the Eastern part of Ukraine, and there were a number of news reports that Putin was trying to suppress the stories about the Russian troops who were going home in body bags because there was discontent in Russia about what was happening there."
Senator Roger Wicker
"They want to be in charge of their destiny and our international rules-based system of agreements ratifies that. If Ukraine wants to look westward rather than back toward what used to be the USSR, that's the right of the Ukrainian people to do that under an agreed upon international rule."
"If you're interested in a free Poland, then you're interested in what happens between Russia and Ukraine today; if you're interested in a free Pacific and a Taiwan that gets to make their own decisions, and have their own elections, and chart their own course—then you're interested in what happens this month in Ukraine."
"For someone in that country to be able to speak truth to power, I worry that there's no one that Vladimir Putin is willing to listen to; that there's no one willing to give him a contrary scenario of what a disaster this might be for him."
This event is part of the Wilson Center's Hindsight Up Front | Ukraine initiative.
Speakers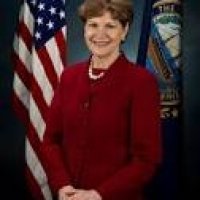 Senator Jeanne Shaheen
United States Senator from New Hampshire
Senator Roger Wicker
United States Senator from Mississippi
---
Hosted By
Kennan Institute
The Kennan Institute is the premier U.S. center for advanced research on Russia and Eurasia and the oldest and largest regional program at the Woodrow Wilson International Center for Scholars. The Kennan Institute is committed to improving American understanding of Russia, Ukraine, Central Asia, the Caucasus, and the surrounding region though research and exchange. Read more