Moldova Needs More From Europe Than a Symbolic Summit
On June 1st, the second summit of the European Political Community (EPC) will take place in Chisinau. The decision to hold this gathering of 47 heads of state and government in Moldova is an important signal of the country's advancement toward European integration—a goal which has only become more urgent in the context of Russia's war against Ukraine. Yet persistent Russian influence operations in Moldova have made clear that this progress can be fragile and that Moldova's path to European Union (EU) membership is far from inevitable. While symbolic expressions of commitment to Moldova's European vocation such as the EPC summit are valuable, ultimately only Moldova's accession to the European Union can guarantee its freedom from Moscow's attempts to reclaim its empire.
Symbolism Without Substance
Originally proposed by French President Emmanuel Macron in May 2022, the EPC's primary function is to promote dialogue among countries across the European continent. By excluding Russia and its increasingly vassalized neighbor Belarus, the club also provides its members with a sense of shared geopolitical alignment, which is especially important for countries such as Moldova and Ukraine that have struggled to break free from Moscow's influence since gaining independence. Nonetheless, the lack of meaningful deliverables from the inaugural EPC summit in Prague last October illustrated the format's limitations. It seems unlikely that the Chisinau summit will produce much for its host beyond another perfunctory "family photo" and the usual statements about Moldova's future being in Europe rather than part of the Russian sphere of influence. 
Only deep, institutionalized linkages will firmly anchor Moldova in Europe. Unfortunately, the EPC cannot offer anything approaching the concrete benefits of EU membership, such as the single market, security guarantees under Article 42(7), or free movement of people. Under the leadership of Prime Minister Maia Sandu, Moldova has made clear that it sees its future in the European Union, formally applying for membership in March 2022. Chisinau has simultaneously attempted to distance itself from Moscow, for instance by withdrawing from a number of key agreements with the Russian-led Commonwealth of Independent States. While the decision to grant Moldova (along with Ukraine) candidate status last June was a major signal of EU member states' rhetorical aspiration to integrate the country, the depth and sustainability of their determination to do so is an open question. After all, countries in the Western Balkans have languished in the EU's waiting room for two decades after originally being promised integration with the bloc, owing in large part to member states' "enlargement fatigue." This drawn-out process has fostered disillusionment and provided Russia with ample opportunity to engage in malign hybrid operations, further undermining and delaying Western Balkan countries' EU accession. 
Russia's Enduring Grip
Moldova, however, cannot afford anything less than full commitment from Brussels. Vladimir Putin has worked relentlessly to return the Russian empire to its former glory by consolidating Moscow's influence in post-Soviet Eastern Europe. After essentially eradicating Belarusian sovereignty and starting a war against Ukraine out of fears that it wished to align with the EU, Putin will do all he can to keep Moldova and its 2.6 million citizens under Russia's thumb. In just the past year, Moscow has cut gas deliveries to Moldova, targeted it with cyberattacks, flooded various media with disinformation, and provided payment and training for covert operatives to organize violent protests aimed at toppling Sandu's pro-Western government. Moscow's influence campaigns have been particularly pervasive in the two traditionally pro-Russian autonomous regions of Gagauzia, where the Kremlin targeted elections this past April, and Transnistria, where local authorities—likely under the direction of Moscow—have made unsubstantiated claims of a Ukraine-backed assassination attempt on the region's leader. 
These Russian hybrid tactics, rather than the direct military threat that some feared last year, constitute the primary security challenge to Moldova moving forward, particularly given Russia's military failures and heavy personnel losses in Ukraine. Moscow is entirely capable of causing difficulties in Moldova without waging kinetic warfare. Skyrocketing inflation exacerbated by Russia's weaponization of energy is accelerating an erosion of support for the government, which led Moldova's Prime Minister to resign this past February. While the massive pro-EU rally in Chisinau last week strikingly illustrated popular support for EU membership, recent polling nonetheless indicates that the majority of Moldovans who are in favor of joining the Union must contend with strong opposition from a third of the population, despite Moscow's self-inflicted reputational hit caused by its invasion of Ukraine. The anti-EU segment of society will continue to offer a useful springboard for Russia's destabilization efforts. As illustrated by a recently leaked document outlining the Kremlin's strategy to make Moldova a satellite state by 2030, Russia is committed for the long-haul to keeping Chisinau in its orbit. In this context, it is crucial to anticipate possible future Russian influence operations in the country, especially in advance of potentially pivotal elections for Moldova's president in 2024 and its parliament in 2025.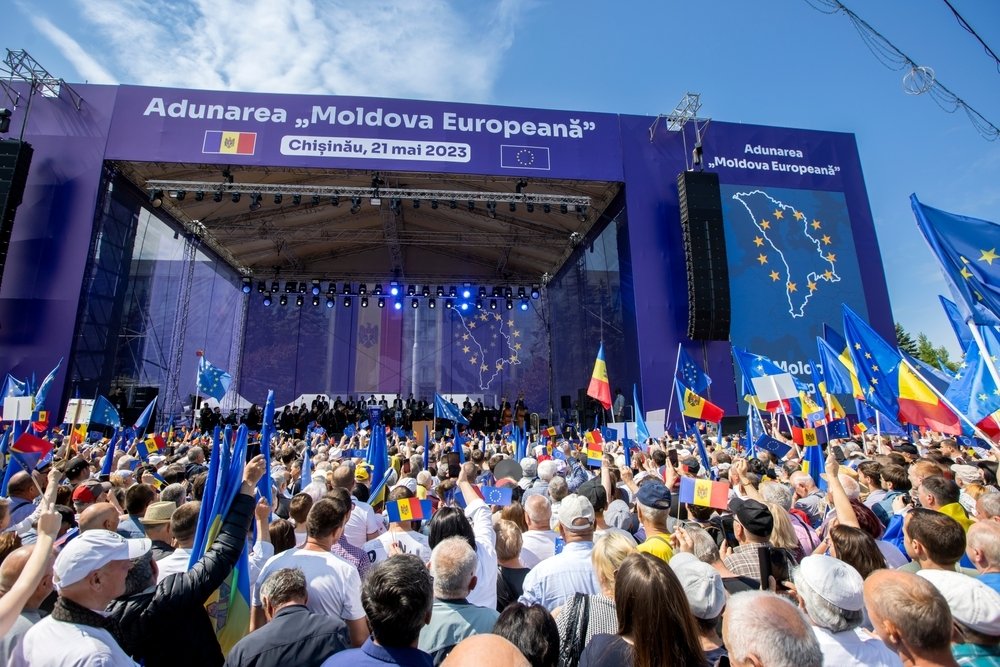 A Strategy for Moldova's EU Accession 
The EU must match Russia's long-term commitment to subverting Moldova's politics with its own long-term strategy for supporting the country's path toward full membership in the bloc. If Moldova's accession process does not steadily and meaningfully advance in the years to come, there is a real risk of Russia succeeding at reversing its fragile progress toward integration. Such a scenario would represent a shameful failure by the EU to learn from its mistakes with Ukraine—while the Ukrainian people have fought valiantly to drive out Russia's forces, the war nonetheless tacitly demonstrates Brussels' inadequate response to their desire for Western integration. The EU cannot miss another opportunity to provide forward-leaning support for a post-Soviet country that has expressed its ambitions to join its ranks. 
This strategy should rest on two pillars. First, it is crucial to provide a credible roadmap for Moldova's progressive integration into the bloc that will ensure it does not remain in a perpetual waiting room for membership. While the apparent renewed momentum towards enlargement is encouraging, simply rehashing the same process used in previous enlargements is insufficient. Given legitimate concerns about both Chisinau's readiness to meet the Copenhagen criteria—especially its urgent need for judicial reform—as well as further enlargement's potential impact on the institutional feasibility of an unreformed EU, the wisest course of action is to outline a plan for Moldova's staged accession to the Union with a clear timeline and realistic goals. The detailed template for staged accession produced by researchers at the Center for European Policy Studies and the European Policy Centre, while originally conceptualized in the Western Balkans context, offers an excellent starting point. Broadly, the idea must be to find piecemeal ways to gradually increase Moldova's participation in political, economic, and security structures in the years to come, eliminating the sharp binary distinction between EU candidacy and membership. While a fast track to accession does not and should not exist, there is no reason that Moldova must wait to reap all of the rewards of membership at once. At the same time, the EPC can serve as a valuable platform for increasing dialogue and further harmonizing strategic objectives.
Second, the EU will need to help Moldova to increase resilience against inevitable continued Russian aggression as it makes strides toward progressive integration. Brussels has already taken some encouraging steps on this front over the past year, for instance by establishing a civilian advisory mission designed to help Chisinau counter Russian hybrid threats, sanctioning key oligarchs and politicians implicated in Russia's destabilizing efforts in Moldova, and providing the country with significant sums of both financial and military aid. Nevertheless, there remain numerous ways to increase support. Given Moldova's preexisting low living standards and likely continued economic hardship as the war continues, Brussels should explore options for permanently increasing its financial support to Chisinau, for instance through reallocation of the Multiannual Financial Framework and the Instrument for Pre-Accession Assistance. The war has also opened up a unique opportunity for the EU to leverage its economic influence over Transnistria, which sold 58.6% of its total exports to the bloc in 2022 as it lost direct land and air access to Russia. Brussels should make use of this dependence to pull the errant separatist region towards Europe by helping Chisinau to pressure Transnistria to implement measures such as banning Russian news broadcasts and reducing Russia's forces in the region.  
No Time to Waste 
Demonstrating the concrete benefits of closer relations with the European Union will encourage Moldova on its path toward fulfilling the European Commission's nine criteria for beginning accession negotiations by helping to mitigate any potential domestic pushback against reforms. Given the stated desire from both the Sandu government and the European Parliament to open these negotiations by the end of the year, Brussels should waste no time in devising and implementing its approach. Achieving the unanimity needed to move forward with Moldova's accession will require member states to feel confident in their own readiness to successfully integrate the country as well as Moldova's future stability against Russian influence operations—highlighting the necessity of both pillars of the strategy outlined above. Given Brussels' likely preoccupation in 2024 with the European Parliament elections and the subsequent selections of the new European Commission and European Council presidents, it is especially urgent to move forward with important decisions on enlargement this year.  
From Symbolism to Support
As host of the European Political Community summit this week, Moldova should steer discourse toward advancing the EU accession process. Promisingly, France's EU minister Laurence Boone mentioned ahead of the meeting that the EPC could be the "right forum" for discussing the EU's future enlargement, including potential changes such as moving to staged accession. This suggests an opportunity for the EPC to move beyond rhetoric and help the EU to craft a detailed strategy for advancing Moldova's integration while simultaneously reducing Russia's influence in the country, as outlined in the proposed two pillar approach. While Brussels was slow to acknowledge Ukraine's desire for a European future, the EU can and must do better for Moldova.
---
Global Europe Program
The Global Europe Program addresses vital issues affecting the European continent, US-European relations, and Europe's ties with the rest of the world. We investigate European approaches to critical global issues: digital transformation, climate, migration, global governance. We also examine Europe's relations with Russia and Eurasia, China and the Indo-Pacific, the Middle East and Africa. Our program activities cover a wide range of topics, from the role of NATO, the European Union and the OSCE to European energy security, trade disputes, challenges to democracy, and counter-terrorism. The Global Europe Program's staff, scholars-in-residence, and Global Fellows participate in seminars, policy study groups, and international conferences to provide analytical recommendations to policy makers and the media. Read more