The Month in U.S.-China Relations 中美关系一个月 (October 2016)
The Kissinger Institute has noted an uptick of government and media concern over China's purchase of assets in the American entertainment industry and its relationship with Hollywood more generally. Calls to limit Chinese acquisition of "soft power" assets are the preferred case of Americans who wish to expand the scope of SFIUS reviews and push for greater reciprocity in economic relations.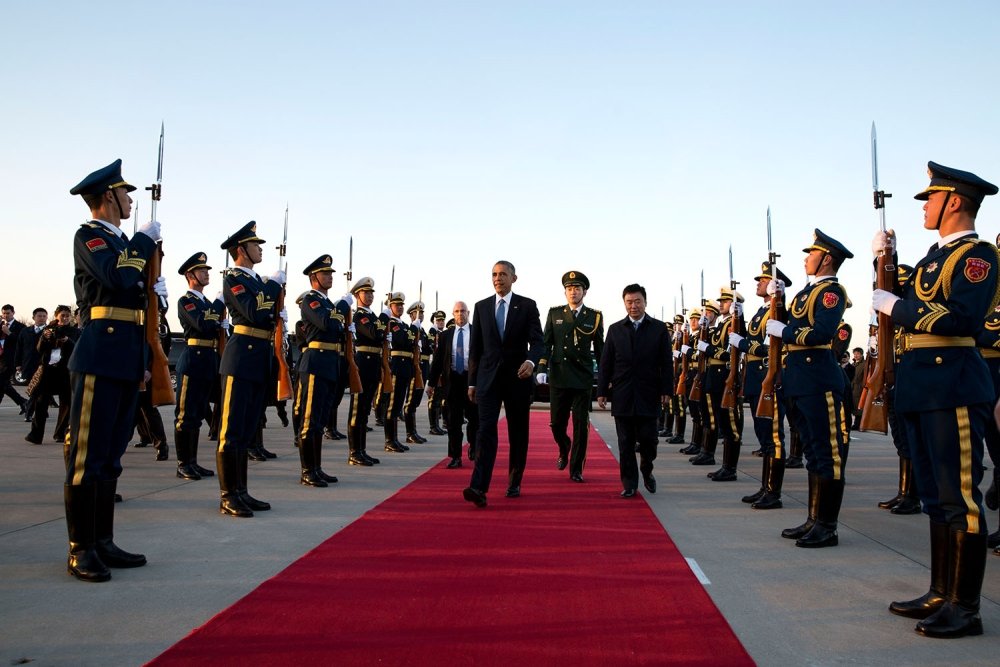 As America prepares to elect its next commander in chief, the Chinese Communist Party made it very clear who is in charge in China. At the Sixth Plenum of the 18th Party Congress last week, General Secretary Xi Jinping was given the title of "core leader." What this means in practice remains to be seen, but the new title strengthens Xi's power significantly ahead of the critical 19th party congress next year, where the next generation of CCP leaders may be anointed. October was also a good month for Xi diplomatically as well. Newly elected President of the Philippines, Rodrigo Duterte, visited Beijing and used the occasion to announce his nation's "separation" from the United States. This despite the fact that the Philippines and the United States are long-time allies and 92 percent of Filipinos have a favorable view of Americans.
Back in the United States, the Kissinger Institute has noted an uptick of government and media concern over China's purchase of assets in the American entertainment industry and its relationship with Hollywood more generally. Calls to limit Chinese acquisition of "soft power" assets are the preferred case of Americans who wish to expand the scope of CFIUS reviews and push for greater reciprocity in economic relations. We will be following this debate closely, and seeking to shape it through public programs and publications in the coming months.      
Sandy Pho
Senior Program Associate, Kissinger Institute
Major Issue Tracker
China as an Emerging Superpower
China's Yuan Joins Elite Club of IMF Reserve Currencies (October 3): China's yuan joined the International Monetary Fund's basket of reserve currencies on October 1st in a milestone for Beijing's campaign to win recognition as a global economic power…Read More>>
Chinese Astronauts Arrive at Tiangong 2 Space Station (October 18): China's Shenzhou 11 manned spacecraft successfully docked with China's Tiangong 2 space lab. While China's well-funded space program progresses, NASA is still forbidden to cooperate with its Chinese counterparts…Read More>>
What is the Chinese Communist Party's 'Sixth Plenum' and Why Does it Matter? (October 24): The Chinese Communist Party's Central Committee held the Sixth Plenum of the 18th Party Congress last month. According to the South China Morning Post, "those attending are expected to discuss stricter internal supervision of the organization." Related: A Looming Power Struggle for China?
China to Have World's Largest Nuclear Capacity in 15 Years (October 25): China is set to overtake the United States with the world's largest nuclear capacity over the next 10 to 15 years as it races to build new reactors to combat pollution, the World Nuclear Association (WNA) said last month…Read More>>
Border Security with North Korea (October 26): A senior Chinese diplomat visited North Korea last month where he discussed border security and infrastructure projects. This was the first trip to the Hermit Kingdom by a high-ranking Chinese official since February…Read More>>
China's Xi Anointed 'Core' Leader (October 27): China's Communist Party gave President Xi Jinping the title of "core" leader last month, putting him on par with past strongmen like Mao Zedong and Deng Xiaoping, but it signaled his power would not be absolute…Read More>>
U.S. Elections and Politics
Supporting China's Reformers and Dissidents (October 5): Wall Street Journal (subscription) opinion piece co-authored by Senator Marco Rubio and Representative Chris Smith, co-chairs of the Congressional-Executive Commission on China (CECC). The Commission released their annual report on human rights in China October 6th.
Asian American Groups Slam O'Reilly Segment on Chinatown (October 5): Asian American groups and reporters cried foul at Fox News correspondent Jesse Watters for a racist segment in which he visited Manhattan's Chinatown and mocked residents by using racial stereotypes…Read More>>
Familiarity and Contempt: Hillary Clinton's 21-year Relationship with China (October 12): Hilary Clinton's high-profile advocacy of human rights has riled leaders in Beijing. "Clinton is likely to be tougher towards China than her Republican rival Trump"…Read More>>
Trump's Muse on U.S. Trade with China (October 12): According to The New Yorker, should Donald Trump be elected President, Peter Navarro, author of "Death by China: Confronting the Dragon—A Global Call to Action," would likely become the single most powerful economic and China policy adviser in the United States.
In Leaked Comments, Clinton Mocks Chinese Claims in the South China Sea (October 13): WikiLeaks excerpts have Democratic presidential candidate, Secretary Hilary Clinton saying that Chinese have a right to assert themselves but Washington needs to push back and that if Beijing can claim the South China Sea based on pottery shards, America can claim the pacific based on WWII…Read More>>
The U.S. Rebalance to Asia
TPP Failure Would Harm America's Role as the World Leader (October 12): Ohio governor John Kasich argued in the Washington Post that "Not only will the TPP promote peace and stability in the Asia-Pacific region, but it will also help maintain the United States' essential strength in that hemisphere at a time of increased Chinese and Russian assertiveness.
The Rebalance and Asia-Pacific Security (October 18): Foreign Affairs (subscription) article authored by U.S. Secretary of Defense Ashton Carter on the importance of the rebalance. "Five years on, as the Defense Department operationalizes the latest phase of the rebalance, it is important to review the progress we have made as the United States works to ensure that the Asia-Pacific remains a region where everyone can rise and prosper."
Kerry Confident of U.S.-Philippines Ties (October 25): U.S. Secretary of State John Kerry is confident after speaking to his Philippine counterpart that the two countries can "work through" a period of confusion caused by anti-American rhetoric from President Rodrigo Duterte…Read More>>
U.S. Envoy: China Will Be 'More And More In Our Future' (October 28): U.S. Ambassador to China Max Baucus tells NPR he remains sanguine that confrontation can be averted "so long as we're very constructive and show China that, hey, we want to work with you, but we're not going to let you push us around."
Deputy Secretary of State in Beijing (October 29): Remarks made by Deputy Secretary Anthony Blinken, who visited Beijing for the third interim Strategic Security Dialogue…Read More>>
Southeast Asia and the South China Sea
China's Coercive Diplomacy towards Singapore (October 6): What are we to make of the recent diplomatic dispute between Singapore's ambassador to China and the Global Times? In this Straits Times article, a Chinese academic, Dr. Feng Zhang, says the issue points to Beijing's pent-up frustration with Singapore. Related: Amid Tensions with China, Singapore is Ramping up its Military Training Facilities in Australia; Singapore, Australia Sign Comprehensive Strategic Partnership Agreements.
Xi Visits Loyal Friend Cambodia (October 13): As reported in Reuters, Chinese President Xi Jinping arrived in Cambodia for a two-day visit, praising ties that have seen Cambodia side with Beijing on the South China Sea amid the signing of dozens of economic agreements. Related: For China, 'Cambodia Is a Sideshow, But It's a Loyal One'.
'Filipino Mike Pence' Walks Back Duterte's Break with U.S. (October 21): The White House said that President Duterte's announced "separation" from the U.S. was "offensive," as Duterte doubled down on promises to turn away from Washington…Read More>>
Beijing Pushed the Philippines too Far on the South China Sea (October 27): According to Quartz, Philippine President Rodrigo Duterte's talks with his Chinese counterparts concerning fishing rights in the Scarborough Shoal came to naught and he left Beijing without an agreement. In spite of this, according to CNN, China has allowed Philippine fishermen access to disputed shoal in South China Sea.
Malaysia's Najib Razak in China (October 31): Malaysian Prime Minister Najib Razak is in China this week (October 31-November 6) for a state visit that could further skew Southeast Asian geopolitics in Beijing's favor, a week after Philippine leader Rodrigo Duterte initiated a similar shift…Read More>>
Military
San Diego to South China Sea: U.S. Navy Tested New Command in Latest Challenge to China (October 25): In the first freedom of navigation operation conducted without the Japan-based Seventh Fleet in command, a U.S. Navy Destroyer sailed near Chinese-claimed islands in the South China Sea last month. The cruise was a test of the Navy's ability to conduct maritime operations on two fronts in Asia at the same time, sources told Reuters.
U.S., China Plan Joint Military Drills (October 28): China and the U.S. will hold joint military drills between November 13-18, officials from both countries announced last month…Read More>>
Internet, Technology, and Surveillance
China's Internet Censors Target Live Comments (October 13): Internet security authorities in Shanghai said last month they would step up oversight of content published on video streaming sites, including live comments from viewers, which are known as danmu – meaning "barrage" or "bullet screen"…Read More>>
China's Twitter Is Doing Just Fine as Stock Soars 171% (October 13): While Twitter has slumped more than 20 percent this year, Weibo's shares have almost tripled as the company's unrivaled dominance in the Chinese market (due to a ban on most other social networks) bolsters it sales outlook…Read More>>
China Eclipses the U.S. in AI Research (October 13): The Obama Administration released a new strategic plan aimed at spurring U.S. leadership in artificial intelligence last month. According to the Washington Post, China has effectively eclipsed the U.S. in terms of the number of papers published annually on deep-learning research. 
China's Xiongmai Recalls Webcams after Cyber Attack (October 25): According to the Financial Times (subscription), Chinese electronics manufacturer Xiongmai is recalling some older versions of its webcams sold in the United States after they were linked to the "botnet" attack that disrupted internet services from Twitter to the New York Times last month. The Guardian also reported on this story.
Media and Soft Power
Next U.S. President Urged to Curb Chinese Investment in U.S. Media (October 6): As reported by the Financial Times (subscription), the Congressional-Executive Commission urged the next U.S. president (in its annual report) to put curbs on Chinese investment in American entertainment, internet, and media assets in response to trade barriers in the world's second-largest economy. Related: Congressman Worries: Politically Oppressive China Buys Hollywood; Why DC Started Caring About Dalian Wanda Group and China in Hollywood.
Protesters Claim Performance Celebrates Chinese Communism (October 8):  Protestors in San Gabriel, California claim that an event held at a local playhouse celebrates Mao Zedong and the victory of the Chinese Communist Party…Read More>>
Jack Ma, Spielberg Strike Deal to Bring Hollywood to China (October 9): Jack Ma, China's richest man, and the highest-grossing Hollywood auteur of all time, Steven Spielberg, will work together to produce films for the world's second-largest movie market…Read More>>
Omission of Tibet in 'Doctor Strange' Pays Off With November China Release (October 10): Marvel's decision to cast British actress Tilda Swinton as "the Ancient One" (originally a male Tibetan character) in the upcoming blockbuster Doctor Strange looks set to pay off. The film secured a November 4 release in China, simultaneous with its American debut…Read More>>
Netflix May Be the Latest Tech Giant to Stall in China (October 10): Netflix CEO Reed Hastings told the New Yorker last month that his company has yet to work with China. Based on Chinese regulators' attitudes toward working with iTunes and Disney, Hastings doesn't expect a relationship to develop…Read More>>
Musicians Meld Traditions of Two Continents (October 11): According to the Wall Street Journal (subscription), Grammy award-winning banjo player Abigail Washburn and master guzheng virtuoso Wu Fei have teamed up to showcase an innovative approach to cross-cultural exchange. Check out Wu's website for more information and video of their music.
Chinese Billionaire Wang Jianlin Descends on Hollywood (October 17): According to the Los Angeles Times, Wang Jianlin, Chairman of China's Dalian Wanda Group, unveiled plans last month to offer a 40 percent production rebate for foreign and local movies and TV shows shot at his new "move metropolis" in the city of Qingdao. Related: Chinese Hits Unknown in the West
Education and Academic Relations
300,000 Chinese Students in U.S. Colleges Learn About American Life (October 7): In this Foreign Policy (subscription) podcast, David Wertime and Bethany Allen-Ebrahimian talk to young Chinese about how studying stateside has changed their views of the U.S. and China.
Chinese Company Buys Access to Admissions Officers at Top U.S. Colleges (October 14): According to Reuters, a major Chinese education company has paid thousands of dollars in perks or cash to admissions officers at top U.S. universities to help students apply to American schools.
In New Hampshire, a Chinese School from Scratch (October 25): Busche Academy, a Chinese private school, bought an empty college campus 50 miles north of Boston in 2015. The school hopes to enroll as many as 300 Chinese students starting in 2017… Read More>>
Trade and Economic Relations
Chinese Students and Seattle's Real Estate Crisis (October 3): A new tax on foreign buyers in British Columbia and devaluation of the yuan has wealthy Chinese flocking to the Puget Sound housing market, making Seattle the number one U.S. market for Chinese buyers…Read More>>
How a Trump or Clinton Presidency Could Hurt China's Economy (October 7): Whoever wins the presidential election next week, the next inhabitant of the White House is likely to take a more hawkish view of the world's second largest economy, analysts believe…Read More>>
Trump's China Rants Ten Years Out of Date (October 9): Donald Trump has fired up his base with the accusation that China steals American jobs and manipulates its currency to stoke exports. According to Bloomberg, China is no longer the mercantile superpower that Trump claims.
California Benefits  From Trade with China (October 24): There are winners and losers in any trade relationship. And while vast swaths of the Midwest and Southeast may qualify as victims, several sectors in California have reaped the spoils of trade with China…Read More>>
If You Read/Watched Nothing Else in October…
The fine writing and film/videography on U.S.-China relations published each month far exceeds the assimilating capacity of any institution.  It would be ridiculous to feature "the best" efforts of the past 30 days, but KICUS would like to highlight the following work nonetheless:
Blog
Is the Growing Pessimism About China Warranted? (ChinaFile Conversation, Asia Society, October 6)
Op-Ed
Hollywood's Dangerous Obsession with China (Robert Daly, LA Times, October 7)
The Price Tag of China's Threats (Richard McGregor, Nikkei Asian Review, October 13)
Essays
China and South Korea's Path to Consensus on THAAD (Tong Zhao, Carnegie-Tsinghua Center for Global Policy, October 13).
The Ambiguous Benefit of Meetings in China (Scott Kennedy, CSIS, October 14)
Singapore Reminds Us When Might is Not Right (Joseph Chinyong Liow, Nikkei Asian Review, October 24)
Reports
A Framework for U.S. Policy toward China (Jeffrey A. Bader, Brookings Institution, October 10)
Creating a Stable Asia: An Agenda for a U.S.-China Balance of Power (Michael Swaine, Wenyang Deng, Aube Rey Lescure, Carnegie Endowment for International Peace, October 26)
Survey
Chinese Public Sees More Powerful Role in World, Names U.S. as Top Threat (Richard Wike and Bruce Stokes, Pew Research Center, October 5)
Video
2016 CHINA Town Hall with Dr. Henry Kissinger (The National Committee on U.S.-China Relations, October 18)
Thanks for reading and for your continued support of
The Kissinger Institute on China and the United States.