About the Wilson Center
Chartered by Congress, the Wilson Center provides nonpartisan counsel and insights on global affairs to policymakers through deep research, impartial analysis, and independent scholarship.
The Wilson Center brings fresh thinking and deep expertise to the most pressing policy challenges we face today. We convene scholars to create a global dialogue of ideas that Congress, the administration, and the international policy community can act on. In 2019, the Wilson Center was named the #1 regional studies think tank in the world.
Ambassador Mark A. Green
President & CEO, Wilson Center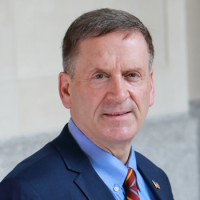 We really need to hold up the kind of independent research and scholarship that the Wilson Center is famous for. We need to harness it, we need to project it.
Vice President Mike Pence
Vice President of the United States, former Governor of Indiana, former member of the House of Representatives (IN-2nd, IN-6th)
It's an honor to be here at the Director's Forum with the members and friends of this well-respected institution, an institution of independent research, open dialogue, and actionable ideas – truly a bipartisan stalwart here in Washington.
U.S. Senator Lisa Murkowski
U.S. Senator for Alaska
"We appreciate all that you do to provide accurate and unbiased and truthful information to policymakers and to the public."
Anna Gawel
Managing Editor, The Washington Diplomat
"You have to give the Wilson Center credit for not short-changing its audience when it comes to covering hot-button topics in a single webcast."
Diversity, Equity, and Inclusion at the Wilson Center
The Diversity, Equity, and Inclusion (DE&I) Council supports the broader mission of the Wilson Center to be the nation's key non-partisan policy forum for tackling global issues through independent research and open dialogue to inform actionable ideas for Congress, the Administration, and the broader international policy community.
LEARN MORE
Support the independent research and open dialogue that leads to policies for a more secure, equitable, and prosperous world.
Support The Wilson Center