Big Tech in 2020: Former Candidate Positions
This page encapsulates candidates who qualified for the November 2019 Democratic Debate, but who have since suspended their candidacy.
Former Congressman Mark Sanford
On Privacy & On Preventing Disinformation
No known position.
On Political Advertising
Sanford previously co-sponsored a bill that would "limit the government's access to users' personal information."
On Competition
Sanford does not see the issues of data privacy and tech company competition/antitrust coming to a conclusion anytime soon… he was quoted as saying, "if you look at the whole, certainly the Judiciary Committee is piling on and they are joining [dozens of] other state attorney generals on this whole antitrust question… this stuff is slow-moving whether it is on the IBM front, the AT&T front." Sanford believes the user privacy issues are important but separate from the current antitrust investigations, claiming, "I think that in many cases, separate from the privacy question which is a very different question, it becomes very difficult and timely to prove," Sanford said. "So I would say, yeah, you hear a lot of saber-rattling right now but I suspect we see this as a very slow-moving movie."
Mayor Pete Buttigieg
On Privacy
Buttigieg is concerned about protecting citizens' "rights over their own data" and "fight[ing] big data discrimination." He told Axios: "There are a whole host of other issues... having to do with the ownership of data and deciding effectively when we're going to be the product. The Europeans have been much more serious than we have about policies about what it means to own data...what access we should be able to assert in order to find out what's been done with our data and who's been looking at it and why. And while the GDPR might not be the exact template that you would just copy and paste in the US, it's certainly the case that the US is behind."
On Preventing Disinformation
Buttigieg was quoted saying, social media firms [Facebook] have "a responsibility to pull false advertising and...to intervene when there is advertising that would contribute to voter suppression."
On Political Advertising
Buttigieg tweeted "Digital platforms should accept their responsibility for truth in advertising, or they shouldn't be in the business at all. If they run a political ad shown to be false, it should be removed -- just like a TV station would do. We must act to protect our democracy in the digital age."
On Competition
Buttigieg has called for more investigation before any decisions are taken. He told the New York Times: "There needs to be a due process but the bar has been drawn far too lightly in my lifetime." He has also underlined that the Federal Trade Commission and Department of Justice need more support -- including further funding and staff -- to take on this challenge. "We're going to need to empower the FTC to be able to intervene, including blocking or reversing mergers in cases where there's anticompetitive behavior by tech companies," Buttigieg said at an April town hall.
Buttigieg's campaign promises to "strengthen antitrust standards" and "revive the Consumer Financial Protection Bureau's enforcement authority."
Senator Cory Booker
On Privacy
Booker was a co-sponsorof the Data Care Act of 2018, which was designed "to establish duties for online service providers with respect to end user data that such providers collect and use."
On Preventing Disinformation
Booker does not address content curation directly, but has advocated for algorithmic transparency, introducing the Algorithmic Accountability Act in April, which would require "companies to study and fix flawed computer algorithms that result in inaccurate, unfair, biased or discriminatory decisions impacting Americans." Algorithms are often manipulated by bad actors in order to target at-risk audiences with malign narratives.
On Political Advertising
Booker is a cosponsor of Senator Klobuchar's Honest Ads Act, which seeks "to help prevent foreign interference in future elections and improve the transparency of online political advertisements."
On Competition
At the October debate, Booker said that "as president I would put people in place that enforce antitrust laws." He explained: "Anybody that does not think that we have a massive crisis in our democracy with the way these tech companies are being used, not just in terms of anti-competitive practices, but also to undermine our democracy -- we have seen it in the '16 election practices being used that have not been corrected now. We need regulation and reform."
Booker is in support of more antitrust investigations by federal regulators, saying, "we need to have a country that goes back to having antitrust investigations."
Senator Kamala Harris
On Privacy
Harris believes that "the American people have an absolute right to the privacy of their data." She also told the New York Times that "tech companies need to be regulated in a way that we can ensure and the American consumer can be certain that their privacy is not being compromised."
On Preventing Disinformation
Harris believes in "holding big tech accountable because they have an outsized influence on people's perceptions about issues, and they actually influence behaviors. We all have to agree this is their power. It is immense."  Harris has also called for platforms to remove accounts, including President Donald Trump's. "He and his account should be taken down," she said at the Ohio Presidential Debate. "We saw in El Paso that that shooter in his manifesto was informed by how Donald Trump uses that platform, and this is a matter of corporate responsibility. Twitter should be held accountable and shut down that site. It is a matter of safety and corporate accountability."
On Political Advertising
Harris is a cosponsor of the Honest Ads Act, a bill authored by Senator and presidential candidate Amy Klobuchar. During Congressional hearings, she has also pressed tech executives to be transparent about the amount of money they earned from foreign interference in the 2016 election.
On Competition
Harris, who represents Silicon Valley, has been less direct about her plans for breaking up big tech.  But at the October 2019 Democratic Debate, Harris said she did not agree "at all" with Mark Zuckerberg's assertion that breaking up big tech companies could make the spread of disinformation worse. "Knowing that Russia needs to be held accountable for the fact that they interfered in the election of the president of the United States and will attempt to do it again, that's -- that's a ridiculous argument he's making," she said. "What we're talking about is a grave injustice, when rules apply to some but not equally to all, and in particular when the rules that apply to the powerless don't apply to the powerful."
Senator Amy Klobuchar
On Privacy
Klobuchar cosponsored the "Social Media Privacy Protection and Consumer Rights Act," which would require informed consent from users about the ways platforms handle and process data, obligate platforms to inform users within 72 hours of a data breach, and make users' data available to them on demand.
On Preventing Disinformation
Klobuchar is focused on bringing more transparency to paid political advertisements. When asked if other online content can or should be regulated, she told NPR, "We are not regulating news postings. We are not regulating when you post your kid's birthday party or you decide you're mad about the energy policy, about the Trump administration and you do a video yourself and you put it up. None of that will be regulated."
On Political Advertising
At the October Democratic Debate, Klobuchar said, "We need to stop the social media companies from running paid political ads, including ones last time in rubles, without having to say where those ads came from and who paid for them. That's the Honest Ads Act. That's a bipartisan bill that I lead."
Her SHIELD Act, introduced in October 2019, would also require social media platforms to provide a public, searchable record of political advertisements. (The public has still not seen a complete record of political ads purchased by foreign entities during the 2016 election.) It would also require increased platform oversight and disclosures aimed at halting foreign interference in elections.
On Competition
Klobuchar is the ranking member of the Senate Judiciary Committee's Subcommitee on Antitrust, Competition Policy, and Consumer Rights. She is in favor of using and expanding the existing anti-trust framework to address technology monopolies. She told the New York Times, "We are in a new gilded age....You have to vigorously enforce the antitrust laws to figure out what should be broken up and how." She proposes strengthening the Justice Department and FTC by charging higher fees on mergers, so these bodies would have the capacity to look at past transactions, including "Facebook's purchase of Whatsapp and Instagram."
Senator Bernie Sanders
On Privacy
In 2016, the Sanders campaign told VICE: "the Senator is concerned about the lack of privacy consumers have, and how their information is often unwittingly collected, shared, and sold." Sanders has voiced concern over privacy issues, specifically in regard to Facebook, saying, "how do we use Facebook and the internet without seeing an invasion of our personal privacy?" He also explained: "my Internet privacy policy is simple: Our information belongs to us, not corporations like Comcast and Verizon. Comcast and Verizon should not be able to track their customers and sell their personal information without the customers' permission."
On Preventing Disinformation
Though he has not commented directly on content curation related to disinformation during the 2020 campaign, when speaking in opposition to an anti-piracy bill in 2011, Sanders said, "it is absolutely essential that the Internet remain open and free of censorship or the chilling effects that result in self-censorship."
On Political Advertising
Though he has not commented on Facebook's political ad policy, Sanders believes online advertising via large technology firms has "beleaguered local newspapers and slashed their newsrooms," and believes pursuing antitrust measures against the companies would reset the balance of the media market.
On Competition
Sanders approaches tech regulation from an anti-monopoly stance. When asked about breaking up big tech at the October 2019 Democratic Debate, Sanders said, "We need a president who has the guts to appoint an attorney general who will take on these huge monopolies, protect small business, and protect consumers by ending the price fixing that we see every day." He also explained to the New York Times: "We need an attorney general who understands tech legislation and I think absolutely that would apply to the tech giants as well."
Sanders believes "the Federal Trade Commission has failed its mission [and] antitrust enforcement has fallen to almost none in recent years." He is a proponent of more strict antitrust policies, specifically aimed at the FTC settlements with Facebook and YouTube. Sanders' campaign supports "expand[ing] the authority of the FTC to allow it to impose administrative fines on companies and halt mergers without challenging them in federal court."
Mr. Tom Steyer
On Competition
At the October 2019 Democractic Debate, Steyer said: "monopolies have to be dealt with. They either have to be broken up or regulated." Steyer is a proponent of limiting large corporate influence in government, saying, "I think we have a broken government in Washington D.C. I think that it's been bought by corporations. It's a hostile corporate takeover of the American government."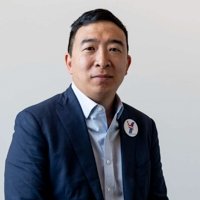 Mr. Andrew Yang
On Privacy
Yang advocates for the treatment of personal data as a property right. Under his policies, companies would be required to seek "informed and active" consent from users, and users would be endowed with all rights to manage access to and protect their data, as well as profit from it.
"The best way we can fight back -- the best way we can fight back against big tech companies is to say our data is our property. Right now, our data is worth more than oil. How many of you remember getting your data check in the mail? It got lost. It went to Facebook, Amazon, Google. If we say this is our property and we share in the gains, that's the best way we can balance the scales against the big tech companies."
On Preventing Disinformation
Yang writes: "The government should not meddle with the free press. But the government should support the major media and technology companies in finding solutions to the issues... in any way they deem appropriate." He also proposes creating a "Media Responsibility Task Force with leaders of media and tech companies to discuss ways to get Americans agreeing on facts again and removing hostile foreign influence from our discourse."
Yang wants to create a new executive department and cabinet-level position to regulate Artificial Intelligence and emerging technologies. It would "work with private industry and Congressional leaders to monitor technological developments, assess risks, and create new guidance." He also wants to revive the Office of Technology Assessment, a defunct Congressional research service, in order to inform "proper regulation of major tech companies, or legislation that addresses the large technological issues that we'll continue to face in areas such as AI and cybersecurity."
On Political Advertising
In regard to political advertising on social media, Yang noted "ideally, there'd be greater transparency with political content where you'd have a better sense of who is actually advertising to you." Yang also notes how enhanced federal regulation will not necessarily suffice and instead advocates for a "Department of the Attention Economy [that] would safeguard the health of our kids, but also provide that counterweight so we feel like we're in good hands with the technology companies."
On Competition
Yang believes tech companies are too big, but the federal government should not break them up. He told ABC News, "we would be well served by having them break themselves up into different parts of their businesses," but later told the New York Times that solving problems perpetuated by social media was "much more nuanced" than applying a "20th century solution to a 21st century set of issues."
At the Democratic debate in October 2019, Yang noted, "There are absolutely excesses in technology and in some cases having them divest parts of their business is the right move. But we also have to be realistic that competition doesn't solve all the problems."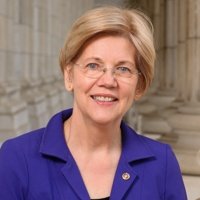 Senator Elizabeth Warren
On Privacy
Warren plans to hold CEOs to be held accountable for failures to protect user privacy. Warren introduced legislation in Congress that would "jail platform leaders implicated in data breaches and other privacy problems." Warren has voiced discontent with letting "giant companies like Facebook… stomp on consumer privacy rights and repeatedly fumble their responsibility to protect our democracy.
On Preventing Disinformation
Warren believes that all social media platforms should be subject to the same rules governing online speech and disinformation. In the October 2019 Democratic Debate, she said, "I think all of the rules should apply across the board. I don't have a problem with that."
In January 2020, she released a plan for "Fighting Digital Disinformation." She promises that her campaign and surrogates will not "knowingly spread content from fake accounts, or spread false or manipulated information." Additionally, Warren suggests introducing "civil and criminal penalties for knowingly disseminating false information about when and how to vote in U.S. elections."
On Political Advertising
Warren criticizes Facebook's political advertising policy, arguing that political ads on social media platforms should be subject to the same advertising rules as ads under FCC jurisdiction. She tweeted "Facebook is actively helping Trump spread lies and misinformation...Facebook already helped elect Donald Trump once. They might do it again -- and profit off of it."
On Competition
Warren believes large technology companies should be broken up. In the October 2019 Democratic Debate, she said, "Look, I'm not willing to give up and let a handful of monopolists dominate our economy and our democracy. It's time to fight back....We need to enforce our antitrust laws, break up these giant companies that are dominating."
Warren would treat tech companies as "platform utilities." They "would be required to meet a standard of fair, reasonable, and nondiscriminatory dealing with users. Platform utilities would not be allowed to transfer or share data with third parties." A Warren administration would also seek to undo "anti-competitive mergers" such as Facebook's acquisition of WhatsApp and Instagram. Ultimately, Warren believes that breaking up big technology platforms will help "protect the future of the Internet" and address other problems including online disinformation.