April 2020 Islamist Digest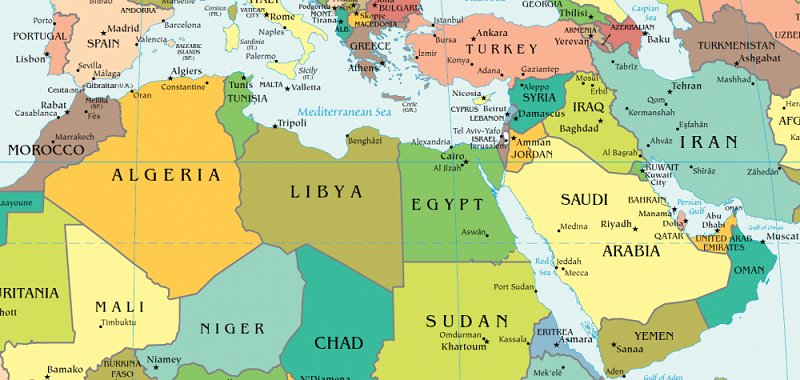 The following is a roundup of developments related to Islamist groups, organized by country, from April 2020.
Algeria
Apr. 27: Amnesty International condemned the  arbitrary arrest of Hirak activists. "The authorities must immediately and unconditionally release all peaceful activists detained solely for expressing their views online and offline and/or calling for a democratic change," said Heba Morayef, Amnesty International's Middle East and North Africa Director. The Hirak movement had attracted a diverse cross-section of Algerian society, including secularists and Islamist parties.
Egypt
Apr. 14: Security forces killed seven militants during a raid on a hideout in Cairo.  Officials said that the cell was plotting a terrorist attack on Coptic Christians during Easter celebrations on April 19. Police found ammunition, weapons and explosives in the safehouse.
Apr. 30: Ten soldiers were killed in an attack on an armored vehicle in the southern Sinai city of Bir al Abed. No group immediately claimed responsibility, but ISIS militants were suspected of carrying out the bombing.
Lebanon
Apr. 5: Muhammad Ali Yunis, a senior Hezbollah commander, was killed by unknown gunmen in southern Lebanon. Yunis was reportedly in charge of tracking spies suspected of collaborating with Israel and foreign intelligence agencies. Some Lebanese media outlets reported that the Israeli intelligence agency, Mossad, was behind the assassination.
Apr. 30: Germany designated Hezbollah as a terrorist organization and banned the group's activity on its soil. Germany's parliament had urged Chancellor Angela Merkel's government to crackdown on the group.
Libya
Apr. 28: The U.N.-backed Government of National Accord (GNA) arrested Saied Abdelkareem (also known as Abu Rami), a senior member of ISIS's media team in Sirte. Abdelkareem worked at ISIS-linked Al-Bayan Radio in Sirte and was found with documents about the activities of ISIS when they had controlled the city.
Apr. 30: The GNA rejected a cease-fire proposal by Khalifa Haftar's Libyan National Army (LNA) during the country's COVID-19 epidemic. The GNA said that it would continue its "legitimate self-defense, strike threats wherever they exist and stamp out illegal armed groups." The Tripoli government had made military gains within the past month, including recapturing the country's western coastline, after a nearly a year of deadlock with the LNA.
Palestinians
Apr. 8:  Hamas said that it was ready to negotiate a prisoner swap with Israel in light of the COVID-19 pandemic. "We are ready to make a deal tomorrow,"" said Musa Dudin, the head of Hamas's political office. "The window of opportunity will not always be there and Israel will later have to negotiate under more difficult terms." Two Israeli civilians and the bodies of two Israeli soldiers were held by Hamas in Gaza.
Apr. 9: Hamas arrested peace activists in Gaza for holding a video conference call with Israeli activists. The Hamas Interior Ministry announced that the activists were charged with "establishing normalization activities with the Israeli occupation via the internet." The event was advertised publicly on Facebook and chaired by prominent Palestinian activist Rami Aman. Participants on the conference call reportedly discussed their daily lives and difficulties of how their lives were negatively impacted by the Israeli-Palestinian conflict on a daily basis.
Apr. 19: Hamas blasted Israel for not expediting the shipments of medical supplies to the Gaza Strip during the COVID-10 pandemic. "Israel will be the one that bears responsibility for an outbreak of the virus in the Gaza Strip; and therefore it must make it easier for shipments of aid to arrive and it is the one who needs to send these medical means," said Khalil al -Hayya, the deputy Hamas leader in Gaza.
Iraq and Syria
Apr. 6: At least three rockets landed in Basra province in southern Iraq near oil facilities owned by foreign companies, including U.S. oil giant Halliburton. Iraqi security officials said that a rocket launcher and 11 unused missiles were found on a road outside the facility. No group immediately claimed responsibility for the attack.
Apr. 8: The Syrian government launched three chemical weapons attacks on one village during the span of a week in March 2017, according to a new report by the Organization for the Prohibition of Chemical Weapons (OPCW). Syrian fighter jets dropped bombs containing sarin nerve agent on the rebel-held village of Ltamenah in northern Syria. The OPCW report cited witness testimonies, videos, forensic reports on recovered munitions scraps, medical records and satellite imagery.
Apr. 9: Iraq named Mustafa al Kadhimi, the country's intelligence chief, as the prime minister-designate. He was the third choice in 2020 after previous appointees failed to form a government. "With my mandate to lead the Iraqi government, I pledge to my honourable people to work to form a government that puts the aspirations and demands of Iraqis as the top priority," al Kadhimi tweeted after his appointment.
Apr. 11: The United States offered a reward of $10 million for information on Sheikh Mohammad al Kawtharani, a senior Hezbollah commander in Iraq. Kawtharani  was a close associate of Iranian general Qassem Soleimani, the head of the elite Qods Force who was killed by the United States in January 2020. The State Department claimed that Kawtharani had "taken over some of the political coordination of Iran-aligned paramilitary groups" after Soleimani's death. 
Tunisia
Apr. 4: Security forces announced that they had killed two terrorists during an operation in the  mountainous Kasserine region along the border with Algeria. Groups affiliated with the Islamic State and al Qaeda in the Islamic Maghreb had taken refuge in the mountain range.
Apr. 4: Parliament granted extraordinary powers to the Prime Minister Elyes Fakhfakh's government to curb the spread of COVID-19 in the country. The new authorities included the right to issue decrees, strike purchasing agreements and seek finance without consulting parliament.
Apr. 17: Two men were arrested, including one suspected extremist, after police uncovered a plot to infect security forces with the coronavirus. One of the men showing symptoms of the virus was instructed to intentionally cough, sneeze and spit during a visit to a local police station on a court order. Tests were conducted to determine if the man had contracted the coronavirus.
Turkey
Apr. 6: Ankara imposed stricter measures to stem the spread of COVID-19. The government made wearing face masks on public transportation mandatory and closed 31 cities to non-essential traffic. But it refused to impose a mandatory quarantine as advised by medical professionals and opposition politicians. 
Apr. 12: Interior Minister Suleyman Soylu resigned after an impromptu curfew announcement, just two hours before it was set to take effect, prompted thousands of people to rush into the streets. "Responsibility for implementing the weekend curfew decision, which was aimed at preventing the epidemic, belongs entirely to me," he said on Twitter. Soylu's resignation was not accepted by Ankara, and he continued to serve as minister.
Apr. 21: Turkey warned Syria that it would pay "a heavy price" for violating a March 5 ceasefire pact with Russia and Turkey. It accused Syrian forces of "accelerating its aggression" in the Idlib de-escalation zone. Idlib was the last opposition-held stronghold in Syria. "Turkey will protect its commitment to the March 5 agreement reached with Russia, and will not allow the aggression of the regime," President Recep Tayyip Erdogan said.
Apr. 29: Former employees of educational facilities run by the Fethullah Gulen movement have been the targets of forcible disappearances by Turkish authorities, according to a Human Rights Watch (HRW) report. HRW called on the government to "carry out an effective investigation into credible testimony from a man in pretrial detention that state agents forcibly disappeared him for nine months and tortured him." Gulen is a U.S.-based cleric and leader of the popular Islamic movement called Hizmet. Gulen was once an ally of President Erdogan and the AKP, until a falling out in 2013 when Erdogan accused Gulen of being behind corruption allegations that were made against several senior ministers. Erdogan accused Gulen of plotting an attempted military coup in 2016.
Yemen
Apr. 9: The Saudi-led coalition announced a two-week ceasefire due to the COVID-19 pandemic. Coalition spokesman Turki al Malki said that the ceasefire would pave the way for discussions between the Saudi-backed government and Houthi rebels. He hoped that the ceasefire would encourage "a meeting between the legitimate government and the Houthis, and a military team from the (Saudi-led) coalition under the supervision of the U.N. envoy to discuss his proposals on the steps and mechanisms to implement a permanent ceasefire in Yemen."
Apr. 14: The Saudi coalition accused Houthi rebels of violating the two-week ceasefire 241 times in 48 hours. It alleged that the Houthis used heavy weaponry and ballistic missiles. Houthi officials called the Saudi coalition ceasefire a "political and media maneuver."
Apr. 26: The Southern Transitional Council , separatists based in Aden, announced autonomous rule in the city and other southern provinces. "The announcement by the so-called transitional council of its intention to establish a southern administration is a resumption of its armed insurgency... and an announcement of its rejection and complete withdrawal from the Riyadh agreement," Yemen's Foreign Minister Mohammed Al Hadhrami said in a statement. Prior to 1990, Yemen had been divided into northern and southern halves.  
Related Program
The Islamists
"The Islamists" is a book and website on the origins, evolution, and positions of Islamist movements in the Middle East. The movements are redefining the order and borders in the world's most volatile region. Yet they have diverse goals and different constituencies. Sometimes they are even rivals. Read more