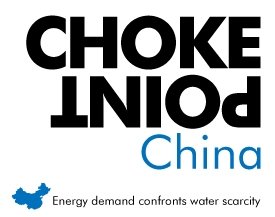 The burgeoning confrontation between energy and water creates a choke point that poses fundamental global challenges. Underlying China's advance to international economic prominence, like a tectonic fault line, lies an increasingly fierce competition for water.  According to Chinese authorities and government reports, China's massive economic growth is outpacing its freshwater supply. Water scarcity limits energy development, and the growing demand for nuclear energy, biofuels, and natural gas is straining fresh water supplies. Such complex connections between energy and water are poorly understood and under-reported, but the stakes for countries like China, India, and the United States are sky-high. The water-energy choke point could endanger economic growth, food production, and even political stability.
As part of a rich collection of original research, the China Environment Forum (CEF) and Circle of Blue produced 16 multimedia stories (see links below) that illustrate the intensifying confrontation between energy demand and freshwater supply. Choke Point: China delves into the water-energy nexus in China, combining world-class expertise, networks, and reporting forms to bring Choke Point stories to key decision-makers, the public, and the media. Choke Point: China is not a narrative of doom and gloom, and these Choke Point narratives reinforce achievements on a range of water conservation and efficiency measures.
In May of 2012, the Circle of Blue team returned to China for a second round of research on the water energy confrontation. Read their blog posts (below) from a farm in Heilongjiang Province, the streets of lush Changsha, and beyond.
Choke Point: China is a joint China Environment Forum and Circle of Blue initiative. The first two years of this research and reporting project were made possible by Energy Foundation and additional support from Vermont Law School, USAID, Rockefeller Brothers Fund, Blue Moon Fund and the Alpern Foundation. Choke Point: China Part II is supported by Skoll Global Threats Fund, with additional support from Vermont Law School and USAID.
CHOKE POINT: CHINA II
---
Blogs
CHOKE POINT: CHINA I
---
Other Reports
Photo © Aaron Jaffe / Circle of Blue
Related Program
China Environment Forum
Since 1997, the China Environment Forum's mission has been to forge U.S.-China cooperation on energy, environment, and sustainable development challenges. We play a unique nonpartisan role in creating multi-stakeholder dialogues around these issues. Read more