Corn in Mexico and the US
Corn (maize) is the world's most produced grain. Most US corn is used for animal feed and ethanol fuel rather than food. The US produces about 367 million metric tons of corn a year, a third of global corn production of 1.1 billion metric tons. Mexico produces 27 million metric tons a year, three percent of global corn.
The US produces mostly yellow corn, while almost 90 percent of Mexico's corn is white. American farmers produce 1.1 metric tons of corn for each US resident, while Mexican farmers produce 0.2 tons of corn per resident. The US is a major corn exporter, while Mexico is a major corn importer. The price of US white corn was about $200 a metric ton in 2017, while the price of Mexican white corn was about $300 a ton.
US corn acreage has been rising, to almost 34 million hectares in 2017, while Mexico's corn acreage shrank to 7.5 million hectares in 2017. Iowa and Illinois produce a third of US corn, and achieve yields of at least 12 metric tons per hectare. US corn farms average 100 hectares or 250 acres.
Sinaloa and Jalisco produce a third of Mexico's white corn. Sinaloa plants and harvests corn on a fall-winter cycle and uses irrigation to achieve almost US-level yields of 10 metric tons per hectare. Jalisco relies on rain during a spring-summer cycle and has average yields of six tons per hectare.
Mexico has about 1.5 million corn farmers, including a third in Chiapas, Oaxaca, and Puebla; Mexico's corn farms have an average 3.6 hectares or nine acres of corn. Small farmers in southern Mexican states that rely on rain have yields of two to three tons per hectare.
The governments of Mexico and the US support corn farmers. The US Farm Act of 2018 provides Price Loss Coverage (PLC), Agriculture Risk Coverage (ARC), and Marketing Assistance Loans (MAL) that support corn farmers if prices or incomes fall below specific thresholds. For example, PLC makes deficiency payments when the price of corn falls below $3.70 a bushel, the price of soybeans falls below $8.40 a bushel and the price of wheat falls below $5.50 a bushel. ARC makes deficiency payments when a farm's actual revenue falls below 86 percent of the benchmark revenue.
The Mexican government's Production for Wellbeing (Producción para el Bienestar) program paid $50 to $85 per hectare on up to 20 hectares of corn in 2019, and established minimum prices for white corn, dry beans, and other staples produced by small- and medium-sized producers. Payments were $290 per metric ton for rainfed white corn from up to five hectares in 2019, a premium of $100 a ton over the price of imported white corn.
The $2 trillion Coronavirus Aid, Relief, and Economic Security (CARES) Act includes an additional $9.5 billion to support farmers impacted by coronavirus and $14 billion for the Commodity Credit Corporation to buy surplus farm commodities and distribute them to poor Americans. The price of most farm commodities dropped sharply in March 2020, especially for milk, where demand fell as schools closed, and for ethanol as people drove less.
Zahniser, Steven, Nicolás Fernando López López, Mesbah Motamed, Zully Y Silva Vargas, and Thomas Capehart. 2019. The Growing Corn Economies of Mexico and the United States. USDA, ERS 2019.
The US produces a third of the world's 1.1 billion metric tons of corn each year
The US has about 300,000 corn farms, and Iowa and Illinois produce a third of US yellow corn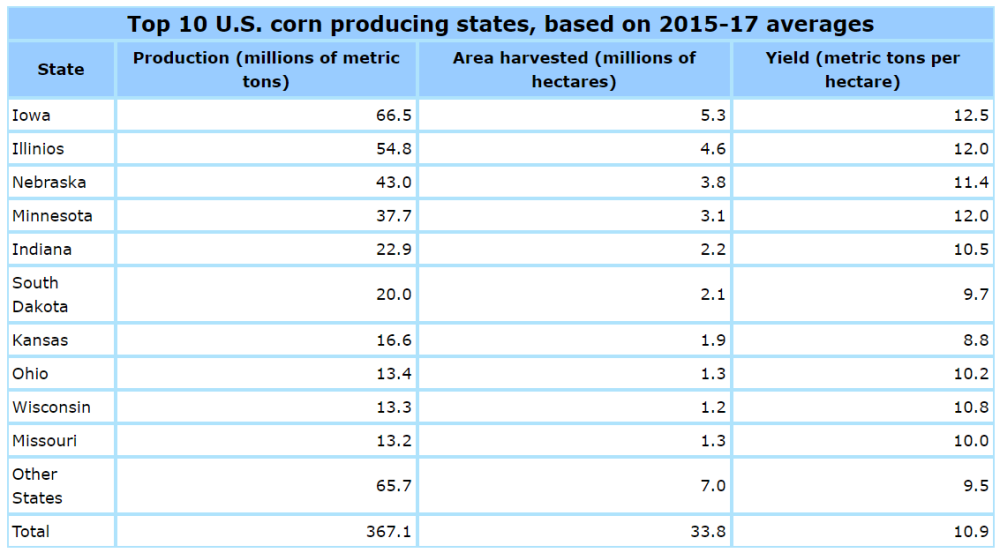 Sinaloa and Jalisco produce a third of Mexico's white corn and achieve the highest yields. Sinaloa corn is mostly irrigated; Jalisco corn is mostly rain-fed
 Chiapas, Oaxaca, and Puebla have a third of Mexico's 1.5 million corn farmers
 Farm commodity prices fell in March-April 2020, especially for milk and ethanol
About the Author
Philip Martin
Professor emeritus of Agricultural and Resource Economics, University of California, Davis
Read More
---
Mexico Institute
The Mexico Institute seeks to improve understanding, communication, and cooperation between Mexico and the United States by promoting original research, encouraging public discussion, and proposing policy options for enhancing the bilateral relationship. A binational Advisory Board, chaired by Luis Téllez and Earl Anthony Wayne, oversees the work of the Mexico Institute.  Read more