Coronavirus Shifts Car-Free Policy into High Gear
In June 2020, as a response to COVID-19, New York City Mayor Bill DeBlasio approved an urgent policy initiative to create 20 to 40 miles of car-free busways across the city's five boroughs. As of December 2020, only 0.8 miles of these bus lanes have been completed.
While most Americans are acutely aware of how the pandemic has shifted social, professional and economic norms, New York City's new busway system illustrates the direct impact of COVID-19 on urban policy and innovation.
The Original 14th Street Busway
In 2017, the original concept for a "car-free" 14th Street in Manhattan was proposed by the advocacy group New York City Transportation Alternatives in anticipation of a sixteen-month L-train shutdown that would repair subway damage caused by Hurricane Sandy.
The 14th Street PeopleWay Campaign spent two years flooding city council meetings, collecting signatures and hosting events to gain support for a one-mile long busway that would ban private vehicles from 14th Street between 3rd and 9th Avenues. Proponents of the plan contended that the busway was essential to control traffic and speed up bus commutes by 25 percent for thousands of New Yorkers who would be significantly inconvenienced by the L-train shutdown.
The 14th Street Busway was set to roll out in July 2019. Plans were pushed back however, when a 14th Street citizens' coalition sued the NY Department of Transportation claiming that the busway would create traffic and harm local business along 14th Street. After months of lawsuits, New York State Supreme Court's Appellate Division voted 3-2 in favor of the busway plan, and on October 3, 2019, one mile of 14th Street was banned to car traffic and became dedicated to bus lanes and pedestrian access.
Statistics of Success
The 14th Street Busway was hailed as a major success. Vehicle traffic dissipated, just as traffic experts predicted. In the first four months of the pilot program, from October 2019 to January 2020, total crashes went down 53 percent; and injuries were reduced by 63 percent when compared to the same four-month period a year earlier.
Between November 2018 and October 2019, M14 bus riders improved their commute times between 22 and 47 percent, and ridership surged for the first time in five years. Significantly, local businesses along 14th Street did not suffer; and in November 2019, the Metropolitan Transportation Authority (MTA) announced that it would add raised bus platforms to make boarding more efficient and would begin investing in a fleet of electric vehicles.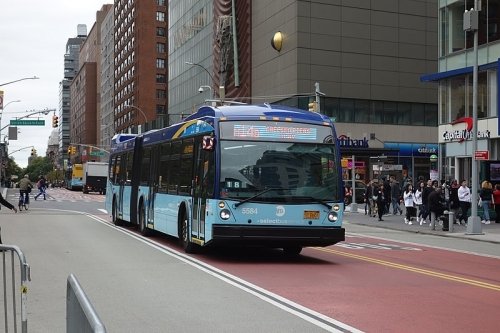 NYC Busways as an Emergency Response to COVID
The success of the 14th Street busway spurred an outpouring of community activism as New York faced COVID-19 last spring. In May 2020, a group of six community organizations sent a letter to Mayor DeBlasio calling for at least 20 miles of new busways to be created by the summer. The letter insisted that the issue was "an urgent matter of racial justice, public health, and economic necessity," and noted that "nearly half of regular NYC bus commuters are classified as essential workers." The demand for more busways was soon followed by similar requests from NYC's four elected borough presidents, as well as MTA president Sarah Feinberg and DOT Commissioner Polly Trottenberg, who stated that, "busses serve a critical role both in communities hit hard from the pandemic and by essential front-line workers."
On June 8, 2020 Mayor DeBlasio announced that nine new busway projects would be launched on an "urgent" basis in response to COVID-19. The projects were set to be rolled out on a one-year trial and would be made permanent if successful.
Since this June announcement, only about 0.8 miles of new bus lanes have been constructed. The pace for implementing these projects has been slowed by business leaders who oppose the plans, fearing that their customers will lose parking and accessibility. The Main St. busway project, for example, which was intended to run 0.6 miles in Queens was postponed due to a three-month long lawsuit. The project was only recently approved for continued construction in January 2021.
Although DeBlasio's goal of creating these new busways by the end of summer 2020 has not been fully realized, his administration has affirmed that the MTA is well-poised to move forward with 60 miles of bus lanes when the weather clears in the spring.  
The Big Picture
Building on the success of the 14th Street busway, transportation activists are advancing the "Vision Proposal"—an urban design plan to turn Union Square into "New York City's most accessible space." Additionally, the city's "Open Streets, Open Restaurants" initiative will likely be extended as a permanent, year-round program—closing down city streets to allow restaurant-goers more seating and increase pedestrian access.
In New York City, COVID-19 has reshaped the way citizens interact with the urban environment, changing priorities for mobility and the use of public space, and accelerating urban experimentation. As New York tests its dedicated bus lanes and expands plans for pedestrian-focused urban policy, similar initiatives are springing up across the country and around the world. San Francisco has spent ten years designing a car-free Market Street and Tempe, Arizona is in the process of developing "the first car-free neighborhood built from scratch in the U.S."
 Each urban environment is distinct, requiring uniquely crafted urban policies. As the world moves to recovery in the post-pandemic era, there is an opportunity to rethink how we inhabit, work, play and navigate urban space to transform more sustainable, inclusive and livable cities.
Georgia Eisenmann graduated from Syracuse University's Maxwell School in 2019 where she studied Foreign Policy and International Development. She currently resides in Washington, D.C. where she worked as a research assistant for the Wilson Center's Urban Sustainability Lab and University of Maryland's National Center for Smart Growth.
About the Author
Georgia Eisenmann
Research Assistant
---
Urban Sustainability Laboratory
Since 1991, the Urban Sustainability Laboratory has advanced solutions to urban challenges—such as poverty, exclusion, insecurity, and environmental degradation—by promoting evidence-based research to support sustainable, equitable and peaceful cities. Read more