CWIHP Director Christian Ostermann helps launch Cold War "Black Box" at Berlin's Checkpoint Charlie
Christian F. Ostermann is interviewed about the a new pop-up museum exhibit at the former site of Checkpoint Charlie in Berlin.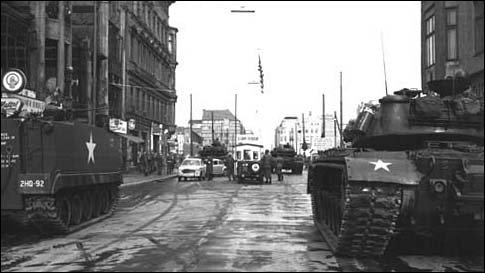 CWIHP Director Christian F. Ostermann was quoted in German papers Frankfurter Rundschau and Märkische Oderzeitung about a temporary exhibition of the Cold War Museum in Berlin located at the former site of Checkpoint Charlie. Ostermann praised the project for its "awareness of and reflection on the development of history" and stressed its importance for researchers and historians. The temporary "Black Box" pop-up museum has the support of Berlin Mayor Klaus Wowereit, Cold War historian Timothy Garton Ash, former US Secretary of State James Baker and the late Vaclav Havel.
Read the articles:
"Kulturkampf am Checkpoint Charlie" -- Frankfurter Rundschau (in German)
"Schaudern in der BlackBox" -- Märkische Oderzeitung (in German)
Related Programs
Cold War International History Project
The Cold War International History Project supports the full and prompt release of historical materials by governments on all sides of the Cold War. Through an award winning Digital Archive, the Project allows scholars, journalists, students, and the interested public to reassess the Cold War and its many contemporary legacies. It is part of the Wilson Center's History and Public Policy Program. Read more
History and Public Policy Program
The History and Public Policy Program uses history to improve understanding of important global dynamics, trends in international relations, and American foreign policy. Read more