Delegation From Ruling Democratic Party of South Korea Visits the Wilson Center
On October 1, 2018, a delegation from the ruling Democratic Party of South Korea visited the Wilson Center for a private roundtable discussion on the recent progress in inter-Korean talks, North Korea's denuclearization, and U.S.-DPRK relations.
The delegation—which included Reps. Choo Mi-ae, former Democratic Party chairwoman; Lee Soo Hyuck, head of the South Korean delegation to the Six-Party Talks on North Korea's nuclear weapons program in 2003; Sul Hoon; Kim Han Jung; Hong Ihk-pyo; and Lee Jae Jung—was in Washington to meet with think tank experts and U.S. lawmakers and deliver the perspectives of the Democratic Party and Moon administration, amid the recent advancement in inter-Korean relations and the promise of a second U.S.-DPRK summit in the near future.
At the roundtable, Wilson Center experts Abraham Denmark (director, Asia Program), Jean Lee (director, Korea Center), Soojin Park (public policy fellow, History and Public Policy Program), and Katie Stallard-Blanchette (fellow, Asia Program) were joined by colleagues from around D.C. who bring a depth of experience dealing with North Korea, including Amb. Joseph Yun (U.S. Institute of Peace, The Asia Group), Frank Jannuzi (Mansfield Foundation), David Maxwell (Foundation for Defense of Democracies), and Keith Luse (National Committee on North Korea).
At a moment of great importance for the relationships among the United States, South Korea, and North Korea, it was an honor to host a distinguished group from South Korea and to promote a candid and productive exchange of ideas.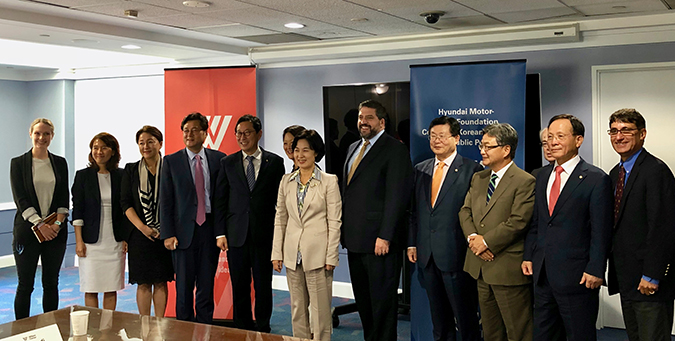 About the Author
---
Hyundai Motor-Korea Foundation Center for Korean History and Public Policy
The Center for Korean History and Public Policy was established in 2015 with the generous support of the Hyundai Motor Company and the Korea Foundation to provide a coherent, long-term platform for improving historical understanding of Korea and informing the public policy debate on the Korean peninsula in the United States and beyond. Read more
Asia Program
The Asia Program promotes policy debate and intellectual discussions on U.S. interests in the Asia-Pacific as well as political, economic, security, and social issues relating to the world's most populous and economically dynamic region.  Read more