Dr. Sue Mi Terry Announced as New Director of Asia Program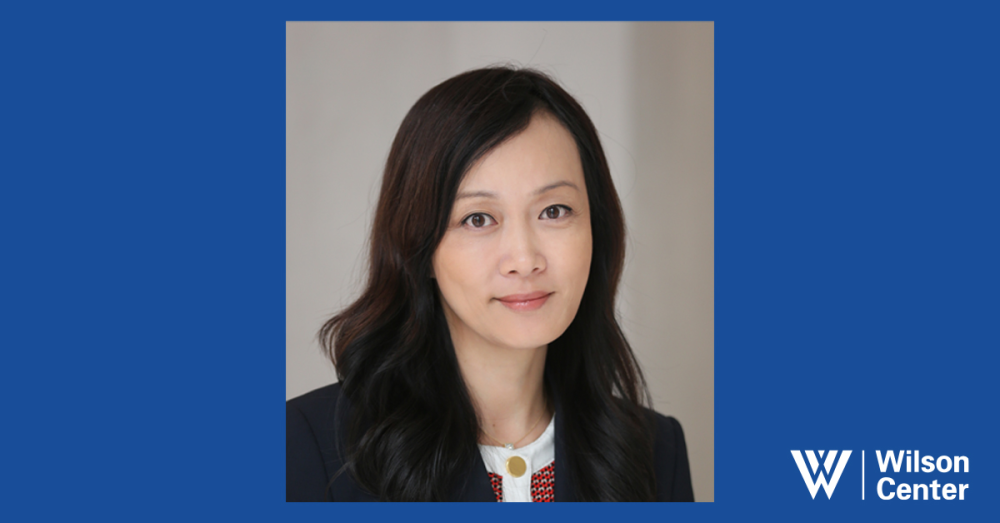 WASHINGTON–The Woodrow Wilson International Center for Scholars is pleased to announce the appointment of Dr. Sue Mi Terry as the new Director of its Asia Program. Dr. Terry will also continue to serve as Director of the Hyundai Motor-Korea Foundation Center for Korean History and Public Policy.
Dr. Terry has already established herself as a leading American voice on matters pertaining to Asia  and the Korean peninsula, with a distinguished career in intelligence, policymaking, and academia. Prior to joining the Wilson Center in October 2021 as Director of the Korea Center, she was a Senior Fellow with the Korea Chair at the Center for Strategic and International Studies (2017–2021), Managing Director for Korea at Bower Group Asia (2015–2017), and Senior Research Scholar at the Columbia University Weatherhead East Asian Institute (2011–2015). In the U.S. government, she served as Deputy National Intelligence Officer for East Asia at the National Intelligence Council (2009–2010), Director of Korea, Japan, and Oceanic Affairs at the National Security Council (2009–2009), and a Senior Analyst at the CIA (2001–2008).  Dr. Terry holds a Ph.D. (2001) and an M.A. in Law and Diplomacy (1998) from the Fletcher School of Law and Diplomacy, Tufts University, and a B.A. in Political Science from New York University (1993). She was born in Seoul and raised in Hawaii and Northern Virginia. 
"We are thrilled to announce Dr. Terry as the new Director of the Asia Program," said Ambassador Mark Green, President and CEO of the Wilson Center. "Dr. Terry's exceptional background epitomizes the combination of deep scholarship and policy relevance we pursue here at the Wilson Center. She has established a great track record at the Korea Center. Now she will enhance the Asia Program's reputation as a critical resource for the Washington policymaking community and beyond."
"I am thrilled to take on this expanded role at the Wilson Center as the Director of the Asia Program," said Dr. Terry. "The Wilson Center is one of the most prestigious think tanks in the world, with a well-established reputation for in-depth, objective, and nonpartisan analysis on the most pressing foreign policy issues. It's a privilege to work with such a dynamic team. As Asia's importance to the United States continue to grow, I expect our Asia Program will be a timely and relevant voice for the policymakers on many pressing issues. I look forward to the Asia Program contributing to deeper understanding of and shaping the public debate on critical issues in Asia."
Dr. Terry has authored numerous book chapters, articles, and Op Eds in various prominent publications including The New York Times, The Washington Post, The Wall Street Journal, The Los Angeles Times, and Foreign Affairs. Her latest book chapter, "The Strength of Weakness: North Korea's Strategy for Survival" for the new edition of Makers of Modern Strategy, a revival of a classic book, is forthcoming from Princeton University Press in May 2023. Her latest article is "North Korea's Nuclear Optimism: Why Kim Jong Un Chose to Exploit the Ukraine Crisis," for Foreign Affairs. She has testified multiple times before the U.S. Senate and House of Representatives, as well as the U.S.-China Economic and Security Review Commission. She is also a regular guest on television, radio, and podcasts, including CNN, MSNBC, ABC, PBS, BBC, and National Public Radio. Her analyses and expert commentary have appeared in media outlet around the world, including Chosun Ilbo, Joongang Ilbo, Korea Times, Japan Times, Asahi and Sankei Shinbun, South China Morning Post, and others.
Contributor
Sue Mi Terry
Director of the Asia Program and the Hyundai Motor-Korea Foundation Center for Korean History and Public Policy
Read More
---
Asia Program
The Asia Program promotes policy debate and intellectual discussions on U.S. interests in the Asia-Pacific as well as political, economic, security, and social issues relating to the world's most populous and economically dynamic region.  Read more
Hyundai Motor-Korea Foundation Center for Korean History and Public Policy
The Center for Korean History and Public Policy was established in 2015 with the generous support of the Hyundai Motor Company and the Korea Foundation to provide a coherent, long-term platform for improving historical understanding of Korea and informing the public policy debate on the Korean peninsula in the United States and beyond. Read more