Forests for Nepal's Future
APRIL 2009—New Report Demonstrates Family Planning Helps Environment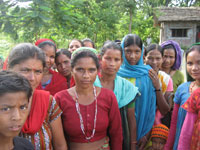 A transformation is taking place in rural Nepal: People dependent on forests are learning new ways to protect the source of their livelihoods. Farmers are now the front-line stewards of the environment—and enthusiastic advocates for integrating population-health-environment (PHE) programs into their community activities.
"Providing health and family planning services linked to environmental activities not only improves health, but can also help relieve environmental pressure," conclude the co-authors of a new report published by ECSP. "Forests for the Future: Family Planning in Nepal's Terai Region" describes a World Wildlife Fund (WWF) program that combines family planning and community-based forestry within the Terai Arc Landscape (TAL), the fertile river plain that spans the lowlands along Nepal's border with India.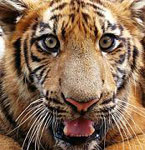 "The Terai Arc Landscape has a very high population growth rate," said Sabita Thapa, one of the report's authors, in a podcast interview. "People are very much dependent on the natural resources…almost 50 percent are below the poverty line. We are especially working through the population, health, and environment project to address the issues of forest conversion, forest encroachment, and fuel extraction."
Protecting Tigers in the Terai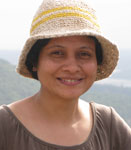 At a recent ECSP event, WWF's Jon Miceler listed the environmental threats facing the treasure trove of biodiversity in the Terai, including the endangered Bengal tiger:
Conversion of forest into farmland;
Overgrazing;
Forest fires;
Excessive extraction of timber and fuelwood;
Poaching;
Human-wildlife conflict; and
Population growth.
"By protecting a tiger—which is what we call an 'umbrella species'—you're actually protecting a whole host of species below that, and a whole host of ecosystems that are connected with the tigers," said Miceler.
Healthy Communities, Healthy Ecosystems
"We are promoting family planning," said WWF's Dhan Rai in a podcast interview. "To educate the communities, there are several volunteers conducting education sessions. Also, there are community volunteers who are distributing contraceptives to those couples who want to manage their family size."
"We are implementing programs like providing clean energy especially to address indoor pollution from the use of fuelwood. Also, we are providing clean drinking water and biogas," added Thapa.
Pilot Program Is a Success
Over two years in Khata—a critical corridor between national parks in India and Nepal—the project:
Increased contraceptive use among couples from 43 percent to 72.6 percent;
Increased use of biogas and smokeless cookstoves from 11 percent in 2006 to 19 percent in 2008—thus saving 1,524 metric tons of firewood annually and reducing the number of severe cases of acute respiratory infection.
According to the report, "the PHE approach has helped transform people's attitudes toward family planning and improve their understanding of its contribution to sustainable livelihoods."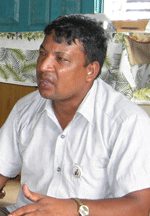 As Krishna Pariyar, secretary of the Khata Community Forestry Coordination Committee, told the report's co-authors:

Family planning and health issues have become an integral part of our community forestry program. Prior to the introduction of the population, health, and environment concept, we hardly had any clue on the linkages between forest management and family planning. Now we work hard to conserve forest resources and are encouraging everyone to use alternative energy and family planning so there will be forest left for future generations.
WWF will be "taking results from the successes we've had in the Khata corridor and lessons learned from other PHE projects in other countries to scale them up in other areas of the Terai," said Miceler.
Photo credits: Nepalese women, courtesy Heather D'Agnes; Sabita Thapa, courtesy Meaghan Parker; Bengal tiger, courtesy Flickr user Swamibu; Dhan Rai, courtesy Meaghan Parker.

Related Links
Related Program
Environmental Change and Security Program
The Environmental Change and Security Program (ECSP) explores the connections between environmental change, health, and population dynamics and their links to conflict, human insecurity, and foreign policy. Read more