Get to Know the Ministers of the Bolsonaro Administration
Review the full list of new ministries and background information on the ministers of the Bolsonaro administration.
From the onset of his campaign, President Bolsonaro asserted that he intended to cut the number of ministries in half, in an effort to de-bureaucratize Brazil and reduce government spending. The Temer government had 29 organs with ministerial status. Despite his initial promise to hold the number of ministries to 15, Bolsonaro named 22 ministers to his cabinet. Some ministries, like the Ministry of Labor, were eliminated altogether; others were merged, such as the Ministries of Sports, Culture, Social Development and the National Secretariat for Drug Policy—which will now fall under the new Ministry of Citizenship. 
See the full list of new ministries and background information on the ministers below.
1.  ECONOMY
Integrates the Ministry of Economy, Planning and Industry, and Foreign Trade, as well as some functions previously held by the Ministry of Labor. Formulates and executes economic policy and administers the public treasury and fiscal structure of the country. 
Paulo Guedes
Guedes is a liberal economist with a PhD from the University of Chicago. He is the founder of BTG Pactual and BR Investimentos, and the Millenium Institute. Guedes is a newcomer to government service. 2.  CHIEF OF STAFF OFFICEAdvises the President in government action and legislative proposals and ensures that the Executive acts in accordance with the Constitution. Will also be responsible for Congressional relations, previously a function of the Government Secretariat.  Onyx Lorenzoni
Lorenzoni was trained in veterinary medicine from the Federal University of Santa Maria (UFSM) and is currently serving his fourth term as a federal deputy for Rio Grande do Sul. 3.  SCIENCE AND TECHNOLOGYFormulates and implements national science and technology policy, and promotes research and exchange in this area for national development. Marcos Pontes
Pontes holds a bachelor of science in aeronautical engineering from the Technological Institute of Aeronautics (ITA) and a Master's in Systems Engineering from the U.S. Naval Postgraduate School. A retired lieutenant colonel in the Air Force, he is the first and only Brazilian astronaut to go to space. 4.  MINES AND ENERGYProposes national policies and monitoring measures for the mining and energy sector. Eletrobrás and Petrobras are linked to the Ministry, which controls a number of other state companies.  Bento Albuquerque
Albuquerque is a four star admiral and former commander of the Brazilian Submarine Force. He was director-general of the Secretariat of the Inter-American Defense Board (JID) in Washington, D.C., and acted as chief parliamentary advisor to the Navy Commander. He also served as an observer to the UN Peace Mission in Sarajevo and is the current director of the Navy's nuclear development program.  5.  INFRASTRUCTUREThe new ministry will take over the portfolios of the current Ministries of Transport, Ports, and Civil Aviation; and is responsible for launching the main infrastructure projects in Brazil. The new government has yet to decide which ministry will gain the portfolio of the Investment Partnership Program (PPI), which includes oil and gas auctions, power transmission lines, and concessions for railroads, ports, and airports. Tarcísio Gomes de Freitas
Gomes de Freitas is currently the executive director of the Federal Department of Infrastructure Transport (DNIT). He trained as a civil engineer at the Military Institute of Engineering (IME). 6.  PRESIDENTIAL OFFICE OF INSTITUTIONAL SECURITYDirectly advises the President on military and national security matters. Augusto Heleno
Heleno is a retired general graduated from the Agulhas Negras Military Academy. He previously served as military commander of the Amazon and as the chief of the Army's Department of Science and Technology, and led the UN Peace Mission in Haiti. 7.  DEFENSEEstablishes defense and security policies, implements the National Defense Strategy (NDT), and coordinates military operations and international defense cooperation. Fernando Azevedo e Silva
Azevedo e Silva is a reserve general trained at Agulhas Negras Military Academy. He works as a legal advisor to Justice José Antonio Dias Toffoli, president of the Supreme Federal Court (STF). He has held positions in three previous administrations: those of Fernando Collor, Lula da Silva, and Dilma Rousseff.  8.  EDUCATIONOrganizes the education system and creates educational policies and guidelines.  Abraham Weintraub
Abraham Weintraub is an economist who holds a bachelor's degree in economics from the University of Sao Paulo (USP) and a master's degree in Business from the Fundacao Getulio Vargas (FGV). He is a professor at the Federal University of Sao Paulo (UNIFESP). 9.  HEALTHPromotes health of the population, improves quality of life, and works to control and reduce endemic and parasitic diseases. Luiz Henrique Mandetta
Mandetta is a pediatrician by training and a federal deputy for Mato Grosso do Sul. He was formerly Secretary of Health of the city of Campo Grande in Mato Grosso do Sul. 10.  FOREIGN AFFAIRSAlso known as Itamaraty. Responsible for Brazilian foreign policy and international relations at the bilateral, regional, and multilateral levels. It also has an export promotional agency (APEX). Ernesto Fraga Araújo
Araújo studied language and literature at the University of Brasília and is a career diplomat. He is the current director of the Department of the United States, Canada, and Inter-American Affairs. He served on embassy staffs in Germany, Canada, and the United States, and was promoted to the rank of ambassador in 2018.
 11.  CITIZENSHIPA new Ministry that integrates the Ministries of Sport, Culture, Social Development, and part of the National Secretariat for Drug Policy. This ministry will be responsible for social programs like Bolsa Família. Osmar Terra
Terra is a federal deputy for Rio Grande do Sul and a doctor by training. He is a former minister for Social Development. 12.  AGRICULTUREFormulates and implements policies for agribusiness development and technological advancement. Tereza Cristina
Cristina trained as an agricultural engineer at Viçosa Federal University in Minas Gerais. She was president of the Forum of Secretaries of Agriculture of Brazil and the rural caucus, and previously, secretary of Agricultural Development, Industry, Commerce and Tourism for Mato Grosso do Sul. Currently, she is a federal deputy for Minas Gerais.  13.  TOURISMResponsible for developing tourism as a sustainable economic activity, generating jobs and foreign exchange, and planning and managing tourist regions. Marcelo Álvaro Antônio 
Antônio is a businessman and two-term federal deputy for Minas Gerais. He is a member of the evangelical caucus in Congress.  14.  JUSTICE AND PUBLIC SECURITYOversees law and order, judicial policy and public security, and ensures political and constitutional rights are guaranteed. Sérgio Moro
Moro has been a federal judge in Curitiba for the past twenty-two years. He holds a JD from the Federal University of Paraná, and studied at Harvard Law School. He was the lead judge of the Lava Jato investigations, including the prosecution of former president Lula, former speaker of the House Eduardo Cunha, and various business executives. 15.  REGIONAL DEVELOPMENTIntegrates the Ministry of National Integration and the Ministry of Cities, and will be responsible for formulating and conducting a national policy for regional development and administering development plans, programs, and integration strategies.  Gustavo Henrique Canuto
Canuto is an expert in public policy and government management with experience working in the Ministry of Planning. He is currently the executive secretary of the Ministry of National Integration. He holds a degree in computer engineering from the University of Campinas (Unicamp) and a law degree from Centro Universitário de Brasilia.  16.  CENTRAL BANKManages economic policy to maintain stability and purchasing power of the local currency. Defines monetary policy.  Roberto Campos Neto
Campos Neto is a senior executive at Santander Brasil. He is an economist by training with a specialization in finance, having studied at the University of California Los Angeles.  17.  TRANSPARENCY AND COMPTROLLER GENERAL OF THE UNIONAssists the President with treasury and public assets and government policies for transparency. Also responsible for supervising, managing, and regulating government offices. Wagner de Campos Rosário
Rosário is the current minister for Transparency and CGU in the Temer government and will remain at the post, which he has held since 2017, in the Bolsonaro government. He studied military sciences at Agulhas Negras Military Academy and received an master's in anti-corruption and rule of law from the University of Salamanca in Spain. 18.  GENERAL SECRETARIAT OF THE PRESIDENCYAssists President of the Republic in carrying out duties. Includes bodies like strategic affairs, communications, and special counseling. Floriano Peixoto Vieira Neto
Floriano Peixoto is a three-star army general who graduated from the Agulhas Negras military academy and formerly served as commander of the UN mission to Haiti. He has also taught classes at West Point. 19.  ATTORNEY-GENERAL'S OFFICERepresents the state in legal proceedings and other judicial matters, and provides counsel to the presidency. André Luiz de Almeida Mendonça
De Almeida Mendonça holds a master's from the University of Salamanca on corruption and the rule of law and a post-graduate degree in Public Law from the University of Brasília. He is a lawyer by trade, as well as a pastor in the "Esperança" Presbyterian church  in Brasília. He became the inspector-general of AGU in 2016.
 20.  GOVERNMENT SECRETARIATMain role is to conduct dialogue with Congress and prominent political parties, as well as government at the state and municipal levels. It is also through this secretariat that the government will establish relations with civil society and youth organizations. Eduardo Ramos Baptista Pereira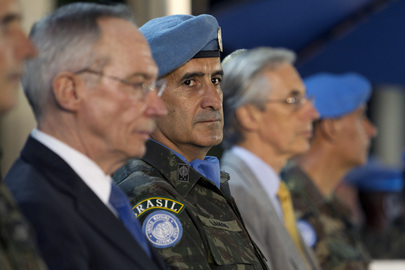 Army General Luiz Eduardo Ramos Baptista Pereira is a commander in Brazil's southeast region. Ramos has a long career in the army: he served as Deputy Chief of Staff and, like his predecessor Santos Cruz, was previously Force Commander of the United Nations peacekeeping mission in Haiti. 21.  WOMEN, FAMILY, AND HUMAN RIGHTSFormerly the Ministry of Human Rights, the new entity is responsible for human rights policy and regulations, with a specific focus on women. It also includes the National Indian Foundation of Brazil (FUNAI), which is responsible for the demarcation of indigenous lands and public policies aimed at indigenous peoples. Damares Alves
An evangelical pastor, Alves was an adviser to Senator Magno Malta. She has stated that she will prioritize policies for women and promote the proposed National Pact for Youth. 22.  ENVIRONMENTFormulates and implements public environmental policies to promote sustainable development and environmental protection and conservation. Ricardo de Aquino Salles
Salles is a former state secretary for the environment in São Paulo. He studied law at Mackenzie University and holds post-graduate degrees from the University of Coimbra and the Fundação Getúlio Vargas (business administration). 23.  NATIONAL BANK FOR ECONOMIC AND SOCIAL DEVELOPMENT (BNDES)The state development bank, structured as a federal public company, provides long-term financing for national development projects, and is associated with the Ministry of Development, Industry, and Trade. Gustavo Montezano
Montezano was previously deputy secretary of the Secretariat of Privatization and Divestment in the Ministry of Economy. He graduated in engineering from Instituto Militar de Engenharia (IME) and has a Masters in Finance from Ibmec, as well as a 17-year career in capital markets.  Former officials:Ricardo Velez Rodriguez (January 2019-April 2019), Gustavo Bebianno (January 2019-February 2019), and Carlos Alberto dos Santos Cruz (January 2019-June 2019), Joaquim Levy (January 2019-June 2019) ________________________________________________________________________________________________________

Sources: G1, InfoMoney, BrasilGov, Poder360
Images: 
1. REPÓRTER NBR [CC BY 3.0], via Wikimedia Commons
2. onyx lorenzoni [CC BY-SA 4.0], via Wikimedia Commons
3. Marcos César Pontes, Brazilian astronaut, via www.jsc.nasa.gov/Bios/portraits/pontes.jpg
4. Ministério da Defesa [CC BY 2.0], via Wikimedia Commons
5. Senado Federal [CC BY 2.0], via Wikimedia Commons
6. Antônio Cruz/ABr [CC BY 3.0 br], via Wikimedia Commons
7. José Cruz/Agência Brasil [CC BY 3.0 br], via Wikimedia Commons
8. Carolina Antunes/Flickr do Palacio do Planalto [CC BY 2.0], via Wikimedia Commons
9. Gustavo Lima/Câmara dos Deputados [CC BY 3.0], via Wikimedia Commons
10. US Department of State/Secretary Pompeo and Brazilian Foreign Minister Ernesto Araujo Participate in Press Availability, via Wikimedia Commons
11. Lia de Paula [CC BY-SA 2.0], via Wikimedia Commons
12. Michel Jesus/Câmara dos Deputados [CC BY 3.0], via Wikimedia Commons
13. Mateusvonrondon [CC BY-SA 4.0], from Wikimedia Commons
14. CCJ - Comissão de Constituição, Justiça e Cidadania (21295825265).jpg: Senado Federal [CC BY 2.0], via Wikimedia Commons
15. Reuters, via Terra
16. PortalT5
17. Agência Brasil Fotografias [CC BY 2.0], via Wikimedia Commons
18. MCCS Spike Call, via Wikimedia Commons
19. PGU, via Poder360
20. UN Photo/Victoria Hazou [CC BY-SA 2.0]
21. Folhapress
22. AFP, via IstoÉ
23. Ascom/ Ministério da Economia
About the Author
---
Brazil Institute
Since its founding in 2006, the Brazil Institute has served as a highly respected and credible source of research and debate on key issues of bilateral concern between Brazil and the United States. The primary role of the Brazil Institute—the only country-specific policy institution focused on Brazil in Washington—is to foster understanding of Brazil's complex reality and to support more consequential relations between Brazilian and U.S. institutions in the public and private sectors, as well as in academia and between citizens. Read more