Islamists News Digest: January 2020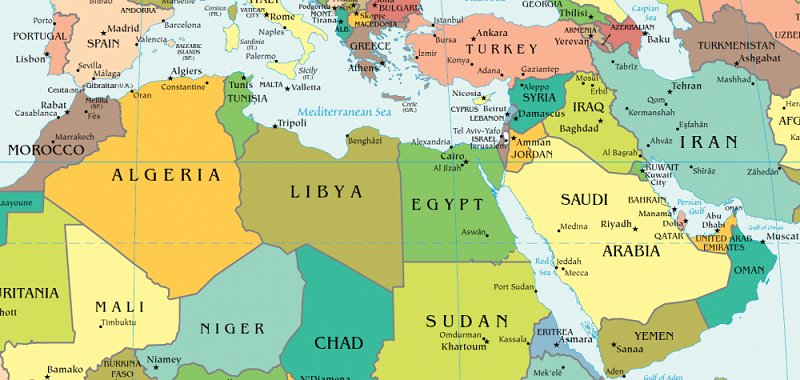 The following is a roundup of developments related to Islamist groups, organized by country.
Algeria
Jan. 2: Prime Minister Abdelaziz Djerad appointed a new government. Djerad retained the same foreign, energy and interior ministers as Abdelaziz Bouteflika's administration. The selections sparked backlash from protestors who said the officials represented the old system. Bouteflika ruled the country from 1999 until his death in April 2019. Islamists were left out of the new government.
Jan. 30: Abdel-Razzaq al Maqri, leader of the country's largest Islamist party, the Movement of Society for Peace, denounced President Donald Trump's Middle East peace plan. The deal is a "slap by agents who retain their power in office through capitulation and treachery," he said on Twitter.
Egypt
Jan. 27: A court sentenced eight people to life in prison after they were convicted of joining ISIS in the Sinai Peninsula. The court also sentenced 29 other ISIS militants to prison terms ranging from one year to 15 years. Egypt accused the defendants of joining ISIS cells from 2015 to 2018 and plotting attacks on the country's Christian minority.
Jordan
Jan. 26: Jordan charged three men connected to the November 2019 stabbing of eight people in the northern town of Jerash. The men were allegedly inspired by the Islamic State. No one was killed in the attack.
Jan. 31: The Muslim Brotherhood organized protests in Amman against the U.S. Middle East peace plan. Thousands of Islamists chanted slogans calling for the protection of Jerusalem's al Aqsa Mosque and burned the Israeli flag.
Lebanon
Jan. 5: Hezbollah leader Hassan Nasrallah said that the U.S. military would face retaliation for the killing of Qassem Soleimani, the head of Iran's elite Qods Force. "Fair punishment is (aimed at) the American military presence in the region: American military bases, American naval ships, every American officer and soldier in our countries and region," he said. "When the coffins of American soldiers and officers begin to be transported ... to the United States, Trump and his administration will realize that they have really lost the region."
Jan. 21: Lebanon formed a new government controlled by Hezbollah and its allies. Hezbollah-backed Prime Minister Hassan Diab formed his cabinet with largely independent technocrats after three months of political deadlock. The ministers were approved by Hezbollah. "This is a government that represents the aspirations of the demonstrators who have been mobilized nationwide for more than three months," Diab said. Demonstrations were held in Beirut the following days to protest the new government, which critics said lacked a popular mandate.
Jan. 28: Hezbollah condemned President Trump's Middle East peace plan. The "deal of shame" aims to destroy Palestinian rights, the group alleged. "The settlement project under this deal is one of the biggest dangers and aims to do away with the right of return ... and to create social and demographic tension and sedition that only serve the enemy's interests and expansionist goals," Hezbollah said in a statement.
Libya
Jan. 7: Forces loyal to General Khalifa Heftar's Libyan National Army captured the coastal town of Sirte from Salafist militias allied with the Government of National Accord. The Islamists reportedly withdrew from the city and allowed Haftar's forces to quickly take Sirte without bloodshed. "After studying the situation, our forces took a decision to withdraw outside Sirte, then await orders," the Sirte Protection Force said in a statement. "Our forces still retain their full capabilities and our withdrawal from Sirte is not the end."
Jan. 15: The Guardian reported that Turkey sent 2,000 Syrian fighters to support the U.N.-backed Government of National Accord (GNA). The mercenaries, deployed in late December and early January, were members of the Free Syrian Army, a loose coalition of Syrian opposition groups that Turkey had supported in the Syrian Civil War. They signed six-month contracts directly with the GNA and were promised Turkish nationality upon their return.
Jan. 16: Germany announced that General Haftar had agreed to a ceasefire ahead of peace talks in Berlin. On January 8, Turkey and Russia, which have backed rival sides in the conflict, called on the parties to "declare a sustainable ceasefire, supported by the necessary measures to be taken for stabilizing the situation on the ground and normalizing daily life in Tripoli and other cities." Haftar's LNA had launched an offensive to take Tripoli from the GNA in April 2019, which led to a nine-month stalemate.
 Jan. 30: Forces aligned with the GNA and LNA resumed fighting in Tripoli and Misrata two weeks after their foreign backers arranged a ceasefire.
Palestinians
Jan. 6: Hamas leader Ismail Haniyeh traveled to Tehran to attend the funeral of Qods Force commander Qassem Soleimani, who was killed in a U.S. drone strike. Haniyeh reportedly met with Soleimani's successor, Esmail Ghaani, to discuss future relations.   
Jan. 13: Hamas said that Palestinian Authority (P.A.) arrested more than 200 of its members with the last month after P.A. President Mahmoud Abbas called for elections to be held later in 2020. "Hamas activists and cadres have been targeted in the arrest campaign to give information of the movement's electoral activity and candidates," Hamas said in a statement.
Jan. 28: Thousands of demonstrators gathered in the Gaza Strip to protest President Trump's Middle East Peace Plan. They burned tires and pictures of Trump and Israeli Prime Minister Benjamin Netanyahu. "The deal of the century was born dead. It bears futile seeds and has no future, especially in light of how unified the Palestinian position is…we will foil the deal at all costs," said Hamas head Ismail Haniyeh.
President Abbas invited delegations from Islamic Jihad and Hamas to meet in Ramallah to discuss President Trump's Middle East peace plan. "This meeting will not be an alternative to the planned meeting announced by all the Palestinian factions to lay out a comprehensive plan against Trump's deal," said Chief of National Relations of Islamic Jihad, Khaled al Batsh.
Syria
Jan. 5: The U.S.-led coalition suspended its campaign against ISIS to protect military bases from an Iranian retaliatory attack after the killing of Qods Force commander Qassem Soleimani on January 3. The counter-ISIS operation was resumed after approval from Iraqi authorities on January 30.
Jan. 29: An ISIS resurgence had begun in Iraq and Syria under the leadership of an Iraqi operative, Amir Muhammad Said Abdal Rahman al Mawla, according to a U.N. report.  "Islamic State in Iraq and the Levant (ISIL), following its loss of territory, has begun to reassert itself in both the Syrian Arab Republic and Iraq, mounting increasingly bold insurgent attacks, calling and planning for the breakout of ISIL fighters in detention facilities and exploiting weaknesses in the security environment of both countries," the report said.
The Syrian army captured the town of Maarat al Numan in Idlib province from Hayat Tahrir al Sham, a jihadist group affiliated with al Qaeda. The militants fled to the north, towards the towns of Saraqeb and Ariha. The government offensive began on January 24 and had seized 25 villages with Russian air support.  
Jan. 31: President Recep Tayyip Erdogan said that Turkey would launch a military invasion into Syria's Idlib province if fighting there continued. Ankara feared a new wave of refugees from Idlib due to the escalation in violence. "We will do what is necessary when someone is threatening our soil. We will have no choice but to resort to the same path again if the situation in Idlib is not returned to normal quickly," Erdogan said.  
Tunisia
Jan. 2: Prime Minister-designate Habib Jemli, nominated by the moderate Islamist Ennahda party, announced the formation of a new government comprised of independent politicians. "I have depended [in forming the cabinet] on elements of competence and independence from political parties," he said. The proposed government would go to parliament for final approval.
Jan. 10: Parliament rejected Prime Minister-designate Jemli's proposed cabinet by a vote of 134 votes to 72. It was the first time that parliament had rejected a new government since the 2011 revolution. The vote of no confidence was a setback for Ennahda. President Kais Saied had 10 days to build a new coalition and selected former finance and tourism minister Elyes Fakhfakh as the new prime minister.
Jan. 27: Ennahda rejected a proposed government that excluded other political parties.  Prime Minister Fakhfakh had announced that he would not seek a unity coalition but would instead form a cabinet only from parties, including Ennahda, that were "aligned with the values of the revolution." If Fakhfakh could not form a new government, Tunisia would hold a new parliamentary election.
Jan. 30: President Kais Saied announced that the government would extend the national state of emergency for an additional three months. The state of emergency allowed the Ministry of Interior to ban meetings, instill curfews, inspect shops, and monitor the press without the judiciary's approval.  
Yemen
Jan. 3: U.S. forces reportedly carried out an operation to kill a senior Iranian commander in Yemen, the same day President Trump ordered an airstrike that killed Qods Force commander Qassem Soleimani. The unsuccessful airstrike failed to kill Abdul Reza Shahlai, an IRGC financier and senior commander in the Qods Force known to operate in Yemen.
Jan. 18: A drone attack at a military camp killed at least 83 government soldiers. The soldiers were gathered at a mosque in the central province of Mareb when the missile struck their base. The government blamed Houthi rebels active in the region, but the Houthis denied responsibility for the attack.
Jan. 25-30: Houthi military spokesman Yahya Sarea said that the group had launched 26 rocket attacks over four days targeting Saudi airports in Jizan, Abha, Najran, and Khamis Mushait, Saudi Aramco oil facilities and "two sensitive targets deep in Saudi Arabia." Sarea claimed that the attacks were retaliation for recent airstrikes by the Saudi-led coalition.
Jan. 29: Mohammed Ali al Houthi, a senior Houthi leader, denounced President Trump's Middle East peace deal. "Trump's deal is blatant U.S. aggression on Palestine and the nation, and it is a deal funded by Saudi (Arabia) and the UAE (United Arab Emirates) to cement Israeli occupation," he said. "The people of the region have to bear the responsibility of standing up to this danger and facing it with every possible and legitimate means."
Related Programs
The Islamists
"The Islamists" is a book and website on the origins, evolution, and positions of Islamist movements in the Middle East. The movements are redefining the order and borders in the world's most volatile region. Yet they have diverse goals and different constituencies. Sometimes they are even rivals. Read more
The Islamists
"The Islamists" is a book and website on the origins, evolution, and positions of Islamist movements in the Middle East. The movements are redefining the order and borders in the world's most volatile region. Yet they have diverse goals and different constituencies. Sometimes they are even rivals. Read more