March 2020 Islamist Digest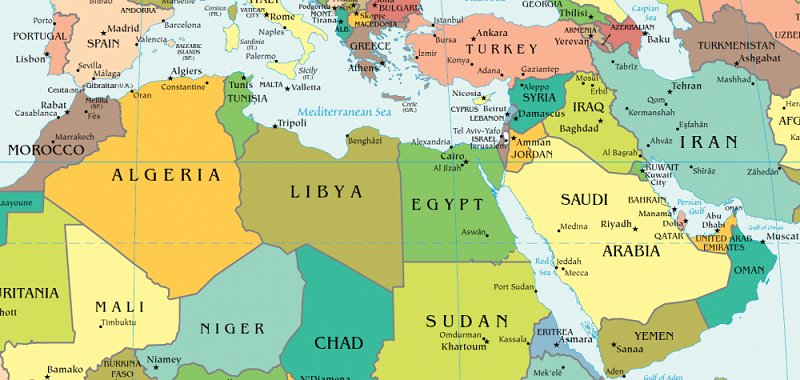 The following is a roundup of March developments related to Islamist groups, organized by country.
Algeria
Mar. 17: President Abdelmadjid Tebboune banned street protests amid fears of a coronavirus outbreak. "The lives of citizens are above all considerations even if this requires restricting some freedoms," Tebboune said in a press conference. The Hirak protest movement, which began in February 2019, led to the resignation of President Abdelaziz Bouteflika after 20 years of rule. The Hirak movement had attracted a diverse cross-section of Algerian society, including secularists and Islamist parties.
Egypt
Mar. 2: A court handed sentenced 37 members of Sinai Province, an ISIS affiliate, to death.. Hisham el Ashmawi, the group's leader, was among those sentenced. The militants were linked to more than 50 attacks since 2013, including assassinations of high-ranking officials and bombings that targeted Cairo's police headquarters.
Mar. 11: Minister of Endowments Mohammad Mukhtar Juma accused the Muslim Brotherhood of plotting to spread the coronavirus in Egypt. "Some members of the stray organization called on their colleagues who have been infected with coronavirus to spread it among members of the army, police, judiciary, and media figures as well as to the rest of the innocent citizens, which reflects the Brotherhood's extreme state of mental, psychological and human imbalance," Juma said. The Brotherhood had no official statement but some Muslim Brotherhood supporters claimed that the virus was divine punishment against the military regime.
Lebanon
Mar. 3: Hezbollah said that it was against the terms required by the IMF for Lebanon to obtain a bailout package. "The position is not toward the Fund as an international financial institution but on the terms offered to Lebanon, because they will lead to a popular revolution," said Hassan Fadlallah, a Hezbollah lawmaker.
Mar. 11: Hezbollah quarantined at least four senior leaders after a meeting in Beirut with Iranian military officials who later tested positive for the coronavirus. Secretary General Hassan Nasrallah began self-quarantine as a precautionary measure. In a televised speech on March 13, Nasrallah said the crisis was "not for settling scores or bickering" among Lebanon's religious sects. Hezbollah's political opponents had blamed the group's contacts with Iranians for the initial spread of COVID-19 to Lebanon.
Mar. 31: Hezbollah launched a nationwide campaign to fight the coronavirus outbreak. The group opened two new testing centers, a call center, three quarantine units and rolled out a fleet of ambulances equipped with ventilators. "The goal is to reduce the pressure on the ministry (of health), hospitals, and the state," said Hezbollah official Hussein Fadlallah. "We have a volunteer team of over 25,000.
Libya
Mar. 12: The Islamist-dominated Government of National Accord (GNA) began taking precautions against a coronavirus outbreak. It imposed a curfew from 6pm to 6am on attendance at mosques and most public spaces. The government warned, "Those who don't abide by the curfew and lockdown will be subject to punishments." On March 16, the government closed all land crossings and airports for three weeks and ordered all schools and universities closed for two weeks. On March 30, Libya extended its curfew hours from 2pm to 7am.
Mar. 19: The Tripoli-based GNA agreed to a truce following calls by Arab and Western governments for a hiatus in the fighting with General Khalifa Heftar's forces, the Libyan National Army (LNA). But the government accused Heftar of breaking the truce. The two sides resumed fighting on March 23. Libya has been in a state of civil war since the ouster of Moammar Qaddafi in 2011.
Mar. 27: The GNA launched "Operation Peace Storm" to repel LNA forces in the Tripoli area. GNA Prime Minister Fayez al Sarraj said that the operation was in response to recent attacks by the LNA. "We reiterated that we will respond to the continuous violations of the armistice, and we have already said, and are still saying, that we will not stand by idly. So, this is precisely what happened as orders were issued to respond forcefully to the repeated terrorist attacks on civilians," Sarraj said.
Mar. 30: The Ministry of Justice announced the release of 450 prisoners to stem the spread of coronavirus. The detainees were reportedly awaiting trial and had qualified for conditional release.
Palestinians
Mar. 18: Hamas, the ruling party in Gaza, announced the construction of quarantine facilities at the Rafah and Erez boarding crossings to stem the spread of coronavirus in the Gaza Strip. "The Gaza Strip is a densely populated area, where the virus could spread very quickly," warned a Hamas official. "The health system in the Gaza Strip does not have the tools and staff to deal with dozens of infected cases. We have 11 major hospitals and dozens of clinics, but they won't be able to receive a large number of patients. That could result in a real and unprecedented humanitarian crisis."
Mar. 21-22: Health officials in Gaza announced the first cases of COVID-19 in two individuals who had attended a conference in Pakistan. On the following day, Hamas redeployed its armed wing, the al Quds Brigade to sanitize the streets. It also banned all public gatherings and Friday prayers. The group's leader, Ismail Haniyeh, called for a "complete end to the Israeli siege" on Gaza to allow humanitarian aid. He urged Qatar and Turkey to provide supplies.
Iraq and Syria
Mar. 2: A Turkish drone strike killed 19 Syrian soldiers in Syria's Idlib province.  Turkey also reportedly shot down two Syrian fighter jets. Syria announced that it had downed three Turkish drones during the skirmish. Turkey, which has supported rebel groups, had threatened to confront Syrian regime forces if they did not withdraw from positions near Turkish observation posts in Idlib. Turkey had refused to abandon its military posts in Idlib, and it had shut its borders to Syrian refugees.  
Mar. 13: In its al Naba newsletter, the Islamic State called the coronavirus a "painful torment for all "Crusader nations" in the West. The group urged followers not to travel to Europe to commit terrorist attacks during the epidemic to avoid contracting the virus. Instead, the group urged its followers in Iraq and Syria to free ISIS prisoners being held in camps.
Mar. 14: In Idlib province, Hayat Tahrir al Sham (HTS), the most powerful Sunni jihadi group in Syria, closed schools and mosques to limit a potential coronavirus outbreak. It transferred patients with symptoms to Turkey for treatment. Abu Mariya al Qahtani, an HTS commander, advised followers to "keep distant from gatherings and avoid hand-shaking" and to "stay in your place" as the epidemic spread.
Mar. 30: Several ISIS detainees escaped Ghweran prison in the northeastern city of Hasakah during a riot. The prisoners reportedly took control of the first floor of the prison and tore down walls and doors. "The situation is tense inside the prison currently," said Mustafa Bali, head of the Kurdish-led Syrian Democratic Forces press office. "The anti-terrorist forces are dealing with the situation to restore control of the ground floor in the prison and restore calm to the prison in general."
Tunisia
Mar. 6: Two suicide bombers detonated explosive devices near the U.S. embassy in Tunis. The blast killed one police officer and injured five others. On March 10, authorities arrested five men linked to the attack. No extremist group claimed responsibility.
Mar. 8: Abdelhamid Jelassi, a senior Ennahda official and former party vice president, resigned from the movement citing "a cleansing of dissent" by Ennahda President Rachid Ghannouchi. "I belonged to Ennahda for 40 years to defend a set of values and principles. I believe that continuing in Ennahda is not useful to advance these values," Jelassi said. Ghannouchi's opponents within Ennahda had accused him of tightening control of the party and pushing out opposition.
Mar. 21: Rachid Ghannouchi, Ennahda's leader and Speaker of the National Assembly, declared his party's support for government efforts to fight the coronavirus outbreak. He called on Tunisians to volunteer and donate to help the country's most vulnerable citizens.    
Mar. 31: The government announced it would extend the nationwide lockdown until April 19 to contain COVID-19. The judiciary freed 1,420 detainees to prevent the spread of the virus in Tunisian prisons.
Turkey
Mar. 1: Defense Minister  Hulusi Akar announced a counteroffensive against the Syrian government in northern Syria. The announcement was made three days after 36 Turkish soldiers were killed in Idlib province by Syrian and Russian forces. "All of our efforts are primarily to ensure a cease-fire, to prevent migration and to stop the flow of blood and thus to bring peace, peace and stability to the region as soon as possible," Akar said.
Mar 5: Turkey and Russia agreed to a ceasefire in Syria's Idlib province. Under the agreement, joint Turkish-Russia patrols along the M4 highway, one of Syria's most important trading routes, would begin on March 15. "Turkey reserves the right to respond to any attack by the [Syrian] regime's troops," President Recep Tayyip Erdogan warned in the announcement. "Our task is to prevent the humanitarian situation in this region from sliding down."
Yemen
Mar. 30: Clashes between pro-government forces and Houthi rebels left at least 38 people dead in central Yemen. The Saudi-led coalition reportedly carried out 15 airstrikes against Houthi targets, killing at least 20 rebels.
Click here for more information on Islamist responses to the coronavirus pandemic.
Related Program
The Islamists
"The Islamists" is a book and website on the origins, evolution, and positions of Islamist movements in the Middle East. The movements are redefining the order and borders in the world's most volatile region. Yet they have diverse goals and different constituencies. Sometimes they are even rivals. Read more