The Price of Principle: EU Aims to Wean Itself off Russian Energy Dependence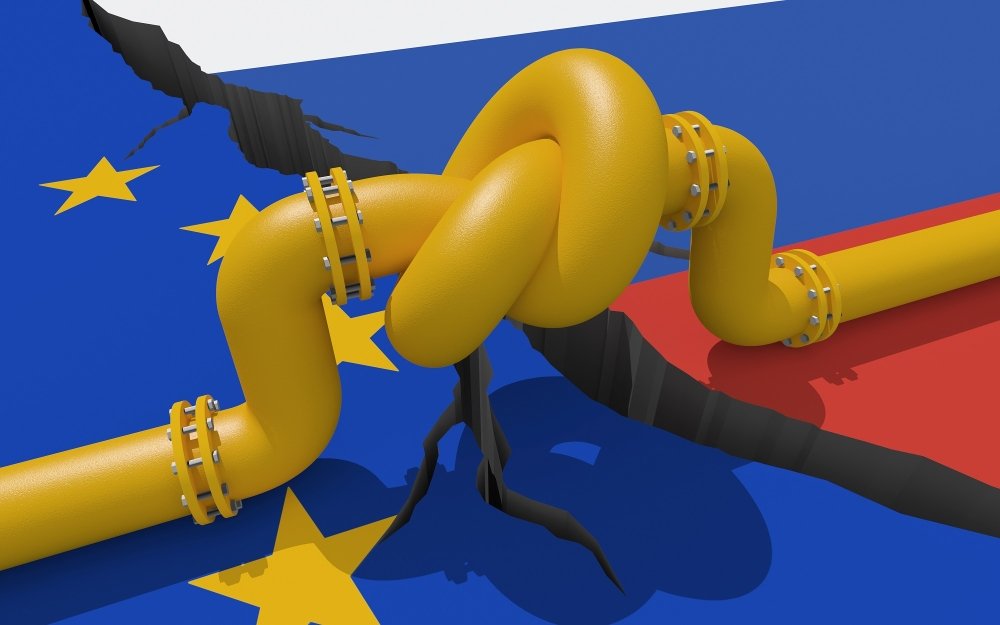 The war in Ukraine has forced European leaders to rethink their energy policies with Russia in dramatic fashion. Oil and gas from Russia are still flowing into Europe, but the EU wants to slash its dependence on Russian gas by two-thirds before the end of the year. The EU Commission presented the REPowerEU plan, which aims to find new suppliers of gas and boost the European Green Deal by accelerating the deployment of renewables and doubling its targets for biogas by 2030. In addition, the EU will revamp its gas storage policy to avoid shortages in the coming winter.
At present, Russia accounts for about 45 percent of gas imports into the EU. The following graph shows European countries' gas imports from Russia as part of their larger energy mix and indicates which countries will feel a drastic reduction of imports the most:
The general trend is clear: Eastern Europe is much more reliant on Russian gas than Western Europe. Germany and Italy are the only large EU members in Western Europe that source a substantial amount of Russian gas. The biggest natural gas producers within Europe are Norway, the Netherlands, and the United Kingdom, which explains why they and some of their neighboring countries are not dependent on Russian gas.
If the EU wants to increase LNG imports in the short term, it will have to address two major challenges: expand limited storage capacity and improve transportation infrastructure among countries. Spain has the most LNG terminals in Europe, whereas Germany only just announced that it would build two terminals. Europe's biggest gas field in the Netherlands will likely not increase or continue production after 2022 because of the seismic risks involved. The Dutch government called it the "last option" to secure energy.
As these graphs show, energy mixes differ widely among EU members. The varying dependency on Russian fossil fuels will make it difficult to agree on a common path forward, since some members will pay a higher price than others. Greece has already called on the EU to set up an Energy Solidarity Fund that would mitigate the impact on those countries affected the most.
Another source for internal discord will be the balance between fossil fuels and renewables. EU bureaucrats lead with the Green Deal; Poland, the coal powerhouse of Europe, may see the current energy crisis as an opportunity to expand its coal operations and slow down the coal phase out. And even if certain governments want to move ahead with the green transition, it might be difficult to forestall public backlash if the prices for energy skyrocket and remain high for a longer period of time.
Policymakers also need to factor in the renewables gap. Western Europe is further ahead in deploying solar and wind, and in electrifying homes than Eastern Europe. A war-time effort to accelerate the green transition will be much harder to pull off in post-Soviet countries. Already, we are seeing signs of disagreement within the EU on how to proceed. Hungary and the Czech Republic made it clear that they are not ready to shift from fossil fuels to green energy if it hits their citizen's pockets.
All eyes are on Germany, which is Russia's top gas consumer. The new German government will also have to walk a tightrope and could reverse its nuclear phase-out and the closing of the last three remaining nuclear power plants to mitigate the energy crunch—something that was deemed unthinkable before the invasion of Ukraine. But incidents at Ukrainian nuclear power plants won't necessarily increase confidence that it is a safe alternative to coal, gas, and oil.
The International Energy Agency urged Europeans to turn their thermostat down one degree Celsius, which could decrease overall gas consumption by seven percent. In some European countries, governments have also called directly on the public to reduce their energy footprint to hurt Russia's president Vladimir Putin. In Germany, for example, the rising oil and gas prices have revived the never-ending debate around speed limits. Currently, there are no speed limits on Germany's highways. Environmental NGOs argue that it would be an easy solution to decrease the use of gasoline but current data shows that German car drivers have yet to slam their brakes.
How Europe responds to the war in Ukraine and the energy crisis connected to it will fundamentally shape not just the short-term trajectory to secure supplies for the next winter. The policy changes put in place could be consequential for the viability of the European Green Deal.
About the Author
---
Global Europe Program
The Global Europe Program addresses vital issues affecting the European continent, U.S.-European relations, and Europe's ties with the rest of the world. We investigate European approaches to critical global issues: digital transformation, climate, migration, global governance. We also examine Europe's relations with Russia and Eurasia, China and the Indo-Pacific, the Middle East and Africa. Our program activities cover a wide range of topics, from the role of NATO, the European Union and the OSCE to European energy security, trade disputes, challenges to democracy, and counter-terrorism. The Global Europe Program's staff, scholars-in-residence, and Global Fellows participate in seminars, policy study groups, and international conferences to provide analytical recommendations to policy makers and the media. Read more