The Islamist Spectrum - Jordan's Mosaic
Islamists are making a comeback in Jordan after years of boycotting politics. This article explores different competing Islamist parties and movements in Jordanian politics today.
By Sarah Timreck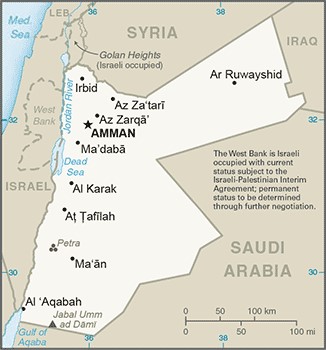 Islamists are making a comeback in Jordan after years of boycotting politics. Jordan has five Islamist parties or movements, four of which competed in national and local elections in 2016 and 2017. They range from centrist parties that are friendly to the monarchy to ultraconservative movements that avoid politics. Since the Arab Spring, the formal Islamist parties have widened their political base by moderating their rhetoric and campaign platforms and working in coalitions with tribal and Christian groups.
The Muslim Brotherhood, founded in 1945, has long been the most powerful Islamist force in Jordan. It returned to politics in 2016 through its political arm, the Islamic Action Front (IAF), after boycotting two previous elections in 2010 and 2013. The IAF competed in alliance with tribal and secular candidates, the National Coalition for Reform (NCR). The Muslim Brotherhood also produced two other Islamist parties. Splinter groups launched the Zamzam Initiative in 2013 and the Muslim Brotherhood Society in 2015. The Wasat Party, formed in 2003, is a centrist party and rival to the Brotherhood. All four competed in the parliamentary election in 2016. The Brotherhood, the Wasat Party, and the Zamzam Initiative ran in the 2017 municipal elections. The Salafis are a loose-knit network of clerics and their followers who do not compete politically.
 
Jordan's Rebranded Islamists Seen Staging Election Comeback https://t.co/e9N9kbzfoG@voanewspic.twitter.com/2nwYWZz7uv

— Jim Stevenson (@VOAStevenson) September 21, 2016

 
Changes to Jordan's election law, in 2016, provided Islamists with an appealing opportunity to return to politics. Parliament voted to replace the one-person, one-vote system, implemented in 1993, with a list-based system in which candidates ran on a single ticket. Islamists viewed the old law as biased towards tribal candidates. Islamists, most notably the Muslim Brotherhood, opted to compete under a new rule more favorable to parties. Under the current system, Jordan has 23 electoral districts; its parliament has 130 seats, 15 of which are reserved for women.
Jordan is largely divided along tribal lines and between "East Bankers," who historically came from regions east of the Jordan River, and Palestinian-Jordanians, whose roots are west of the Jordan. These disparate identities determine both social loyalties and political affiliations. With an overwhelmingly Sunni population, religious affiliation has not been a major divider in Jordan, but Islamist political parties have remained a political force for their criticism of the government.
Islamists have long tried to exploit domestic and regional instability for their own political gains. In February 2017, the IAF participated in a rally in Amman with tribal leadership, youth, and activists under the slogan, "Stop messing with the country's future." The protest was in response to government price hikes, increased taxes, and rising unemployment that triggered protests in Tafilah, Slat, Madaba and Karak. But only about 1,000 people attended the Amman rally, and the march reportedly lost momentum after only an hour.
In July 2017, the Brotherhood called for a protest against restrictions on Jerusalem's al Aqsa Mosque. Hundreds marched in Amman calling for the "liberation of al Aqsa." The Brotherhood also condemned the return of an Israeli embassy security guard to Israel after he killed two Jordanians. "The Jordanian people were shocked by the death of two Jordanians in cold blood and instead of the government doing its duty towards its citizens, we were appalled by its protection of the killer and returning him without punishment," the Brotherhood said in a statement. Israel said the guard acted in self-defense after he was attacked.
Jordan, one of the region's few bastions of stability, has also been vulnerable to spillover from the wars in Syria and Iraq. Economic challenges have boosted the appeal of jihadism. Since the 1990s, jihadi recruitment has grown in both northern Zarqa and southern Maan.
The Muslim Brotherhood (Islamic Action Front)
The original Muslim Brotherhood was founded in Egypt, in 1928, by Hassan al Banna. The Jordanian branch was founded in 1945 by Abdul Latif Abu Qura, a businessman of Syrian origin and an al Banna protégé. The movement initially had the support of King Hussein after Egypt's President Gamal Abdel Nasser, a rival, cracked down on the organization. The Brotherhood's Islamic Action Front has been the main political opposition in Jordan since 1989.
The Muslim Brotherhood parent organization advocates reforming society through political activism and social work. The Brotherhood won followers in Jordan by providing goods and services to the urban poor and Palestinians in refugee camps.
The organization has never been monolithic, however. One major division is between Palestinian-Jordanians and "East Bankers." Palestinian-Jordanians, the dominant faction, give priority to Palestinian national issues and groups, such as Hamas. East Bankers are more sympathetic to the regime and focus less on the Israeli-Palestinian conflict.
The Brotherhood was loyal to the monarchy during its early years. It supported the king during the domestic turmoil in the 1970s, most notably during Black September, a conflict between King Hussein and the Palestinian Liberation Organization in 1970-71. It culminated in the PLO's expulsion from Jordan. Yet the Brotherhood's political activities were limited throughout the 1970s and 1980s because the king had instituted martial law in 1957 and more fully after the 1967 Arab-Israeli war. Under martial law, large public meetings were banned and freedom of speech was restricted.
In 1989, Jordan resumed parliamentary elections for the first time in 22 years. But the 1957 ban on political parties remained in place, so candidates ran as independents. At least 22 candidates affiliated with the Brotherhood were elected to the 80-member parliament, making it the largest bloc. The monarchy then canceled most martial law provisions and expanded political freedoms in 1991.
The Muslim Brotherhood formed the IAF as its political wing after parties were legalized in 1992. It initially had cordial relations with the monarchy. But in the 1993 elections, the IAF led opposition to the government after a change in the election law created a one-man, one-vote system that had uneven electoral districts—partly put in place to curtail Islamist representation. The Brotherhood also opposed Jordan's 1994 peace treaty with Israel.
The IAF's increasingly tense relationship with the government led to its withdrawal from politics in 1997. It boycotted parliamentary elections that year. When Abdullah II (left) took the throne in 1999, he showed no interest in engaging with Islamists.
From the political sidelines, IAF leaders criticized the government and promoted Islam in politics and society. In early 2003, then-Secretary General Hamza Mansour described the IAF's identity and goals:
We are an Islamic political party and consider Islam as the fundamental way of thinking. We have a program to enforce Islam in society by peaceful means because we believe Islam can give us happiness and we look forward to bringing out the best for all members of society, including men, women and children. We work for freedom for all and human rights for society and we are against any bad conduct at any level, especially in the government. And we are against the people in charge in Jordan and want a complete political change.
In June 2003, the IAF returned to politics and contested the parliamentary elections, winning 17 out of 110 seats. One of the seats went to the party's first female candidate, who took one of the six new female quota seats. By the 2007 election, however, Jordan's parliament had lost so many powers that the IAF was split on whether it should run. It ended up competing, but only secured six seats. It questioned the results amid widespread reports of fraud and manipulation.
In 2008, the Jordanian Brotherhood elected Hammam Saeed, a hawk, as its Comptroller General. He has called peace with Israel "heresy."
The IAF boycotted the 2010 parliamentary election despite government encouragement to run. The government feared that turnout would be extremely low and that the new parliament would lack any credible opposition.
In 2011, protests erupted in Amman and across Jordan as part of the Arab Spring. The Brotherhood protested alongside secular opposition in January and February. They called for the prime minister to step down and protested the rising cost of food and fuel, high levels of inflation and unemployment. King Abdullah II responded by dismissing the government and appointing a new prime minister. On February 3, the king also met with the Brotherhood for the first time in nearly a decade. He emphasized the importance of working together on reforms, including the role of citizens in decision-making.
A Brotherhood leader, Zaki Bani Ersheid, said that the group turned down a role in the new government. "We refused because we want the prime minister to be elected, not appointed by the king, and we want real elections," he told The New York Times. "We are willing to be a partner but in a real government." Brotherhood members continued to demonstrate alongside young activists and trade unionists. The IAF partnered with more than a dozen other parties to organize protests in late February that drew 7,000 to 10,000 people. The protests, however, subsided in 2012.
 
IAF condemns confiscation of personal diary of Bani Irshaid, deputy of MB Jordan, by prison authorities. pic.twitter.com/7bz2uaVD1h

— DIMA TAHBOUB (@DTABOUB) June 2, 2015

 
The IAF boycotted the 2013 parliamentary elections. It argued that election districts had been gerrymandered to favor tribes and rural areas where the monarchy had strong support. "The regime has failed to meet reform demands by Jordanians, including the Islamist movement," said Ersheid, deputy secretary general of the Brotherhood. At a pre-election protest, Saeed, the head of the Brotherhood, expressed his dissatisfaction with the king. "Don't impose your failed governments on people," he said. "These governments that have committed corruption should be held accountable. There is no legitimacy for any government not chosen by the people."
In 2014, Saudi Arabia and the United Arab Emirates joined Egypt in condemning the Brotherhood as a terrorist movement. In 2015, Ersheid was sentenced to prison for criticizing the United Arab Emirates, a close ally of Jordan. The IAF Secretary General, Mohamed Zyoud, called Ersheid's arrest "nothing less than an attack on the freedom of speech and an attempt to silence the opposition."
In 2015, Jordan's Brotherhood split for the first time in 70 years. Former members established two alternative Islamist political parties: The Zamzam Initiative was formed by reformists within the Brotherhood. The Muslim Brotherhood Society (MBS) looks to distance itself from regional affiliation with Egypt and the Palestinian movement, Hamas.
Hamzeh Mansour, a former IAF secretary general and member of parliament, said disagreements with the group's leadership led to his departure in December 2015. Mansour and other former Brotherhood leaders formed the Group of Elders. They announced the formation of a new political party, the Partnership and Rescue Party, ahead of the September 2016 elections.
 
King Abdullah's commitment to fighting ISIS alongside the West has set back Jordan's Muslim Brotherhood party https://t.co/oFu0Itn5pepic.twitter.com/GI9NRHof4H

— Brookings (@BrookingsInst) October 1, 2016

 
After its split, the MBS applied for and received a license from the government to operate. The government said the Brotherhood was not legally registered and, without legal authority to operate, it closed Brotherhood offices in Aqaba, Amman, Jerash, Madaba, Karak, and Mafraq in 2016. In March, the government prohibited the group from holding internal elections because it lacked the proper license. Brotherhood Comptroller General Saeed condemned the moves in a statement.
We denounce the barbaric attack by security apparatuses Wednesday, which simply brushed aside all interests of this country. Forces closed the Muslim Brotherhood HQ, and also the Muslim Brotherhood House in Jerash, under totally absurd pretexts that could not be accepted by anyone keen on the higher interests of Jordan and Jordanians.
The IAF rebranded to regain political legitimacy after the events between 2013 and 2015. It cultivated a more moderate image by promoting inclusivity and seeking new political partnerships. The IAF established a female quota of 11 out of 80 seats on the Consultative Council (CC), the IAF's decision-making body. Dima Tahboub, a female member of the IAF Consultative Council, said the decision was made "by force, not by choice." The organization did not formalize membership for women despite the quota.
The Brotherhood also shifted its position on political pluralism, according to an analysis by the Brookings Institution. The Brotherhood sought Islamic texts that seemed to allow for a civil state and equal rights for citizens and eventually embraced those concepts, compromises that exceeded any earlier platform.
نساء أردنيات خلال الانتخابات النيابية 2016#الغد#الأردن#عمان#الأردن_ينتخبpic.twitter.com/3GF99UJh85

— جريدة الغد (@AlghadNews) September 20, 2016
Translation: Jordanian women during the parliamentary elections 2016 #tomorrow #Jordan #Amman #Jordan_elected
 
In 2016, the IAF competed in the parliamentary elections, partly because of changes in the election law that allowed voters to choose from candidate lists, encouraging political parties to participate. The IAF ran as part of the National Coalition for Reform (NCR), which incorporated Islamists, nationalists, tribal candidates, Christians, and members of minority groups. The Brotherhood stepped away from its traditional slogan, "Islam is the solution"; it adopted a new one, "Renaissance of the homeland, dignity for citizens." The NCR platform included general reforms such as ending government corruption, reforming the judicial system, and boosting the private sector for economic growth. The NCR "vision," originally crafted in 2014, stated:
Adopt a national strategy of reform that will put the country onto the democratic path based on the fundamentals of the Constitution and National Charter, to create a civil state of democracy based on freedom, justice and respect for human rights, which constitute 'citizenship' with constitutional, legal and ethical dimensions as its core.
The Brotherhood and its coalition allies competed against candidates drawn largely from tribal leaders and businessmen. Despite low voter turnout compared to the 2013 parliamentary election, the NCR won 15 out of 130 seats, 10 of which were IAF members. Three of the IAF seats went to women. The Brotherhood was most successful in Amman, where it won seven seats of 25.
 
Is Jordan's Islamic Action Front (IAF) as moderate as it says or is it promoting violence in the region? https://t.co/CstmOAkXF6pic.twitter.com/vHxXAvDg8Q

— DW Conflict Zone (@dw_conflictzone) July 19, 2017

 
In August 2017, the IAF also competed in elections—mayoralties, municipal and local councils, and governorate councils—that were the first held under Jordan's new decentralization law. The NCR ran 154 candidates in a field of 6,000 candidates competing for 1,833 seats on city, town, and governorate councils. It won 78 positions—76 of which went to the IAF—for mayor or in the various councils.
IAF elections committee chairman Murad Adayle said the IAF was focused on serving the community and not on ideology. "The IAF formed alliances with tribal, academic and national figures to attract the participation of all social spectra, which indicates that IAF does not want to be alone in the scene," he told The Jordan Times. Adayle said that the winners' main challenge would be to outperform former municipal leaders, which "cannot be achieved through ideologies."
 
The Muslim brotherhood in #Jordan wins the most seats in the country's municipality elections, marking a strong comeback since Arab spring. pic.twitter.com/xY2Q9QssF7

— Rudaw English (@RudawEnglish) August 17, 2017

 
Social media information for Islamic Action Front:
Website: not functional
Facebook: https://www.facebook.com/jabhajo/
Twitter: @JabhaJO https://twitter.com/JabhaJO
Muslim Brotherhood Splinter Groups

The Zamzam Initiative
Beginning in 2014, Jordan's Muslim Brotherhood splintered. The Zamzam Initiative, or the Jordanian Building Initiative, started as a reform movement within the Brotherhood in 2012. Its members were expelled in 2014, when they established a separate party. Ruheil Gharaibeh, a former IAF official, championed more engagement in Jordanian politics and disengagement from the international Muslim Brotherhood movement. "The root cause of the divisions is demographic, since Hamas penetrated the group in Jordan for many years and forced its own agenda," he said.
Zamzam is more closely aligned with the regime and wants to work towards a democracy built on national consensus. "We are in dire need for consensus, away from the persisting religious, ethnic and exclusivist ideology," Gharaibeh said in early 2016. The group's leadership and constituency comes largely from Jordanian East Bankers, while the Brotherhood is more closely tied to Palestinian Jordanians.
Zamzam candidates ran in the 2016 parliamentary election and won five seats. But those individuals appeared to be non-Islamist, tribal allies. Zamzam won six seats in the 2017 local elections.
The Muslim Brotherhood Society (MBS)
The Muslim Brotherhood Society (MBS) was formed in 2015. Some members of the original Muslim Brotherhood claim the government supports the MBS splinter in order to undermine the Brotherhood. "The dissident group [the MBS] does not own its decisions. Its decisions are dependent on the government and others, and this does not suit a group demanding change," Hayat al Museimi, the first woman in the IAF to serve in parliament, told Al Jazeera.
At a press conference announcing the founding of MBS, Abdul Majid Thunaibat, seemed to acknowledge alignment with the monarchy. "We are part of this regime," he said. Thunaibat was elected the leader of MBS in 2016. MBS gained one seat in the 2016 election and did not run in the 2017 local elections.
Al Wasat Party
 
The al Wasat Party—also known as the Islamist Centrist Party or the Muslim Center Party—is a moderate party formed in 2001. It has been the biggest Islamist competitor to the Brotherhood. Al Wasat is government-friendly.
Al Wasat has not come close to dislodging the IAF as Jordan's major Islamist party. It won just two parliamentary seats in 2003. But it capitalized on the IAF's boycott to win big in 2013. It won 16 seats, the largest bloc of a single party.
Since 2016, however, al Wasat has had less representation in government than the IAF. In 2016, al Wasat claimed to have won seven parliamentary seats, including party members and tribal allies. The number was not clear because those individuals did not campaign on their al Wasat association. Meanwhile, the IAF won 10 seats. In 2017, Wasat said it took 33 positions in local councils and mayoralties, while the IAF won 76 in 2017.
Social media information for Al Wasat:
Website: http://www.wasat-party.org/
Facebook: https://www.facebook.com/alwsaatparty/
Twitter: @alwasaat2001 https://twitter.com/alwasaat2001
Salafis
Salafism, an ultra-conservative form of Islam, spread from Saudi Arabia into Jordan during the 1980s. The Jordanian government allowed Salafis to operate freely because they were apolitical and non-violent. Salafi jihadists are a minority among Islamists in Jordan. They pose little threat to the country's stability, especially since 95 percent of Jordanians consider ISIS to be a terrorist organization.
Muhammad Nasr al Din al Albani is considered the founder of Jordanian Salafism. The Salafism he preached was conservative and pro-government, posing no threat to the Hashemite Kingdom.
The violent form of this trend, jihadi Salafism, appeared in Jordan in the 1990s. In 1992, the cleric Abu Muhammad al Maqdisi, a Palestinian, arrived in Jordan after his family and many other Palestinians were evicted from Kuwait. He had studied in Saudi Arabia and Iraq and traveled to Sarajevo, Pakistan, and Afghanistan. Maqdisi sought to mobilize the masses peacefully, at least at first, since Jordan's small number of Salafis could not hope to topple the regime. He was the spiritual mentor of Abu Musab al Zarqawi, a Jordanian jihadi who used Maqdisi's ideology for more violent ends.
Zarqawi's goal was to create an Islamic state. His focus on violent jihad and willingness to kill Shiites, however, caused a rift with Maqdisi; it ruptured into two schools of thought within Jordanian Salafism. Zarqawi went on to form al Qaeda in Iraq, which evolved into the Islamic State of Iraq and Syria.
Jihadi Salafism was prominent during the March 2011 "Salafi Spring" protests held in Amman. Salafists called for implementation of Islamic law and the release of political prisoners. In April, jihadi Salafists held a press conference in Jordan criticizing the government, as well as Salafists loyal to the monarchy. Jihadi Salafists clashed with government forces in Zarqa two days later.
Jordanian Salafism split again as the Syrian conflict intensified. Salafi leader Mohammed al Shalabi or Abu Sayyaf, a student of al Albani, supported al Qaeda. Maqdisi also supported al Qaeda but disagreed with ISIS because of its rush to create a caliphate. On his website, Maqdisi wrote:
Will this caliphate be a sanctuary for every oppressed one and a refuge for every Muslim? Or will this creation take up a sword against Muslims who oppose it, and with it sweep away all the emirates that came before ... and nullify all the groups that do jihad in the cause of Allah in the different battlefields before them?
Following Zarqawi, other Jordanian Salafists threw their support behind ISIS. Throughout 2014, Jordan experienced several pro-ISIS demonstrations and rallies in and around the southern city of Maan.
Public opinion turned sharply against ISIS, however, in 2015. In February, ISIS released a video of captured Jordanian fighter pilot Muath al Kassasbeh being burned alive. A public opinion survey by the University of Jordan's Center for Strategic Studies found that 95 percent of Jordanians considered ISIS terrorists, up from 62 percent six months before.
Jihadism, however, has not been eliminated in Jordan. Estimates of local supporters varied from 5,000 to 15,000 Salafis—with up to a third of them jihadis. An estimated 1,300 jihadis had left Jordan to fight with Jabhat al Nusra or ISIS.
Jordanian security forces disrupted a suspected ISIS cell in Irbid in March 2016. ISIS took credit for a suicide attack on the Jordan-Syria border that killed six security officers in June 2016. It also claimed responsibility for the December 2016 attack in Karak that killed 10 people.
Jordan Factoids (2016):
Population:
9.5 million:
6.6 million Jordanians
2.9 million non-Jordanians- Palestinians, Syrians, Egyptians, Iraqis
Geographic Size:
34,495 sq miles (slightly smaller than Indiana)
Unemployment in 2016:
15.8%
Youth Unemployment in 2016 (ages 15-24):
34%
Literacy Rate in 2015:
95.4%
GDP in 2016:
$85.65 billion
Per Capita Income in 2016:
$12,300
Major Industries:
Services 66.2%
Industry 29.6%
Agriculture 4.2%
Size of Military in 2016:
$1.45 billion defense budget 3.7% of GDP
74,000 Army, 500 Navy, 12,000 Air Force
Sarah Timreck was a research assistant at the U.S. Institute of Peace in 2017.
Garrett Nada, managing editor of The Iran Primer and The Islamists websites, also contributed to this article. 
Photo credits: Jordan flag (thumbnail) by Patrik Neckman from Stockholm, Sweden [CC BY-SA 2.0 (https://creativecommons.org/licenses/by-sa/2.0)], via Wikimedia Commons; Jordan map via CIA World Factboook; Islamic Action Front logo via IAF Facebook; King Abdullah II in 2013 by World Economic Forum [CCA BY-SA 2.0 (https://creativecommons.org/licenses/by-sa/2.0)], via Wikimedia Commons; Al Wasat logo via Al Wasat Facebook 
Related Programs
The Islamists
"The Islamists" is a book and website on the origins, evolution, and positions of Islamist movements in the Middle East. The movements are redefining the order and borders in the world's most volatile region. Yet they have diverse goals and different constituencies. Sometimes they are even rivals. Read more
Middle East Program
The Wilson Center's Middle East Program serves as a crucial resource for the policymaking community and beyond, providing analyses and research that helps inform U.S. foreign policymaking, stimulates public debate, and expands knowledge about issues in the wider Middle East and North Africa (MENA) region. Read more