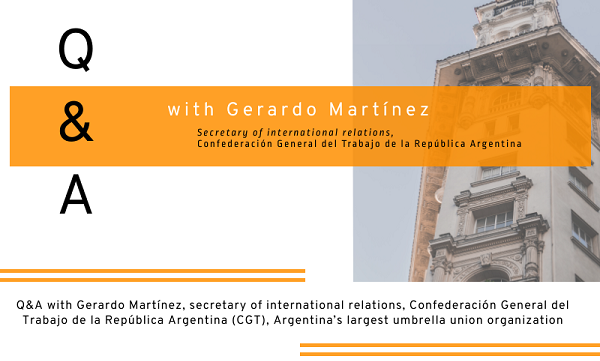 Q&A with Gerardo Martínez, secretary of international relations, Confederación General del Trabajo de la República Argentina (CGT), Argentina's largest umbrella union organization
Q: The recession has negatively affected the sector you represent, construction, with almost 12,000 jobs lost. In addition, under President Mauricio Macri, the real wages of workers in Argentina have fallen by almost 20 percent, and the minimum wage even more. The conditions for workers began to worsen in 2012. How did workers fare under Cristina Fernández de Kirchner and under the current government? What expectations do you have for a recovery of wages and employment?
A: It's true that at the end of former President Cristina Fernández's term, workers were already experiencing difficulties, mainly due to inflation, a lack of economic growth and stagnation in the creation of genuine private sector employment. Nevertheless, the labor situation as of December 2015 was far better than the current one. President Macri's macroeconomic management, in the real economy and on social matters, has been an obvious failure. With Macri, the country entered a process of stagflation. There is no economic and social variable that has improved; on the contrary, they have worsened dramatically. In addition, there has been an unprecedented increase in external debt. It is worth highlighting that 60 percent of the credit granted by the International Monetary Fund worldwide is for Argentina and the Macri government. In fact, the government has put the country on the edge of default. Workers are suffering in this economic climate, and even more so those who do not have a job, as the unemployment rate has increased significantly. There is no sector that has done well in these four years, except for the financial sector, agriculture and livestock production and energy-related sectors. Regarding expectations for economic recovery, I would say we are cautiously optimistic. And I say cautious, because the economic situation left by President Macri is not going to be resolved overnight and will require contributions from all sectors.
Q: President-elect Alberto Fernández has proposed a social pact to combat inflation – an agreement between the government, unions and businesses on prices and wage controls, designed to change inflation expectations. Argentina experimented with a social pact in 1974, during Perón's third term, and it failed. Is a social pact viable today? Is there enough trust between the actors to forge and maintain an agreement?
A: I think a social pact is feasible and necessary. You mention 1974 as a failure, although one has to analyze the internal and external political context of that era, which in no way resembles the current situation. Past dialogues have yielded positive results, such as the so-called Diálogo Argentino convened by former President Eduardo Duhalde in 2002/2003, after the worst economic, political and institutional crisis in Argentine history, which began in 2001. The current crisis is so profound that it affects all sectors and requires a basic consensus within a tripartite framework, produced by an institutionalized social dialogue that generates predictable political, economic and social policies. I have advocated for this for a long time, at all national and international fora that I participate in. We are not only talking about a price and wage agreement. That is one issue within the framework of a much broader agreement that would allow us to set priorities and policies, at least for the medium term. To achieve this, I propose the creation of an economic and social development council. Employers and workers should actively participate in the development of a master plan, with the participation of the government. That is why we want to establish a social economic development council with a strategic vision, so economic policy advances development objectives, and the state guarantees transparency in expressing the interests of workers and employers. We need an Argentina connected to the world, which wins markets based on its competitiveness, productivity and the efficiency of its workers and businesses, with the government guiding development through a master plan. We do not have many alternatives. Argentina has structural problems that must be solved with honesty, confidence and determination. I think we are on the edge of the abyss and in danger of collapse.
Q: In 2017, Mr. Macri attempted to pass labor reform. Initially, it had the support of the CGT, but it ultimately failed to pass. For many investors, labor reform is essential to improve Argentina's competitiveness. Labor reform is also an element of Argentina's IMF bailout. Yet in a speech at the Wilson Center in October, Sergio Massa, the country's next lower house speaker, said labor reform was not on Alberto Fernández's agenda. Is labor reform necessary? If so, what are the areas of labor regulation that need to be updated to improve competitiveness, adapt to automation and other challenges, while also protecting workers' interests?
A: The CGT did not agree with the government's labor or pension reform proposals. In 2017, there was an offensive by the government against the living conditions of workers and pensioners. On December 18, 2017, the congress passed a pension reform bill that was promoted by the IMF and designed to improve state finances. That bill reduced benefits, under the pretext of updating them according to a misleading cost of living index, which was strongly criticized by various sectors, and especially by the CGT. This resulted in mass protests and repressive actions during the congressional session, and led to a general strike by the CGT. The CGT has also criticized reductions to employer pension contributions. As a member of the CGT's managing council, I have hosted several meetings with IMF representatives. When we raised the subject of "structural reforms," as they are called, we noted that labor reform was not feasible. Roberto Cardarelli, the head of the IMF delegation for Argentina, agreed with our posture. Moreover, he assured us that in order for labor reforms to be viable and successful, they should be done in a period of economic growth. That is not the situation in Argentina. In these meetings, I told the IMF it must evolve and modernize its strategic vision, to think about the productive economy and boost growth with economic stability.
Q: Argentine unions are the most powerful in the region, with more than 3 million members and substantial economic and political resources at their disposal. But since the 1990s, there has been a division between the CGT and the Central de Trabajadores de la Argentina (CTA) that has inhibited coordination by the working class. Recently, Mr. Fernández called for the two umbrella union organizations to unify, and the CTA endorsed that idea. But there are unions within the CGT that remain skeptical about unification. Why, after almost thirty years, is there suddenly discussion of unifying Argentina's labor movement? What are the differences between the CGT and CTA that raise doubts about possible unification?
A: Argentina's labor movement has shown its strength and has demonstrated a unity of action when socio-labor rights are violated by the government. Unification would be the result of consensus, and a demonstration of the maturity required for the times we are living in. We recognize there would be resistance from some sectors of both sides, but the important thing is to consolidate the CGT and continue to build bridges with other confederations to create a short, medium and long-term programmatic agenda that prioritizes consensus and puts disagreements aside. That would allow us to achieve urgent measures to address the socioeconomic situation, including inflation, unemployment, falling wages, the closing of companies and increased poverty.
Q: Mr. Macri's agenda emphasized the fight against corruption, and one target were the so-called "union mafias." There have been significant cases involving union leaders convicted of corruption, and several ongoing investigations. Today, only 23 percent of Argentines trust unions. Are Mr. Macri's charges against unions overstated? Why is there such a low level of trust in unions, and how can unions improve their public image?
A: Most institutions have low levels of credibility and a negative image, and this is very serious. This is a crosscutting issue in our country, affecting politics, unions, businesses and institutions in general, including the media. We, at the leadership level of the unions, recognize that there have been specific cases reported of corruption, and they should be judged consistent with the law, but that does not mean it is widespread. Regarding the so-called "union mafias," that might refer to the cases you mentioned, which are being handled by the judicial system. On the other hand, corruption allegations are also used as a political weapon to attack groups that have opposed the austerity policies of the government, which have mostly affected workers. Argentina's labor movement remains very representative, with a culture and widespread awareness among workers of the importance of trade unions. Of course, we must be critical of ourselves. We need a labor movement that is modern, agile and up-to-date, aware that we must ask ourselves what we must change or improve to strengthen our level of representation, legitimacy and transparency, and to create a trade unionism that aims to adapt to modernity without seeing a loss of rights.
About the Author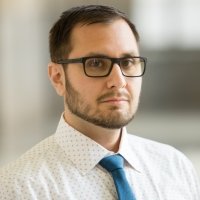 Aníbal Nicolás Saldías
Analyst, Latin America and the Caribbean, The Economist Intelligence Unit; former Senior Researcher, Argentina Project
Read More
---
Argentina Project
The Argentina Project is the premier institution for policy-relevant research on politics and economics in Argentina.  Read more