US: On Second Anniversary of ISIS Fall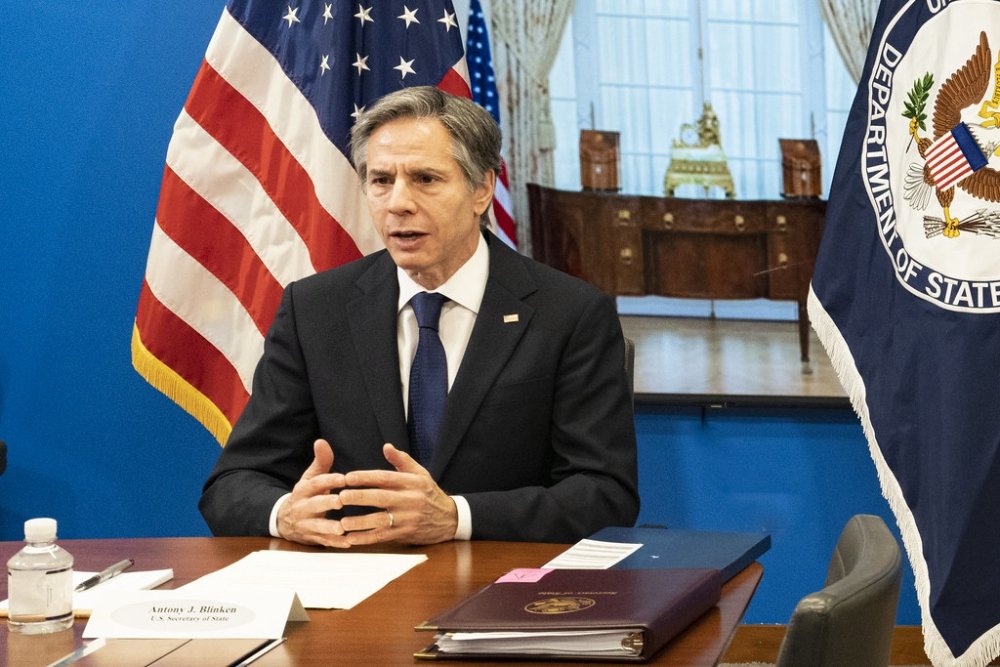 Two years after the fall of the ISIS caliphate, the United States and its allies continued to fight a low-level jihadist insurgency. "Although the liberation of territory in Iraq and Syria was an important turning point in the fight against ISIS, our mission is far from complete," Secretary of State Antony Blinken said on March 23, 2021. The anti-ISIS coalition, which consisted of 83 nations, worked to disrupt terrorist attacks, eliminate key leaders and help victims rebuild their lives. On March 30, Secretary Blinken and his Belgian counterpart, Deputy Prime Minister and Minister of Foreign Affairs Sophie Wilmes, co-hosted a ministerial-level meeting of the anti-ISIS coalition to reaffirm shared determination to "create conditions for an enduring defeat of the terrorist group." The following are statements from the United States and the Global Coalition. The following are statements from the U.S. and the Global Coalition.
Secretary of State Antony Blinken 
Statement on March 23, 2021: "Two years ago, the Global Coalition to Defeat ISIS, together with our local partners, liberated all territory controlled by ISIS in Iraq and Syria, a major milestone in the effort to ensure the terrorist group's enduring defeat. We commend the bravery and sacrifice of the Iraqi Security Forces, the Iraqi Kurdish Peshmerga, and the Syrian Democratic Forces in the hard-fought battles against ISIS. We continue to work alongside these partner forces to maintain pressure on ISIS remnants.
"Since the defeat of ISIS's fraudulent territorial 'caliphate,' the 83-member Global Coalition has continued its efforts to disrupt ISIS's ability to organize, plan attacks, and recruit and radicalize online. We have removed key ISIS leaders and continue to pursue those remaining to prevent their resurgence and bring them to justice. Nearly eight million people have returned to their homes and, with the assistance of Coalition stabilization support, have begun rebuilding their lives.
"Although the liberation of territory in Iraq and Syria was an important turning point in the fight against ISIS, our mission is far from complete. The Global Coalition remains united in its determination to see this enemy destroyed and will continue its efforts against the group in Iraq, Syria, and other countries. The United States is firmly committed to the Global Coalition and to the lasting defeat of ISIS."
Acting Special Envoy for the Global Coalition to Defeat ISIS John Godfrey 
Briefing on U.S. participation in the upcoming D-ISIS Ministerial on March 29, 2021:
MR GODFREY:  "Since the defeat of ISIS's fraudulent territorial caliphate in 2019, ISIS has intensified its focus on the activities of its branches and networks.  That's perhaps most clearly demonstrated by the events that occurred just this past weekend in the town of Palma in the Cabo Delgado Province of northern Mozambique.  The situation there is still unfolding, but the U.S. Government is closely monitoring events on the ground, and the attacks there are horrific, frankly, and show a complete disregard for the life, welfare, and security of the local population.
Attacks such as these are clear indicators that ISIS continues to actively seek to spread its malign "activity to new fronts.  Ensuring the enduring global defeat of ISIS will entail effectively countering ISIS branches and networks outside of Iraq and Syria, and we as a coalition recognize that.
"Turning briefly back to the core, let me start by saying that the D-ISIS campaign across Iraq and Syria has been a major success to date.  Although ISIS remains a threat, the group's capabilities have been significantly degraded.  The evidence supporting that claim is clear.  Millions of Iraqi and Syrian civilians have been able to return to their homes.  Public infrastructure and basic services have been restored.  And we continue to further strengthen partnerships with the increasingly capable local security partners with whom we work to prevent a resurgence of ISIS.
"To be clear, ISIS remains capable of carrying out smaller-scale deadly operations in both rural and urban areas and remains intent on doing so to demonstrate that it constitutes a continuing threat.  In Iraq, the recent series of attacks are just the latest reminder that ISIS does indeed remain a threat, one that can still metastasize if left unchecked.  That being said, Iraqi Security Forces have become increasingly capable in their efforts to counter ISIS operations.  The coalition continues to work with ISF in an advisory capacity and the United States maintains a small number of U.S. troops to carry out a limited mission focused on advising and assisting.
"In addition, we appreciate and support the expanded role for the NATO mission in Iraq now under the leadership of our Danish colleagues, whom I would also note recently opened their new embassy in Baghdad.  We look forward to continued collaboration to support NMI's anticipated expansion in coordination with CJTF-OIR.
"In Syria, our partnership with the Syrian Democratic Forces remains strong.  We continue to support them in the coalition's fight against ISIS and the SDF continues to do great work in maintaining pressure against ISIS in the northeast part of the country.  We continue to closely monitor ISIS activity throughout the country and assess that ISIS has continued its efforts to regroup and carry out attacks in non-SDF-controlled areas – particularly, as one example, in the Badia desert.
"And while on the topic of Syria, I'd just briefly note the detention centers and humanitarian camps are a growing issue.  Two years after ISIS's territorial defeat, the SDF continue to secure about 10,000 ISIS fighters, including some 2,000 foreign terrorist fighters – that is non-Syrian, non-Iraqi – in makeshift facilities.  As these detainees await repatriation and prosecution in their home countries, our local partners need to support – need support to help ensure humane and secure detention conditions.
"At the al-Hol IDP camp, the United States is aware of the recent killings and other security threats within the camp.  They reflect a persistent threat from ISIS and its criminal affiliates to innocent civilians in al-Hol, which places an increased burden on our local partners to maintain security within the camp. 
"This is an international problem that requires an international solution.  There are more than 60,000 individuals in al-Hol, from dozens of nationalities, the vast majority of whom are children.  We urge the international community to consider how they might support both humanitarian agencies who are providing to those populations now, as well as consider the repatriation of their own citizens in order to help relieve the burden on our local partners.
QUESTION:  "Do you consider ISIS in Syria still a major security threat to the U.S., or is it no longer a major security threat?  And if it's not, is it a problem of a size that the U.S. can trust other countries with their presence there, other forces to take care of, to manage?"
MR GODFREY:  So we do assess that ISIS does continue to constitute a significant security threat, both to local partners in Syria as well as more broadly to the region, particularly across the border into Iraq, and even beyond that, ranging further afield to Europe and potentially to North America.  One of the reasons for that is that there continues to be a cadre of capable ISIS actors in Syria who have experience with plotting attacks further afield, and who we assess retain aspirations to continue doing that.  And they've demonstrated some connectivity to actors further afield that we're very closely focused on, but argues I think for a sustained pressure – counterterrorism pressure, that is – against those elements, working in partnership with the local partners on the ground.
QUESTION:  "I was wondering if you could give us an assessment of whether the U.S. feels the SDF is still able to secure the ISIS prisoners that it has in its camp.  And then do you have an update on how many SDF the U.S. has repatriated and how many Americans might still be held in camps abroad?"
MR GODFREY:  "In terms of the assessment of SDF capabilities, we do assess that the SDF remains capable of maintaining positive control of the foreign terrorist fighters who are held in the network of detention facilities in northeast Iraq.  And in addition to that, the SDF I think has also demonstrated an ability to really carry a disproportionate share of the burden with respect to the internally displaced persons camps that also fall in that geographic space.  That is not to say that they don't continue to need significant assistance from the international community in the form of principally resources to help enable them to do that, but I think in terms of actual management of those facilities on the ground, they've shown themselves to be quite capable.
"In terms of the update on foreign terrorist fighters, the United States to date has repatriated 28 citizens from northeast Syria.  That is a figure that encompasses – just one second and I'll get it for you – 12 adults and 16 children.  And of the 12 adults, 10 have been or are being prosecuted." 
QUESTION:  "I want to follow up on al-Hol camp.  I know that you alluded to it in your opening remarks.  One of our reporters actually was recently in that camp, and she was faced with a very concerned reaction, a reaction from the children who have been indoctrinated of ISIS ideology.  And as you mentioned, they are in the thousands.  So some say that these kids actually are a time bomb unless something is done urgently.  Now, you're saying that some have been repatriated, but I'm just wondering in terms of priority, where is – you put in this with your – tomorrow in the Secretary's talk with the Europeans, in particular especially the – many of them actually came from European countries."
MR GODFREY:  "I would say unfortunately that the experience of your colleague is consistent with that of humanitarian workers and others who are regularly in al-Hol and Roj and the other IDP camps in northeast Syria.  And indeed, I think the fact that you have such a large number of children – it's in the tens of thousands – who have been exposed to fairly horrific conditions for a period in some cases of several or more years is something that we and other international partners are quite concerned about. 
"You put your finger squarely on I think one of the most troubling and potentially dangerous aspects of this, which is that a number of those children either have claims to or already have European citizenship.  And so there is the concern that down the road they could end up being able to go to other places and potentially do bad things.  That's precisely why, to address the last part of your question, we have been engaged for several years now in urging countries of origin, including European partners, to repatriate and rehabilitate and, where it's appropriate and feasible, to prosecute both foreign terrorist fighters but also, critically, their associated family members. 
"And just to give you a sense of scale in terms of the non-Syrian and non-Iraqi number of individuals in northeast Syria, the number of foreign terrorist fighters who are non-Syrian and non-Iraqi is about 2,000, and the number of associated family members is about – that is family members associated with that cohort of 2,000 – is about 10,000 individuals.  So we're talking about a fairly large scale here, and then on top of that you've got about 30,000 Iraqis that we are working with the Government of Iraq and others to try to get moved back to Iraq as expeditiously and responsibly as we can. 
QUESTION:  "I'm going to ask about the area under Assad and Russia's control.  There is a lack of security.  There is a lack – there is a chance for ISIS to revive again.  Do you have any plan to discuss this tomorrow?"
MR GODFREY:  "I think we would share the assessment that the areas that are under the control of the Syrian regime and the – Russia have shown that the extent of that control is not as great as those parties represent it to be, and frankly are somewhat problematic.  And we're concerned about the potential for resurgence there, so we would share that concern."
QUESTION:  "Could you describe the security situation in Iraq in the disputed territories between Erbil and Baghdad?  Is there a problem with ISIS there?"
MR GODFREY:  "There is concern that ISIS, which has historically demonstrated an ability to identify areas where it's difficult for governments to project security and governance, have focused on that so-called seam between the two geographic areas in Iraq that you mentioned.  There's been a concerted effort by OIR, and frankly more particularly by the Iraqi Security Forces, to address that threat in that geographic space, and there's been some good result lately that I think has really significantly attrited ISIS's capabilities in that sector.  I don't want to overspeak here for DOD counterparts, but it is something that we – and that is, coalition partners and Iraqi Security Forces – are very intently focused on."
Secretary of State Antony J. Blinken and the Foreign Ministers of the Global Coalition to Defeat ISIS Small Group 
Statement on March 30, 2021: "At the invitation of Belgian Deputy Prime Minister and Minister of Foreign Affairs Sophie Wilmès and U.S. Secretary of State Antony J. Blinken, the Foreign Ministers of the Global Coalition to Defeat Daesh/ISIS Small Group met virtually today to reaffirm our shared determination to continue the fight against Daesh/ISIS in Iraq and Syria, and to create conditions for an enduring defeat of the terrorist group, which remains the Coalition's sole purpose, through a comprehensive, multifaceted effort. The Ministers emphasized the protection of civilians and affirmed that international law, including international humanitarian law and the protection of civilians, particularly children, and international human rights law, as well as relevant UN Security Council resolutions, must be upheld under all circumstances. In this regard the Ministers emphasized the need to stop and prevent violence, and grave violations of children's rights, and to durably improve the protection of children affected by the armed conflict, as well as to ensure women's human rights. The Ministers, recalling their statement of June 4, 2020, committed to strengthen cooperation across all Coalition lines of effort to ensure that Daesh/ISIS and its affiliates are unable to reconstitute any territorial enclave or continue to threaten our homelands, people, and interests. Together they remain firmly united in their outrage at Daesh/ISIS's atrocities and in their determination to eliminate this global threat.
"The Ministers acknowledged that while Daesh/ISIS no longer controls territory and nearly eight million people have been freed from its control in Iraq and Syria, the threat remains. The Ministers expressed their condolences and reiterated their support to Iraqi authorities following the increased Daesh/ISIS activity in Iraq and Syria in recent months, including the double suicide attacks in Baghdad on January 21, and called for continued and coordinated action. This includes allocating adequate military and civilian resources to sustain Coalition and legitimate partner forces' efforts against Daesh/ISIS in Iraq and Syria, including stabilization support to liberated areas, to safeguard Iraq and Syria's stability and our collective security interests. The Ministers noted the new 2021 Pledge Drive for Stabilization, reiterating the importance of collective stabilization efforts to the long-term defeat of Daesh/ISIS and the elimination of the conditions conducive to its rise.
"The Ministers reiterated their unwavering commitment to continue close cooperation with and support to the Government of Iraq. Appropriate measures to enhance the operational efficiency and coordination of our collective efforts to maintain necessary pressure on Daesh/ISIS remain essential. The Coalition operates in Iraq at the request of the Government of Iraq, in full respect of Iraq's sovereignty and aiming at strengthening its security. Ministers recalled that attacks against Coalition forces and Iraqi partners, such as those that occurred in Erbil, Baghdad, and Al Asad, are unacceptable and compromise our collective efforts at the expense of the people of Iraq. They welcomed the decision of the February 18 NATO Defence Ministerial Meeting regarding the incremental expansion of NATO's non-combat advisory and training mission in Iraq, with the full consent of the Government of Iraq and complementing the Coalition's efforts. While the COVID-19 global crisis has had an impact on the Coalition's activities and operations, the Ministers welcomed the continued work with partner forces that mitigated the fallout of the pandemic while providing continued support to further dismantle Daesh/ISIS. The enhanced sharing of terrorist-related criminal information by Iraqi authorities, via INTERPOL channels, supported this progress within the Coalition's law enforcement line of effort.
"In Syria, the Coalition stands with the Syrian people in support of a lasting political settlement in accordance with UN Security Council Resolution 2254. The Coalition must continue to be vigilant against the threat of terrorism, in all its forms and manifestations, to build on the success it has achieved and continue to act together against any threats to this outcome to avoid security vacuums that Daesh/ISIS may exploit. The Ministers took note of the resumption in Daesh/ISIS activities in areas where the Coalition is not active and its ability to rebuild its networks and capabilities to target security forces and civilians. The Ministers also welcomed the Coalition meeting held on November 10, 2020 on Daesh/ISIS threats in West Africa, noting with concern the serious and growing threat Daesh/ISIS affiliates pose across West Africa and the Sahel, as well as the emerging threat in other parts of the continent, particularly in East Africa. The Coalition reaffirmed its willingness to further explore how it can contribute to collective efforts to cope with the threat posed by Daesh/ISIS in these regions, and that such efforts be upon the request and prior consent of countries concerned, and be in close coordination with African partners and existing initiatives such as the International Coalition for the Sahel, and in full respect of international law. The Ministers noted that collecting, preserving and sharing battlefield evidence via bilateral and/or INTERPOL multilateral channels, and the need for comprehensive border security, were identified as potential areas for Global Coalition engagement in the region.
"The Ministers, recognizing the challenge posed by foreign terrorist fighters who are in custody as well as family members who remain in Iraq and Syria, committed to pursue existing effective accountability mechanisms in close coordination with the countries of origin, including accountability for fighters who have used sexual violence as an instrument of terror. They remained committed to promoting efforts to ensure that accused terrorists, including those of foreign nationality, are treated appropriately and tried consistent with international law obligations, including applicable fair trial guarantees, and they urged the custodians of the detained Daesh/ISIS terrorist fighters to treat them humanely at all times, in accordance with international law. The Ministers further recognized that the situation for Daesh/ISIS detainees and their family members in northeast Syria is of grave concern and stressed the importance of finding a comprehensive approach to this serious challenge.
"The Coalition reaffirmed its belief that a comprehensive and collective effort remains necessary to achieve a full and enduring defeat of Daesh/ISIS worldwide. The Global Coalition to Defeat Daesh/ISIS has proven that it is a cohesive, adaptable and successful vehicle that will continue to sustain this important endeavor through stabilization, political, military, communications, counter finance, and law enforcement lines of effort. The Ministers also reaffirmed their intent to hold the next ministerial meeting of the Global Coalition in Italy as soon as circumstances permit."
The Global Coalition to Defeat ISIS
https://twitter.com/coalition/status/1374476569683496967

Operation Inherent Resolve
https://twitter.com/OIRSpox/status/1374346712995794946
Related Program
The Islamists
"The Islamists" is a book and website on the origins, evolution, and positions of Islamist movements in the Middle East. The movements are redefining the order and borders in the world's most volatile region. Yet they have diverse goals and different constituencies. Sometimes they are even rivals. Read more