Washington Post Journalist Convicted in Iran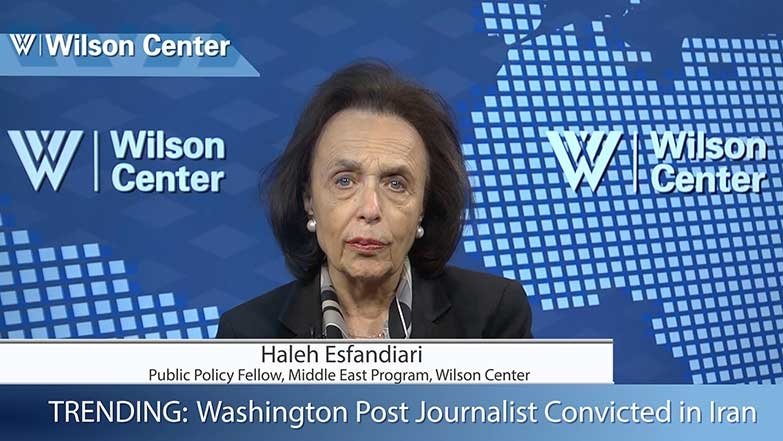 Now that Washington Post journalist Jason Rezaian has been convicted in Iran, what can we expect regarding his possible release or continued incarceration? Middle East Program Public Policy Fellow, Haleh Esfandiari provides analysis.
Haleh Esfandiari, the former and founding Director of the Middle East Program at the Woodrow Wilson International Center for Scholars, is a Public Policy Fellow at the Wilson Center. She has had a rich and varied career. In her native Iran, she was a journalist, served as deputy secretary general of the Women's Organization of Iran, and was the deputy director of a cultural foundation where she was responsible for the activities of several museums and art and cultural centers. She taught Persian language at Oxford University and, prior to coming to the Wilson Center, from 1980 to 1994, she taught Persian language, contemporary Persian literature, and courses on the women's movement in Iran at Princeton University. Dr. Esfandiari was a fellow at the Woodrow Wilson International Center for Scholars from 1995 to 1996. Her memoir, "My Prison, My Home," based on Esfandiari's arrest by the Iranian security authorities in 2007, after which she spent 105 days in solitary confinement in Tehran's Evin Prison, was published in September 2009 by Ecco Press, an imprint of Harper Collins. The paperback edition was released in October 2010.
Guest
Haleh Esfandiari
Public Policy Fellow;
Former Director, Middle East Program, Woodrow Wilson Center
Read More
---
Hosted By
Middle East Program
The Wilson Center's Middle East Program serves as a crucial resource for the policymaking community and beyond, providing analyses and research that helps inform U.S. foreign policymaking, stimulates public debate, and expands knowledge about issues in the wider Middle East and North Africa (MENA) region. Read more