Alumni Scholar Spotlight: Oleksandr Merezhko
Oleksandr Merezhko is a former Fulbright-Kennan Institute Research Scholar. His term at the Wilson Center's Kennan Institute was from September 1, 2010 – February 1, 2011. During his time at the Center, Merezhko pursued projects related to the sociology of international law, applying his expertise as an international lawyer. He also focused on globalization and multilateral organizations. At present, he is the Head of the Committee on Foreign Policy and Interparliamentary Cooperation, in Ukraine. As Head of the Committee on Foreign Policy, he has helped maintain and solidify relations between Ukraine and allies in Europe, including those in the EU, NATO, and the OSCE. This interview was conducted following the Russian  invasion of Ukraine, in which Merezhko has offered his reflections and recommendations concerning policy priorities for the international community in response to Putin's aggression.
Q: Do you feel that the sanctions against Russia have been effective and do you believe that they will result in any policy change by Putin? 
We can say that the sanctions are effective enough when they produce tangible results. The ultimate goal of sanctions is to make Russia or Putin stop aggression and withdraw Russian troops from the whole territory of Ukraine, including Crimea. I believe that it can happen when Russia is totally isolated. Politically, diplomatically, economically.
Addressing sanctions, it is important to note the behaviors that should be changed , which include: Putin, Russian political and business elites, and the Russian people. If sanctions for some reason fail to change Putin's conduct, then there is hope that it can change the attitude of Russian elites towards Putin's policy. At some point in time, Russian elites may realize that due to sanctions, Putin has become toxic to them and dangerous for their wealth. I also don't rule out that sanctions might motivate the Russian population to change the authoritarian aggressive regime in Russia, even though at the moment the Russian people are heavily brainwashed by Russian Nazi-type propaganda.
Q: What do you believe should be the policy priority for the United States concerning Russia? Should there be a greater collective effort by NATO? 
The major priority is to stop Russian aggression and to provide security guarantees to Ukraine, by allowing it to join NATO, or, alternatively, if it does not happen for some reason, by concluding a treaty on mutual security with Ukraine—in the same vein as the U.S. did with Japan.
Of course, we want to see more collective effort by NATO at the moment. First of all, by establishing a no fly zone over Ukraine to prevent further casualties among the civilian population, because Russia is deliberately targeting civilians and civilian objects.
Q: You worked at the Wilson Center during 2010-2011—pre-annexation of Crimea. During your time at the Center, did you foresee the events playing out in 2014, as well as in the present? 
The truth is that I didn't and couldn't foresee it at that time. The reason for that was that I'm an international lawyer and I believed in international law. I believed that Russia would not dare to violate international law in such a brutal and cynical way. However, even at that time some of my colleagues, who knew the situation in Russia better than me, could foresee such events.
Q: What was your favorite project to work on while you were completing your term at the Wilson Center?
At that time my project was about sociology of international law, but opportunities and resources of the Wilson Center were so immense that I've been trying to pursue several different projects. At the same time, the most interesting and valuable part of my stay at the Wilson Center was communication with unique and interesting people from different countries. I'm still nostalgic about these times and communication with these people to whom I owe a lot. To me the Wilson Center is a true paradise for scholars.
About the Author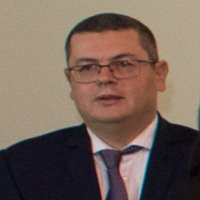 Oleksandr Merezhko
Former Fulbright-Kennan Institute Research Scholar, Kennan Institute;
Legal Scholar; Member, Verkhovna Rada of Ukraine
Read More
---
Kennan Institute
The Kennan Institute is the premier U.S. center for advanced research on Russia and Eurasia and the oldest and largest regional program at the Woodrow Wilson International Center for Scholars. The Kennan Institute is committed to improving American understanding of Russia, Ukraine, Central Asia, the Caucasus, and the surrounding region though research and exchange. Read more