Alumni Scholar Spotlight: Stefan Fröhlich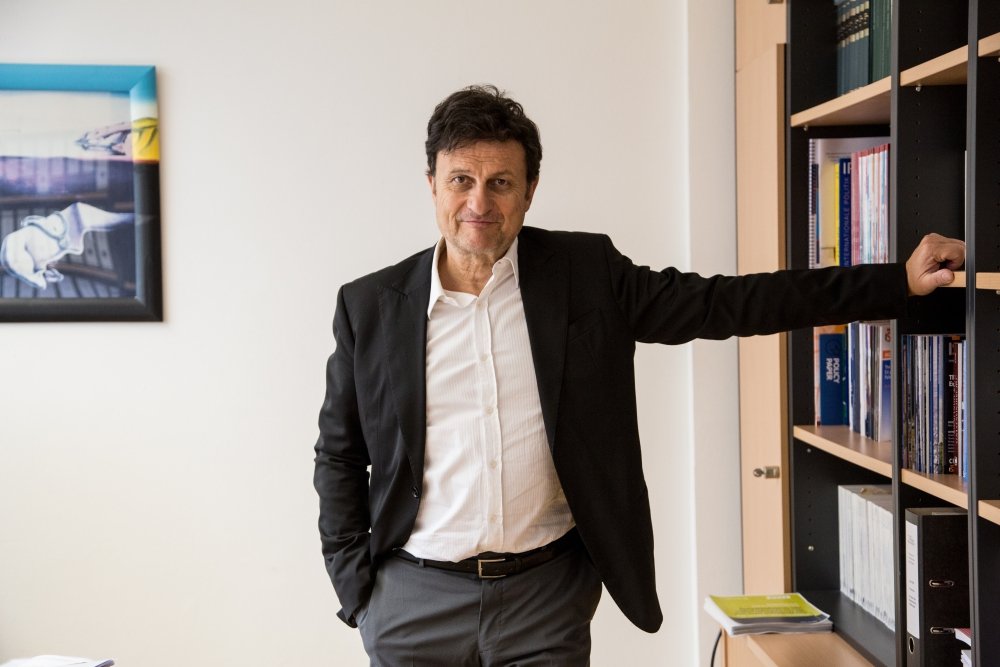 Stefan Fröhlich was a public policy scholar in 2007, where he studied U.S. and European relations. He is now a professor for international politics at the University of Erlangen-Nürnberg. Recently, he published a book titled The End of Self-bondage: German Foreign Policy in a World Without Leadership, where he reassesses Germany's role in Europe and the world through its foreign policy and global reputation.
Q: How do you see Germany's foreign policy under a Biden Administration?
A: There is no doubt that since 2014 several factors – ranging from Russia's annexation of Crimea, Brexit, ongoing civil wars in the MENA region, to President Trump's America First-approach – have strengthened Germany's commitment to NATO's and Europe's security and defense policy. German defense spending increased by 10% to US$49.3 billion in 2019, which is the largest defense budget increase among the world's top 15 states (according to SIPRI). That proves that the harsh criticism of Germany's alleged complacency on defense was unwarranted.
Whether this momentum will last under Biden, however, will be the real litmus test for the country. On the one hand, Berlin has no illusion about the country's choice to fall back into such complacency under a new administration in Washington that is reaching out to its allies again but which does not mean a return to the status quo ante either. On the other hand, the most powerful economy in Europe is going to the polls and there is no guarantee that the country will remain the responsible European crisis manager that had broken with several security taboos beyond Europe in recent years. The most likely coalition at the moment is a black-green one with the CDU to be a reliable partner for Washington and the Greens with Baerbock as Chancellor candidate, who pleased Washington with her criticism of China, Moscow, and Nord Stream 2, but a base that is still struggling with defense spending, NATO's 2 percent ceiling and nuclear deterrence. It is, however, on these issues, not to mention trade, where the administration in Washington will measure us.
Q: What is the biggest thing that observers get wrong about Germany's role in Europe and in the world?
A: I think, it is time to finally leave behind the sometimes still heated debate about Germany's idiosyncrasies, i.e., its peculiar role between self-restraint and hegemony in Europe and the world. It is simply outdated and not very helpful. And it is becoming increasingly contradictory and grotesque: when observers in this country argue in one breath that it was right for the country not to take part in the air strikes in Syria, but that it could not in the long run practice military abstinence on principle, the security policy discourse is exposed to the limit of cynicism. When, then, is this moment to come?
Similarly, at a time when nobody has any serious doubts about Germany's unconditional commitment to the core principles of the liberal international order, the accusations of those from abroad who continue to lament German complacency but at the same time evade global leadership and responsibility themselves sound downright paradoxical as well. 
Q: Could you share any upcoming projects you're working on?
A: I'm currently working on a project on Germany's role in the age of geoeconomics.
Q: How has your time at the Wilson Center impacted your research and understanding of your field?
A: The Wilson Center was a unique place for me as it was probably the most international place to do research I had worked up to then. The other asset definitely is its interdisciplinary character. Both aspects are key to IR studies.
Q: Do you have any advice for a student interested in your field?
A: Key to any understanding of the complexities of IR is to study the history and identities of other countries. Therefore, young people should go out into the world and study abroad. Apart from that, from my own experience political scientists should combine their studies with economics and/or law.   
About the Author
Stefan Fröhlich
Former Public Policy Scholar;
Professor, International Politics at the University of Erlangen-Nürnberg
Read More
---
Global Europe Program
The Global Europe Program addresses vital issues affecting the European continent, US-European relations, and Europe's ties with the rest of the world. We investigate European approaches to critical global issues: digital transformation, climate, migration, global governance. We also examine Europe's relations with Russia and Eurasia, China and the Indo-Pacific, the Middle East and Africa. Our program activities cover a wide range of topics, from the role of NATO, the European Union and the OSCE to European energy security, trade disputes, challenges to democracy, and counter-terrorism. The Global Europe Program's staff, scholars-in-residence, and Global Fellows participate in seminars, policy study groups, and international conferences to provide analytical recommendations to policy makers and the media. Read more