The Gig Economy Poses A Major Economic Challenge For Lula
Brazil's left-leaning government wants to regulate the gig economy and give app workers more labor protections.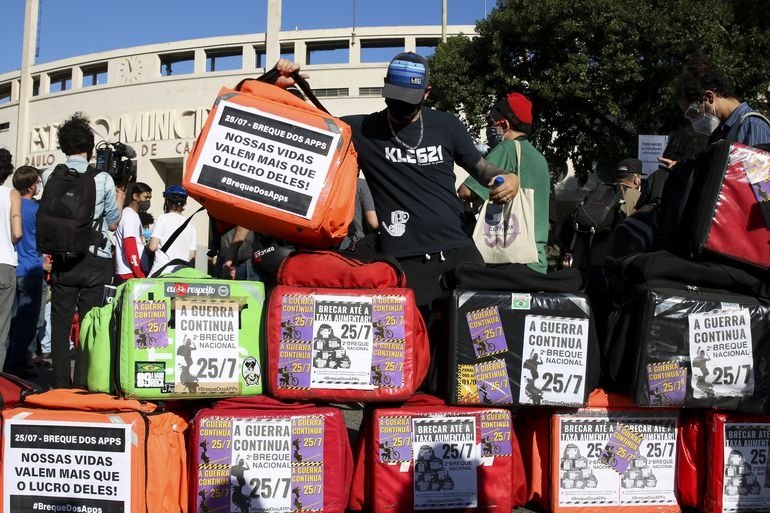 Two decades ago, startups introduced disruptive businesses that promised additional income streams for millions of people. The result, however, was an on-demand world of autonomous workers with algorithms for bosses. The so-called gig economy has done wonders by pushing sectors such as retail, transportation, and hospitality into the digital age, but it also contributed to a fundamental divide in working relations that has proven difficult to overcome, especially in countries such as Brazil, plagued by high levels of informality and inequality.
During the 2022 election campaign, then-candidate Luiz Inácio Lula da Silva promised that if he won, he would find a way to make these new labor relations fairer. In the final stretch of the presidential race — in which he would go on to defeat far-right incumbent Jair Bolsonaro — Lula was targeted with misinformation claiming he planned to do away with the MEI simplified tax regime, which many gig workers use to open their own small businesses to comply with federal and municipal laws.
"To have a MEI is not to have a job," Lula often said. The phrase was taken out of context by his opponents; in fact, the president was lamenting the large number of people forced to become independent contractors, rather than being offered registered jobs with all the labor benefits they entail. Furthermore, the MEI tax regime was created during Lula's second presidential term.
Now, Brazil's Finance, Labor, and Social Security ministries are creating a committee that will include workers' representatives, policymakers, and companies to discuss a proposal to regulate Brazil's gig economy. The committee's work will focus on the logistics and mobility sectors, and are likely to be influenced by other initiatives from the new administration.
Lula set up a working group last week to discuss regulation for social media companies. In addition to concerns about finding a middle ground between censorship and combating anti-democratic discourse, this effort could affect the daily lives of those who rely on these platforms for work.
By the numbers
Estimating the size of Brazil's gig economy is challenging due to the sheer number of activities it encompasses. However, recent data from two of the country's market leaders shows that the industry is definitely worth billions.
iFood, the country's leading delivery app, earned USD 991 million in its last fiscal year according to data released by its controller, Prosus. Meanwhile, Uber, which enjoys higher market penetration in Brazil than any of its competitors, said in its latest financial impact report that it transferred over BRL 76 billion (USD 14 billion) to partner drivers between its arrival in the country in 2014 and December 2021.
According to the Institute of Applied Economic Research (Ipea), Brazil's transportation sector had more than 1.7 million couriers, taxi drivers, app drivers, and other types of self-employed workers at the end of September last year — the most recent data available.
This segment has been expanding since before the Covid pandemic. However, Ipea researcher Geraldo Góes recently warnedThe Brazilian Report that this growth is not translating into more workers with social rights. 
Only 23 percent of these workers contribute to Brazil's social security system — 10 percentage points less than the total pool of self-employed workers. Not only is this rate low, but it is still falling. In 2016, 40 percent of these individuals were covered by social security.
The deterioration of macroeconomic conditions goes some way to explaining this phenomenon, and it is even more worrying when we look at the current situation of startups and tech-based companies.
A regulatory push amid a gig winter
Since last year, thousands of registered employees have been laid off on a weekly basis from some of Brazil's most prominent startups, following similar moves by Big Tech companies. Of the country's 24 unicorns, 19 have made major staff cuts in recent months. 
In early February, Latin American private equity investment association LAVCA surveyed 131 startup founders in the region: 34 percent are considering staff cuts and 28 percent are contemplating a freeze on new hires for the coming months.
Mass layoffs are the cruelest result of the downturn in these companies and the difficult period startups face, amid a dearth of resources and impatient investors. Many staff cuts came just months after these companies raised millions in investment rounds. Ultimately, these mass layoffs also suggest gig workers may be seeing their job opportunities shrink.
iFood was the latest such company to announce layoffs. It fired 6.3 percent of its workforce on Wednesday, a total of 355 employees, claiming that "the current global economic scenario requires companies to take immediate action in the quest for new routes to face adversities."
Last August, when iFood became wholly owned by Prosus, the company's CEO said he was "in no hurry" to make the firm profitable. However, the mass layoffs came weeks after iFood suffered a defeat from Brazil's antitrust regulator Cade.
In early February, the watchdog reached an agreement with iFood not to proceed with a case investigating competition violations in the delivery app market.
The agreement, which is valid for 54 months, prevents iFood from entering into exclusivity pacts or adopting contractual measures that could lead to exclusivity with brand chains that have at least 30 restaurants. At the time, iFood said the measures would have a "relevant impact" on its business.
Uber shut down its Uber Eats delivery service in Brazil last March. Along with Colombian firm Rappi, the company was responsible for filing the complaint that led to the forced agreement between iFood and Cade.
Although iFood's revenue grew 29 percent in its last fiscal year, the company posted a net loss of USD 206 million in the same period — a much larger shortfall than the USD 43 million loss it posted a year earlier.
The company's results could take a further hit in the coming months, as the Lula government's impending regulatory efforts are bound to scrutinize iFood's relationship with its more than 200,000 partner couriers.
Political discourse v. what workers actually want
Although recent statements by Labor Minister Luiz Marinho suggest the government is looking to examples such as Spain — which in 2021 equated app workers with salaried employees — the outcome of gig economy regulation in Brazil is likely to be very different, not only because of lobby representing the interests of online platforms, but also because of differences in what the workers themselves want.
Unlike their counterparts in Europe, most Brazilian app drivers do not want to become employees with predetermined working hours. Instead, they want to remain self-employed and be able to negotiate their working conditions more fairly with companies, starting with pay. This might be difficult to understand for the Workers' Party, an institution born out of trade union struggle and grassroots social movements.
Currently, gig workers are paid a fare per ride, which is calculated by each platform's algorithm based on supply and demand, and often changes from one minute to the next. In some cases, apps can take as much as half of the cost of the ride, meaning workers have no predictability in their earnings. Excluding drivers for failing to meet the platform's standards without the right to a defense, as current Brazilian law allows, is to prevent them from working.
Finding a middle ground between strict formal employment regulation and a minimum set of social rights will be tough, especially as current working conditions are far from ideal. 
In 2021, think tank Fairwork rated the working conditions offered by app platforms in Brazil, and none of them managed to meet the organization's criteria for providing basic labor standards to their workers. On a scale from zero to ten, three of the apps listed scored zero. iFood and 99 (Didi's ride-hailing subsidiary in Brazil) had the highest scores of just 2.  
That same year, iFood hired Instituto Locomotiva to conduct an internal survey of some of its partner couriers: 49 percent of the 4,000 drivers interviewed said they worked more than 10 hours a day, while 17 percent said they worked more than 12 hours daily. The information was revealed during a parliamentary inquiry in the São Paulo state legislature and differed from the company's official figures, which said that at the time, during the second year of the pandemic, more than 70 percent of couriers spent less than two hours logged on to the platform each day.
The regulatory push against digital platforms is a global phenomenon, but it could have unexpected consequences in Brazil. It remains to be seen whether companies that have succeeded so far can make their disruptive business models survive the heavy hand of the state.
Like the content? Subscribe to the Brazilian Report using the discount code 100DAYS to get 20 percent off any annual plan.
About the Author
---
Brazil Institute
The Brazil Institute—the only country-specific policy institution focused on Brazil in Washington—works to foster understanding of Brazil's complex reality and to support more consequential relations between Brazilian and U.S. institutions in all sectors. Read more
Latin America Program
The Wilson Center's prestigious Latin America Program provides non-partisan expertise to a broad community of decision makers in the United States and Latin America on critical policy issues facing the Hemisphere. The Program provides insightful and actionable research for policymakers, private sector leaders, journalists, and public intellectuals in the United States and Latin America. To bridge the gap between scholarship and policy action, it fosters new inquiry, sponsors high-level public and private meetings among multiple stakeholders, and explores policy options to improve outcomes for citizens throughout the Americas. Drawing on the Wilson Center's strength as the nation's key non-partisan policy forum, the Program serves as a trusted source of analysis and a vital point of contact between the worlds of scholarship and action. Read more