The Interconnected Northwest Atlantic, Part II: Evolving Human Interactions
In the fall of 2021, the U.S. Coast Guard Cutter (USCGC) Healy completed a historic scientific expedition in the Northwest Passage and Baffin Bay, before continuing around Atlantic Canada and into the Gulf of Maine. Inspired by and connecting with Healy's voyage, the Northeastern Regional Association of Coastal Ocean Observing Systems (NERACOOS) and Canadian Integrated Ocean Observing System Atlantic (CIOOS Atlantic) hosted "We're All in the Same Boat", a virtual engagement program focused on challenges and interconnectedness across the Northwest Atlantic region. As we close out 2022, with Healy recently returned from another historic voyage to the North Pole, we reflect on the insights and ideas that emerged during the program to help chart new directions in 2023 and beyond. Part I examines the changing ocean and its ecosystems, Part II highlights interwoven human interactions and policy priorities, and Part III considers directions we might travel on the sea ahead.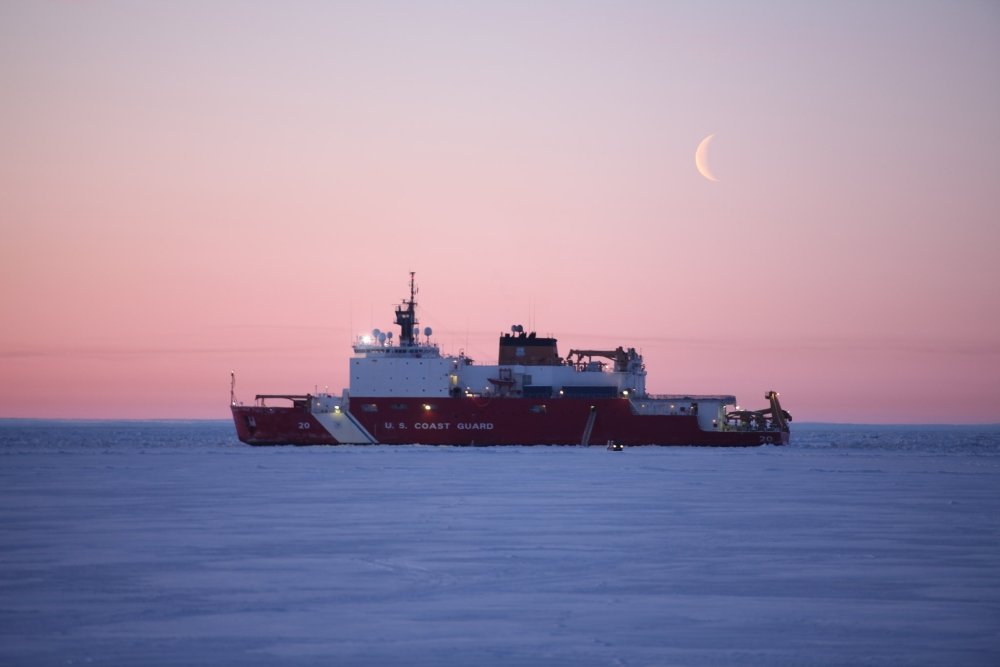 Evolving Human Interactions
Indigenous people in the Arctic region grapple daily with the uncertainties brought on by a changing climate, which motivates involvement in community-based science initiatives like SIKU. In fact, Inuit communities have gone beyond science based on human observations in developing SmartICE, a program that Andrew Arreak characterized as using technological tools to directly serve people's well-being, livelihoods, and social values by improved monitoring of ice cover. Despite the challenges associated with changing ice cover, it is also opening new opportunities for Inuit communities. Chris Flanagan of Baffin Fisheries outlined assets such as investment, species diversity, and technology that will enable Inuit fishing businesses to capitalize on increased access to Arctic fishery resources. Although the largest fishing enterprises in Northern Canada are currently Inuit-owned, the opening of the Arctic could bring waves of new, well-financed interests to the region, many of which are likely to compete with existing users for space and resources. Indeed, a complex and rapidly changing geopolitical landscape will shape the future of the Arctic, creating a convergence of the security, shipping, tourism, energy, and other interests of many nations. Encouragingly, there is potential for this looming transition to be less disruptive if governments, industries, and local communities can collectively attend to seven C's that Michael Sfraga at the Wilson Center highlighted as being critical determinants of the future of the Arctic: Climate, Commodities, Commerce, Connectivity, Communities, Cooperation, and Competition. 
Like the Arctic, fisheries are an important social and economic driver in subpolar waters. Fishing is the oldest commercial enterprise in the region, yet Fred Kingston described how the Northwest Atlantic Fisheries Organization (NAFO) is working to modernize management by adopting ecosystem-based practices. These include protection of vulnerable deep-sea corals for their habitat value and unique genetic resources, and navigating interactions between fisheries and energy development. This broader focus by NAFO mirrors other initiatives to support the Blue Economy of the region in a more holistic way. Robert Greenwood helped lead the recent Blue Economy consultation in Newfoundland and Labrador for Memorial University, a milestone convening that addressed data sharing and integration, diversifying the regional economic portfolio, infrastructure improvements, and other issues. Importantly, Indigenous knowledge partnerships are emphasized in this initiative, fostered by a new Vice President – Indigenous at Memorial University. A prosperous and equitable Blue Economy must address interactions among communities and industries, and geographic connections at larger scales. To illustrate the influence of large-scale connectivity on institutions and policies, John Farrell reviewed ways that the Arctic is tied with subpolar areas and how these ties shape the work of the U.S. Arctic Research Commission. For example, shipping and tourism companies travel to Arctic destinations from bases in the Northeastern U.S. and Canadian Maritimes, with the subpolar region serving as a vital point of connection. Another manifestation of these linkages is the New England Arctic Network, which recognizes and responds to connections between the Arctic and the Northeastern U.S. by promoting research, dialogue, and capacity-building.
The Labrador Current, Gulf Stream, AMOC, and other oceanographic features have profound effects on ocean ecosystems of the Northwest Atlantic, but there are also important interactions between freshwater systems and the ocean. Indigenous people have long recognized and depended on these connections, especially the once-plentiful sea-run fish populations around the Gulf of Maine and Scotian Shelf. Denise and Paul Pouliot showcased the commitments of the Cowasuck Band of the Pennacook-Abenaki People and other members of the Wabanaki Confederacy in the U.S. and Canada to stewardship of rivers, estuaries, and fish runs. These Tribes and First Nations work to remove barriers to migration, improve habitat and water quality, and restore fish stocks and ecosystems. Ariel Smith illustrated how conservation organizations complement the environmental stewardship of Indigenous people with examples from the work of Coastal Action. Two priority issues being addressed in the region include mortality of marine species due to lost fishing gear, or 'ghost gear', and efforts to understand the volume, composition, and effects of plastic pollution in the marine environment. Of course, climate change is a pervasive factor shaping the region, one that is an especially significant threat to low-lying coastal communities. This is why the Cape Cod Commission prioritizes understanding and adapting to a wide range of climate-driven risks, as highlighted by Erin Perry, including flooding, saltwater intrusion, and erosion. These stressors could cost billions of dollars to communities on Cape Cod and many other places if monitoring and adaptation lag.
Policy Priorities
Melanie Zimmerman with the U.S. Department of State and U.S. Embassy and Consulates in Canada opened reiterated the commitment made by U.S. Secretary of State Blinken to partner with Canada on keeping the Arctic peaceful and ensuring that benefits of economic development accrue to people living in the region. The Arctic Council is the premier forum for moving toward these goals through broader international cooperation on reducing greenhouse gas emissions from new activity in the Arctic, and on services provided by the armed forces and coast guards of different nations, especially to conduct search-and-rescue operations needed to keep people and vessels safe. Lyra Carr at the U.S, Consulate in Halifax expanded on the shared interests of the U.S. and Canada, particularly those reflected in the Roadmap for a Renewed U.S.-Canada Partnership signed by President Biden and Prime Minister Trudeau, which aims to promote economic recovery of the two neighbors and allies in the wake of the COVID-19 pandemic and other challenges. President Biden has also emphasized the economic importance of the ocean for his Build Back Better agenda, which motivates U.S. commitment to the Decade.
Angus King, U.S. Senator representing the State of Maine, reflected on the origins and evolution of U.S. IOOS, particularly its roots in the Northeast. A longtime proponent of recognizing and reinforcing the vital linkages between the Northeastern U.S. and the Arctic, Senator King acknowledged the importance of both Healy's voyage and robust, large-scale ocean observing systems managed by NERACOOS and CIOOS Atlantic, especially in the face of environmental change. Nicole LeBoeuf at the NOAA National Ocean Service expanded on those themes, recognizing the vulnerable communities throughout the region that are best served by international collaboration as a vehicle for sharing resources, information, and experience. The pace of change underway from the Northeast U.S. to the Arctic further compels a strong and coordinated international response, to which NOAA is firmly committed. This spirit of international cooperation to meet pressing challenges facing ocean-dependent communities is being spread across the globe and brought to life through the United Nations Decade of Ocean Science for Sustainable Development, under the leadership of Vladimir Ryabinin. The Decade aims to bridge local to global initiatives through communities of practice that can mobilize ideas, energy, and resources, with particular focus on engaging and empowering Indigenous communities. Public-private partnerships will also be an important vehicle for achieving the vision of the Decade.
Oceanographic agencies in Canada and the U.S. take on leadership roles in implementing these national and international strategies needed to meet the challenges presented by a changing ocean. Keith Lennon with the DFO Oceans Science Branch drew upon issues facing Canada's Atlantic provinces, many of which confront the U.S. as well, to underscore the need to move away from reactive approaches toward a more proactive mindset. Working across domains and disciplines is essential to this shift in order to promote the shared indicators, data centers, and communication systems that will enable stakeholders to identify and begin working toward collaborative solutions sooner and more effectively. Indeed, information is the foundation of the New Blue Economy, a concept articulated by Carl Gouldman with the NOAA Integrated Ocean Observing System, given its value for scientific understanding and prediction, policy development, and economic and community planning. Creating a firm information base requires the right convergence of people, technology, and modeling capability to shape the future of our ocean. Forums such as the webinar series can be important venues for fostering that convergence.    
Generous support was provided by the U.S. Embassy & Consulates in Canada through the Arctic Region Virtual Grant Program. Sustaining support for NERACOOS is provided by the U.S. Integrated Ocean Observing System, and for CIOOS Atlantic by Canada's Department of Fisheries & Oceans and Marine Environmental Observation Prediction & Response Network. The program was also endorsed as an official activity of the United Nations Decade of Ocean Science for Sustainable Development, which helped with promotion and participation. We are grateful to all! 
---
Authors
Jake Kritzer, Executive Director, Northeastern Regional Association of Coastal Ocean Observing Systems (NERACOOS)
Shayla Fitzsimmons, Executive Director, Canadian Integrated Ocean Observing System (CIOOS) Atlantic Regional Association
Related Program
Polar Institute
Since its inception in 2017, the Polar Institute has become a premier forum for discussion and policy analysis of Arctic and Antarctic issues, and is known in Washington, DC and elsewhere as the Arctic Public Square. The Institute holistically studies the central policy issues facing these regions—with an emphasis on Arctic governance, climate change, economic development, scientific research, security, and Indigenous communities—and communicates trusted analysis to policymakers and other stakeholders. Read more