#MilkTeaAlliance No More?
The changing dynamics of transnational democratic mobilization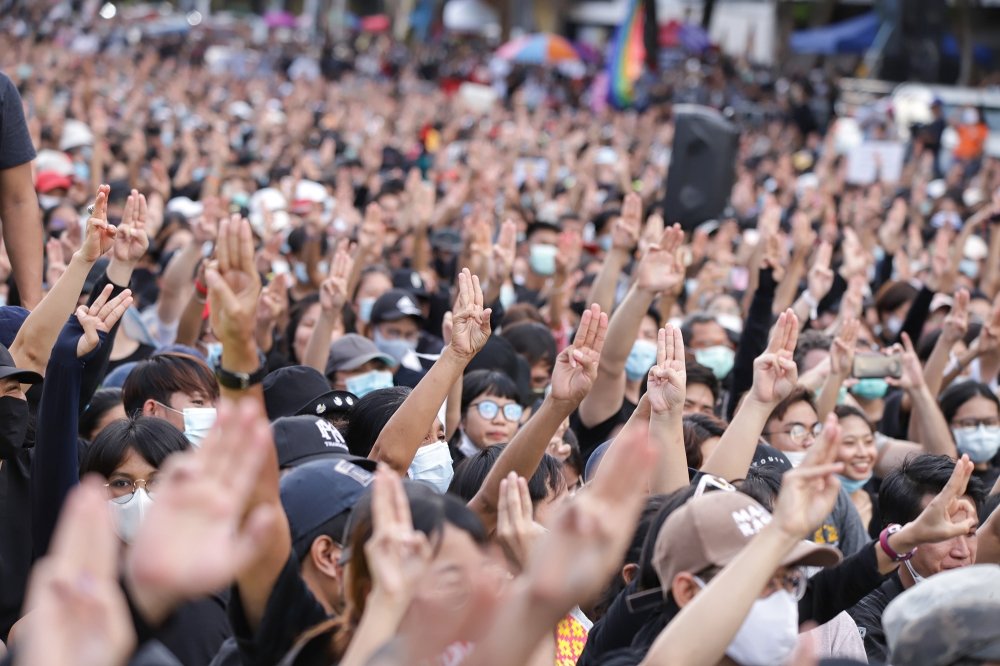 It was an unsettling and difficult July for freedom fighters in East and Southeast Asia. Thousands of protesters in Thailand came to the streets and demanded that Prime Minister Prayuth Chan-ocha resign for mishandling COVID-19, but the police responded with tear gas and water cannons. In Myanmar, hundreds of anti-coup activists marched in Yangon and accused the military government of hoarding oxygen supplies despite the worsening pandemic. In Hong Kong, tens of thousands prepared to bid farewell to their family and friends to take a one-way trip to London as the final day for BNO holders' migration approaches and a mall crowd publicly booed the Chinese national anthem after an athlete from the city won an Olympic gold medal for the first time in 25 years. Meanwhile, hundreds of pro-democracy Hong Kong lawmakers have quit or been arrested, and political candidates in Macau have been banned from running for election.
Just one year ago in April 2020, people in Hong Kong, Thailand, Myanmar, Taiwan, and India, formed an online pro-democracy solidarity movement called the #MilkTeaAlliance. Starting with Hong Kong- and Taiwan-based internet users supporting Thailand in the Thailand-China row (the #nnevvy incident), netizens in these countries tweeted millions of #MilkTeaAlliance hashtags to communicate and support each other across the border during the protests against the dictatorship or in public spats with China. For example, when the United States initiated the #TweetforTaiwan movement in early May 2020 to support Taiwan joining the World Health Organization, this movement received overwhelming online support from Thailand, Hong Kong, and India. When Thai student activists clashed with the police in October 2020, Hong Kong protest leader Joshua Wong held a press conference with the #MilkTeaAlliance banner behind him to show his support, and activists held rallies in Taipei to support those students.
During the violent repressions in Thailand and Myanmar this July, however, the #MilkTeaAlliance spell seemed to lose its power.
Since the beginning of #MilkTeaAlliance, I have been following the movement and its evolution over time. After this most recent series of protests, I downloaded all tweets with the #MilkTeaAlliance hashtag using Twitter's API and Rstudio. However, I found only 61,994 tweets sent between July 13th to the 19th. Indeed, about half of these were tweeted on July 18th when wide-scale repression was launched. The number of hashtags after this outbreak of protest is much lower than it was twelve months ago when #MilkTeaAlliance was tweeted 11 million times across Asia.
I then located these tweets using geographic information provided by the Twitter users. After data cleaning, I successfully located about half of these tweets (many did not reveal their locations in their profile), and the distribution is shown in Figure 2. Apart from those in Myanmar (MY) and Thailand (TL), where protests are ongoing, the number of tweets from other traditional members in the #MilkTeaAlliance is low. About 300 #MilkTeaAlliance hashtags were from Hong Kong, 100 from Taiwan, and 50 from India. In Thailand, one million people tweeted #WhatIsHappeninginThailand, #saveสิทธิโชค, and #banfoodpanda, but only 600 called for support from the #MilkTeaAlliance this time.
Why did this round of the #MilkTeaAlliance fail to mobilize lasting support from its founding members? There are three possibilities. First, netizens in other countries are consumed by other issues. India is still trying to contain COVID-19, Taiwan is struggling with political turmoil amplified by its own coronavirus outbreak, Hong Kong activists were detained or fled under repression by the Chinese government, and Thai student leaders have been arrested. Second, protesters are exhausted following this year-round mobilization (with only a minimal political outcome, if not any at all). Third, previous collaboration across the alliance was usually intertwined with the China factor – such as the protests in Hong Kong, China's dispute with Thailand, the exclusion of Taiwan from the WHO, and the border conflict with India.
The two protests last week in Thailand and Myanmar are at most domestic political issues with no China dimension. Even though international advocacy and collaboration are important factors in supporting the democratic movement within each country, netizens in other countries were not motivated to join without a link to China. The feeling of a shared fate may not be strong enough without a common enemy. Indeed, when these 62,000 #MilkTeaAlliance tweets were analyzed in Figure 3, 90 percent of them were about the anti-coup movement in Myanmar right now. The main theme is pro-democracy but not anti-China in this wave of the #MilkTeaAlliance movement.
Meanwhile, Figure 2 also foretells the transformation of the #MilkTeaAlliance outside of Asia. Most of the hashtags were tweeted by netizens in the United States, United Kingdom, Japan, Germany, Canada, and France. There are even more #MilkTeaAlliance tweets from the United States than from Myanmar and Thailand combined. Admittedly, some of these tweets were made by political asylum-seekers or their relatives located in those established democracies, but others reflected a certain level of attention from the public in these countries. Hence, this timely support from the established democracies provides for a complementary role in continuing the #MilkTeaAlliance movement. For example, @NunesAlt, one famous U.S. Twitter account with 130k followers who criticized the Trump administration to the point that it was secretly investigated, closely followed and retweeted the development of the anti-coup movement in Myanmar.
Overall, the #MilkTeaAlliance movement is far from over. It is not just an emoji on Twitter but remains an important symbol and hashtag for mobilizing a cross-national democratic movement in 2020 and beyond.
Overall, the #MilkTeaAlliance movement is far from over. It is not just an emoji on Twitter but remains an important symbol and hashtag for mobilizing a cross-national democratic movement in 2020 and beyond. Based on the Twitter archive last week, however, the alliance now emphasizes more a call for liberal democracy rather than geopolitics. #MilkTeaAlliance invites like-minded partners around the world to defend and promote democratic ideals, but the continuation of the #MilkTeaAlliance movement still depends on its ability to bring enough political change to those who desperately desire and need it. As pro-democracy protests continue into the future, we shall see if #MilkTeaAlliance leads to change and mobilization on the ground.
---
Austin Horng-En Wang is a recipient of The Wilson Center 2021 China Fellowship
The views expressed are the author's alone, and do not represent the views of the U.S. Government or the Wilson Center. Copyright 2020, Asia Program. All rights reserved.
About the Author
Austin Wang
Wilson China Fellow;
Assistant Professor, Department of Political Science, University of Nevada, Las Vegas
Read More
---
Asia Program
The Asia Program promotes policy debate and intellectual discussions on U.S. interests in the Asia-Pacific as well as political, economic, security, and social issues relating to the world's most populous and economically dynamic region.  Read more