Southern Voices Network for Peacebuilding Annual Conference Builds a Framework for the Future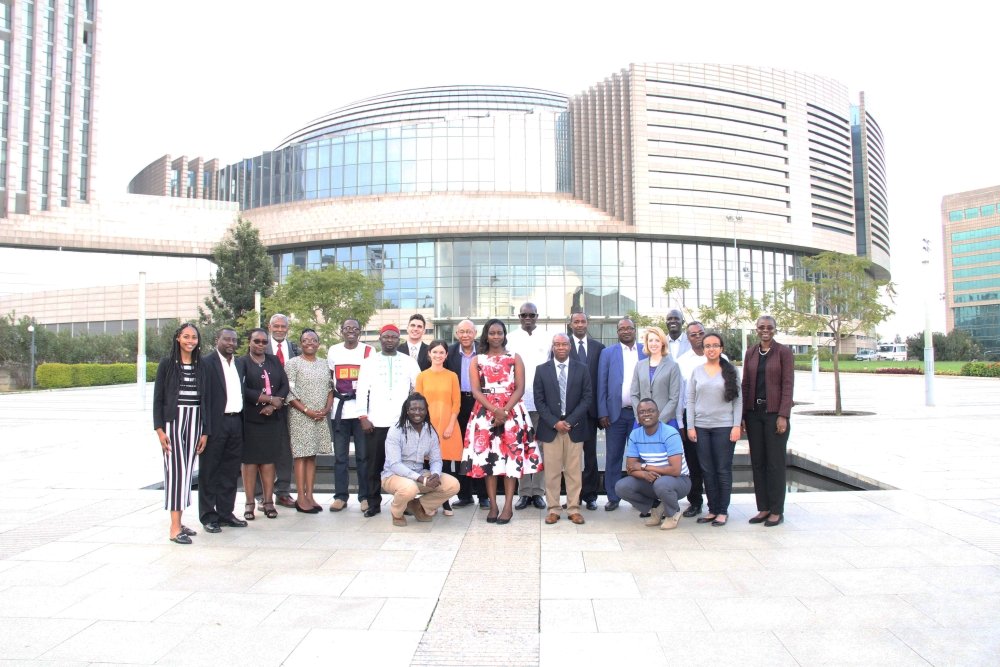 The Wilson Center's Africa Program in partnership with the Institute for Peace and Security Studies at Addis Ababa University, co-hosted the 2018 Southern Voices Network for Peacebuilding (SVNP) Conference July 16-19, 2018 with the theme "National, Regional, and Global Infrastructures for Peace in Africa: Challenges, Prospects, and Opportunities."
The conference convened more than 20 representatives from African research organizations from all regions of the continent, and centered on substantive dialogues regarding Africa's peace architectures. The SVNP conference assessed the peacebuilding architecture in Africa and the infrastructures in place to meet Africa's peacebuilding needs, in addition to discussing challenges and sharing policy options and best practices for sustainable peace.
Dr. Fredrick Ogenga, head of Department of Communication, Journalism and Media Studies, Rongo University and founding director, Center for Media, Democracy, Peace and Security (CMDPS), Kenya said this when asked about the impact of the conference: "The impact has been amazing! Talk about the impact in terms of the research output that we have been able to produce as an organization, and also in terms of the network that has enabled us to link up with like-minded individuals across the continent. Some of whom we've been able to collaborate with on another level, to do peacebuilding on both levels:  research and practice."
Additionally, Francis A.  Kornegay Jr., senior fellow at the Institute of Global Dialogue at the University of South Africa, explained how SVNP gives individuals the opportunity to utilize and enhance past experiences: "It also has Pan-African potential. In my own case, having been from Detroit I was involved in the Anti-Apartheid movement and worked with the Congressional Black Caucus, which was very formative in my development of my African affairs experience. So, to be able to cross-fertilize that with my experience in South Africa, and the rest of Africa, including the Horn of Africa, has been quite valuable, and I think the SVNP helps to further build that. "
Session topics ranged from the changing nature of elections in Africa, natural resource management, gender and peacebuilding, the role of international partners in peacebuilding, country-specific peacebuilding case studies, as well as the African Union's peace and security architecture. Speakers included SVNP members as well as representatives from International Foundation for Electoral Systems (IFES), the United States Mission to the African Union, Deutsche Gesellschaft für Internationale Zusammenarbeit (GIZ), and members of the African Peacebuilding Network.
A highlight of the conference was a visit to the African Union (AU), where conference participants toured the facilities and met with representatives from the AU's peace and security department. This annual conference is part of the Southern Voices Network for Peacebuilding that works to bring African knowledge to U.S., international, and African policymakers in order to develop policies and frameworks for state-building in Africa.
About the Author
---
Africa Program
The Africa Program works to address the most critical issues facing Africa and U.S.-Africa relations, build mutually beneficial U.S.–Africa relations, and enhance knowledge and understanding about Africa in the United States. The Program achieves its mission through in-depth research and analyses, including our blog Africa Up Close, public discussion, working groups, and briefings that bring together policymakers, practitioners, and subject matter experts to analyze and offer practical options for tackling key challenges in Africa and in U.S.-Africa relations.   Read more