Summary: Contested Spaces, Tangled Webs: Indian Geopolitics Today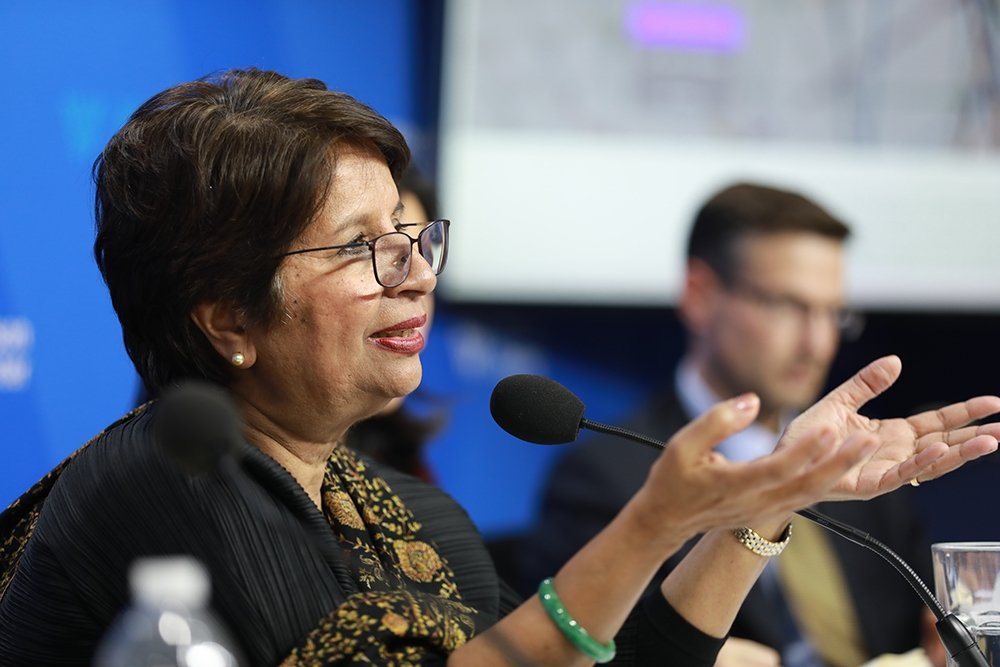 The triangular relationship between the United States, India and China is a complex one. On one side, the United States and India to continue deepen their strategic partnership, and despite a few obstacles, relations between Washington and New Delhi are smooth. The other two sides, however, are complicated. China's military assertiveness has hurt its relations with India, while trade disputes coupled with security threats emanating from China have fueled tensions between Beijing and Washington.
On November 14, 2018, the Asia Program hosted Ambassador Nirupama Rao, the former Indian foreign secretary and ambassador to Washington and Beijing, who provided an Indian perspective on geometry of the U.S.-India-China triangle in the Indo-Pacific region. The event also featured comments from Yun Sun and Dr. Daniel S. Markey.
Referring to China's rise, Ambassador Rao said, "Today we see a risen China in the East, and a China which is determined to mold the destinies of the smaller nations who cannot speak truth to its power. The saga of the Belt and the Road or the One Belt One Road, is a living example–through this signature project China is enveloping nations like Sri Lanka and Pakistan for instance in what almost echo patron-client relationships of times past, except these smaller nations are going deeper into debt to the Chinese in arrangements that are mired in opacity and suggest a gradual attenuation of sovereignty over natural resources." She added, "projects subsumed under Initiative which include gas and oil pipelines, railroads, economic corridors and ports…. engage the Eurasian heartland and as well as the Indian Ocean." Overall, it is "China's road to superpower status."
China's rise, particularly its Belt and Road Initiative, has made India uncomfortable. According Ambassador Rao, Indian foreign policy has been shaped by geography and historical memory–hence, the control of "rim land" (South Asia) is at its core. China's inroads into the region, specifically Pakistan, Sri Lanka, and Maldives have resulted in increased tensions, and she believes there is now "a clear competition here between India and China for power, influence and dominance" in South Asia.
China's rise is also driving India and the United States closer together. The United States has played the role of the regional balancer in Asia ever since the late 1950's, and today, China's increased military capabilities and economic reach have made Beijing the focal point of the United States' Indo-Pacific strategy. Through this strategy, the United States aims at a free and open Indo-pacific which holds the maritime commons as a global good. In sum, "the geopolitics of Asia today points to a U.S- China binary," where the United States is looking to strengthen the "coalition of her interests in the Indo-pacific as also alliances and partnerships in this connection. And that's where India is seen as a natural partner–a sister democracy with shared values and commitment to a rules-based regional order."
Regarding bilateral relations between New Delhi and Beijing, she says the "brotherhood phase" between the two countries ended with the Sino-India War of 1962. Despite the progress made by the two countries in the four decades since, disputes over the border persist even today, and questions that arise out of Chinese activities in South Asia "continue to loom large over the bilateral relationship between the two countries." Rao believes China to be an ambitious country who will not peacefully coexist with the rest of Asia, and its actions will "inevitably clash with a re-emergent India." This was displayed by the Doklam standoff last year which "gave India a rather full exposure on territorial disputes in a graphic manner." She says, unlike the countries which have maritime disputes with China in the South China Sea "India was not coerced and stood up to China." Following the standoff, Prime Minister Modi visited Wuhan in attempt to reset relations, but she says the relationship between the countries continues to be one in "therapy."
Ambassador Rao also laid out a series of recommendations for New Delhi. In order to counter Chinese influence in India's backyard, she recommends New Delhi promote the idea of the eight South Asian nations as an "integer" where India assumes a role of leadership by providing "non-reciprocal advantages in trade and connectivity to smaller neighbors." She, however, emphasized that there should be an "open breach in relations with China barring any military confrontation." This is because the two countries have deep ties when it comes to trade and investment and should continue working together on common interests. But New Delhi must also remain guarded and be "extremely dexterous in approaching the developing situation in the Indo-Pacific."
Rao stressed the need for India to deepen its relationships with the United States, Japan and Australia. She referred to the partnership between New Delhi and Washington as "strategic and indispensable." According to her, it is the "most important of the foreign policy relationships on the global and regional stage" for India, and it must be developed further, especially in the "strategic and defense sectors." She also stated that along with external powers, "India's focus on South-East Asia and the ASEAN must intensify." The "Act East Policy has gained good momentum, but the organic connectivity between India and the region must be leveraged more effectively," she added.
When it comes to power and influence, Ambassador Rao believes that "India is well poised to exert influence far exceeding the scope of her power quotient." In her opinion India has been over-cautious and can better utilize its resources to exert influence in Asia. She also believes that in the new rendition of the 'Great Game' in the Indo-Pacific, India's coastline will be its frontier and New Delhi's power and influence in the Indian Ocean will not go untested in the future. Hence, "India must be prepared to be a serious competitor to China in promoting its interests in the Indo-Pacific."
Yun Sun, the co-director of the East Asia Program and China Program Director at the Henry L. Stimson Center, offered a Chinese perspective with regard to India. She said that while China respects India's position in South Asia, it does not believe that its presence in the region lacks "legitimacy." According to Sun, China's policies towards India vary at different levels: at the sub-regional level of South Asia, China seeks to balance India by developing relations with smaller countries in the area; at the regional level, China tries to prevent India from its "tendency to align its position" with the United States, Japan and other democracies to counter-balance China; and on the global scale China sees a sea of possibilities where Beijing and New Delhi can cooperate to balance the developed countries. Sun added that China's interests at these levels often come in conflict with one another.
Overall, Sun believes that China's core concern with India and the United States' Indo- pacific strategy is whether India will align itself closer to the United States or seek to maintain good relations with all countries and its strategic autonomy. At the moment, Beijing thinks that India "will not seek an alliance that is aimed at containing China…But one has to wonder if these perceptions have the Chinese bias embedded in them." Sun concluded by stating that "China fundamentally does not see India as its peer," and New Delhi should increase its diplomatic weight while dealing with China.
Dr. Daniel Markey, a senior research professor in International Relations at the School of Advanced International Studies, said that over the past decade, China's "concerns about India have evolved and shifted fairly rapidly, but that they have evolved principally on the basis on the extent to which they perceive India as increasingly and surprisingly aligned with the United States."
He elaborated on what he deemed to be the limits in the U.S.-India-China triangle. To begin with, he said there are certain limits of Indian power–although subsequent U.S. administrations have called India a 'risen power,' Markey doesn't believe India is "there yet" and has his reservations about whether India is building its internal capacity to be achieve  great power status.
Next, he spoke about the limits of Chinese influence. Markey believes that China isn't as "skillful and smart as it is wealthy and powerful, particularly when it comes to dealing with its neighborhood." He says a lot of questions are being raised about how Beijing is managing its "projection of influence," and that China's revision of the Belt and Road initiative is likely to impose limits on its influence in the region. Finally, Markey described the limits of American power. He says that despite the United States having both a great deal of power, capability and influence throughout the region, its "policy is seriously limited." In his view, the United States is too used to being a superpower and lately it has not been able to push China and pull its allies along effectively. Markey believes that,  "We (the United States) need to develop a series of policy tools that do not assume that other states need us more than we need them; that is not case in much of the region." "Also, we cannot assume that other countries need us more than they need China." He adds that America can no longer rely on its wealth and military power as it has before, and that countries in the Indo-Pacific region may no longer accept that the United States is still driven by values.
Follow The Asia Program on Twitter @AsiaProgram.
The views expressed are the author's alone, and do not represent the views of the U.S. Government or the Wilson Center. Copyright 2018, Asia Program. All rights reserved.
About the Author
---
Asia Program
The Asia Program promotes policy debate and intellectual discussions on U.S. interests in the Asia-Pacific as well as political, economic, security, and social issues relating to the world's most populous and economically dynamic region.  Read more
Kissinger Institute on China and the United States
The mission of Kissinger Institute on China and the United States is to ensure that informed engagement remains the cornerstone of U.S.-China relations. Read more