Too Close for Comfort: Southeast Asia's Attempt to Balance with Russia Against China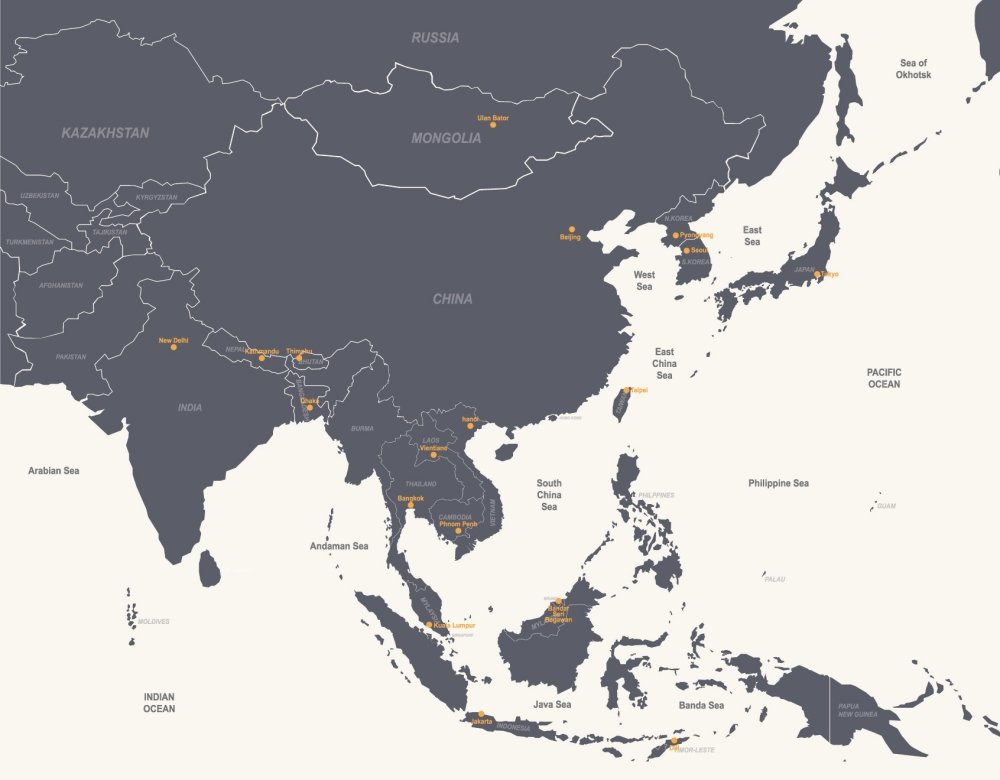 In recent years, Russia has openly pursued  expanded ties to Southeast Asia and been welcomed by several countries in turn, most notably Vietnam and Myanmar. In a sign of the steadily advancing relationship, President Vladimir Putin met virtually with ASEAN counterparts in the 4th ASEAN-Russia Summit on October 28th. As a result of the summit, the two sides issued a Comprehensive Plan of Action—among other initiatives—to "strengthen partnership and cooperation across a wide range of areas, including political-security, economic, socio-cultural, and development cooperation." Putin's participation points towards the relatively high priority that Russia places on expanding its footprint in the region.
From Southeast Asia's perspective, while Moscow may remain predominantly fixated on events in Europe and Central Asia, Russian involvement offers a great power to balance against growing and threatening Chinese influence. Myanmar and Vietnam in particular view China with considerable consternation as a direct security threat along their borders, and both therefore pursue stronger ties to Russia in response. However, Russia's growing closeness to China mean that Moscow's helpfulness for Naypyidaw and Hanoi has a low ceiling as, in the end, Russia will not jeopardize its relations with Beijing for Southeast Asia.
The Threat from China
China lies too close for comfort for Vietnam and Myanmar, and this history of both conflict and partnership necessitates a careful foreign policy alternating between appeasing Beijing and balancing against it. For Hanoi, deep-seated tensions in the China-Vietnam relationship loom large despite China's wartime support for North Vietnam and ideological closeness. Indeed, Beijing and Hanoi fought a brief war in 1979 and Chinese naval forces seized Vietnamese-occupied South China Sea islands in 1974 (the former South Vietnam, in this case) and 1988. The dispute continues to this day in the South China Sea with periodic flare-ups and regular provocations from Chinese Coast Guard and maritime militia units. In Naypyidaw, the new military junta finds itself in the awkward position of simultaneously relying upon Chinese support and battling Beijing-backed insurgencies along the border region, which brings to mind Myanmar's complex history of Chinese interference. Chinese support for ethnic armed organizations along the border and its longstanding "double game" render it an intractable challenge to Myanmar's military rulers even though it remains an important international backer.
As Beijing grows in power, Vietnam and Myanmar thus feel an ever amplifying sense of insecurity and vulnerability that drives them to seek extra-regional partners to balance against China. Russia, as an authoritarian power that is both physically distant and a ready-source of arms with few compunctions about human rights and democracy, is seemingly an ideal partner to balance with. 
Vietnam and Russia
Hanoi and Moscow have enjoyed close relations since the Cold War when the Soviets supplied and backed the North Vietnamese Communists against the U.S.-supported South Vietnam. This relationship led to strong defense ties and a Soviet naval base (since closed) at Cam Ranh Bay. After a lull in the 1990s amidst the Soviet collapse, Vietnam-Russia relations resumed and swelled over the past decade. Vietnam recently highlighted its pride in facilitating Moscow's advancing relations with ASEAN.
To counteract China's power, Vietnam primarily needs Russian arms and energy investments in the South China Sea. Over the past 25 years, Russia has provided Hanoi with $7.5 billion worth in weapons. These include weapons systems that are well-suited to Vietnam's anti-access/area denial strategy (A2/AD) against China, such as anti-ship missiles, Kilo-class submarines, fighters, and coastal defense artillery. Beyond arms, Russian state-owned or semi-state controlled energy companies operate stakes offshore in what China says is its Nine-Dash Line. Notwithstanding Moscow's official policy of neutrality, Rosneft, Zarubezhneft, and Gazprom have all operated off the Vietnamese coast and occasionally run afoul of Beijing in its South China Sea confrontations with Vietnam, most notably in 2019 near Rosneft's former activities in Block 06-01 close to Vanguard Bank in the Spratlys.
Although not a formal alliance, Vietnam hopes that its ties to Russia provide it with some international backing as it pushes back on Chinese aggression, and there are some signs of the relationship's value. Vietnam's Russian-supplied A2AD capabilities partially mitigate Hanoi's serious military imbalance vis-à-vis China by enabling an asymmetric sea-denial strategy useful for a potential maritime conflict. In the South China Sea, China may still apply pressure on Russian energy companies, but these firms are likely better able to resist Beijing's anger than others without a great power patron. In 2017, Vietnam canceled Spanish energy company Repsol's oil drilling project after running afoul of China, but Russian firms continue to drill in disputed maritime zones despite pushback from Beijing. With Russia active in the South China Sea, the Chinese may think twice about an overly aggressive stance.
The Myanmar Military's Outreach to Moscow
Since ousting Aung San Suu Kyi's democratically elected government on February 1st, 2021, Myanmar's military junta escalated its direct outreach to Moscow. In the nine months since seizing power, coup-leader Min Aung Hlaing has made two foreign trips outside Myanmar: one to attend an ASEAN summit and one to court Russia. During this trip, Myanmar's self-appointed Prime Minister met with senior Russian defense officials and an arms firm. From Moscow's side, Russian Deputy Defense Minister Aleksandr Fomin attended Myanmar's Armed Force Day parade in May to signal its support for the junta. Meanwhile, Russia's influence in the UN Security Council consistently serves to soften international pressure on Myanmar's new military government.
Although Russian ranks second ($807 million to $1.3 billion over ten years) to China in the volume of arms sales, Russia-Myanmar defense ties are deepening. Myanmar's military eagerly embraces Russian-made weapon systems to offset its dependence on China. Recent sales include surface-to-air missiles, drones, fighters and training aircraft. The air superiority enabled by Russian MiG-29s and to-be-delivered SU-30s is a key element in the junta's military advantage in Myanmar's renewed civil war. With an advantage in the air, Myanmar's military will be difficult to dislodge for the resistance. Furthermore, there is little sign of abatement amidst international condemnation of the coup. Russia recently announced that its delivery of missile defense systems will continue.
This burgeoning relationship with Moscow partially mitigates the threat from China. While China-Myanmar ties are highly complex and involve both support and hedging, the junta cannot trust that Beijing will not turn on them if the military situation becomes untenable. It must also assume that China maintain its support for ethnic armed organizations along the border, such as the United Wa State Army, in an effort to exert leverage on Myanmar. Considering Myanmar's economic dependence on China, the flow of arms across the border, and China's untrustworthiness, Naypyidaw needs Moscow, particularly because, unlike for Vietnam, there are few viable alternatives.
Indeed, this is not a new approach for the military in Myanmar. China arguably preferred the ousted National League for Democracy government to the unpredictable and chaotic junta, and Myanmar's military worked diligently to advance its ties with Russia prior to the coup. Min Aung Hlaing spearheaded this effort himself, even going so far as to allude to his anger regarding China's support for insurgent groups while in Moscow for Russia's 2020 Victory Day parade. Although the junta knows it cannot rely upon Moscow to firmly stand up to Beijing on its behalf, every international partner that offsets dependence and influence from China is welcome, especially one that comes with few strings attached.
Inherent Limits to Russia's Role in Balancing China
While Russia has its own interests in pursuing ties to Vietnam and Myanmar unrelated to Southeast Asia's troubles with China, Hanoi and Naypyidaw hope that Moscow can counteract China's growing power. Weapons and Russia's continued presence in the region hedge against Beijing in small but significant ways. From the perspectives of Vietnam and Myanmar, Russia therefore seemingly appears to be the answer to their China problem.
However, there are limits to the utility of Russian ties, as Moscow ultimately cares more about Beijing's partnership against the United States than its influence in Southeast Asia. There are not any foreseeable scenarios in which Moscow would sacrifice its deepening cooperation with China for Hanoi or Naypyidaw. As a case in point, Russia publicly maintains a carefully calibrated neutral stance towards the South China Sea dispute in line with China's desires despite its active energy projects. Indeed, after years of pressure, Rosneft, which maintains lucrative business with Beijing elsewhere, withdrew from its stake in the contentious Block 06-01. To be sure, it sold its shares to Zarubezhneft, a state-owned Russian firm, but the incident demonstrates Moscow's careful balancing act with China. When push comes to shove, Russia would rather its relationship with China remain strong.
Only the United States constitutes an outside great power that can partially mitigate the security threat from China.
Beyond Russia, these inherent limits extend to other potential partners. ASEAN is not a reliable avenue for pushing back against China due to internal divisions and its consensus norms. Next year's chair, Cambodia, will be even less willing to anger China than Brunei has. Japan may wield a significant amount of influence in Southeast Asia and Australia has embraced outreach to ASEAN, but neither are powerful enough to counteract Beijing. Only the United States constitutes an outside great power that can partially mitigate the security threat from China. However, this option is only available to Vietnam. The coup leaders in Myanmar have zero chance in the short- or medium-run for American support as a result of their egregious human rights violations. And, to be sure, there are even limits to the U.S. strategic partnership with Vietnam due to Hanoi's concerns about angering China.
In the end, both Vietnam and Myanmar will have to muddle through with their increasingly powerful and domineering neighbor. On some issues, they can make concessions to Beijing, as seen in Hanoi's occasional de-escalations in the South China Sea and Naypyidaw's efforts to advance the China-Myanmar Economic Corridor. And it is important remember that China's rise harbors benefits as well as threats: China is Vietnam's largest trade partner, and the generals in Myanmar grudgingly require Chinese arms, its mediation in the country's peace process, UN diplomatic support, and its $21 billion in investments. For Hanoi and Naypyidaw, China will continue to loom large as both a threat and an economic opportunity, and their foreign policies will naturally remain complex going forward. Indeed, this reflects a larger trend in Southeast Asia of avoiding alignment with either the United States or China. In sum, Russian involvement in Southeast Asia will continue to be encouraged by Vietnam and Myanmar, but the relationship can only provide so much security against Beijing.
Follow the Asia Program on Twitter @AsiaProgram. or join us on Facebook.
The views expressed are the author's alone, and do not represent the views of the U.S. Government or the Wilson Center. Copyright 2021, Asia Program. All rights reserved.
About the Author
---
Asia Program
The Asia Program promotes policy debate and intellectual discussions on U.S. interests in the Asia-Pacific as well as political, economic, security, and social issues relating to the world's most populous and economically dynamic region.  Read more