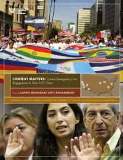 The project seeks to document the ways in which Latino and Latin American immigrants are expressing themselves politically and civically in new communities of settlement in the United States and as transnational actors. The significant influence of Latino voters in the 2008 elections reinforces a need to better analyze the evolving phenomenon of immigrant integration, particularly in regions of the country that are historically unaccustomed to assimilating recent Latino populations.
The project seeks to meet a demand for more knowledge on the practices of political participation and civic engagement by Latin American immigrants, either in ways that are directed toward improving community life or influencing politics in the United States, at the local, state, or federal level, or that better represent expressions of civic engagement in countries of origin. This study concentrates on areas of the country that may not be traditional settlement sites for immigrant communities and whose demographic growth makes them compelling for better charting the demography and geography of Latino migrant political participation and its consequences. Currently, this project involves nine U.S. cities: Charlotte, NC; Washington, DC; San Jose, CA; Las Vegas, NV; Omaha, NE; Tucson, AZ; Los Angeles, CA; Fresno, CA; and Chicago, IL.
To view discussions from the conference on "Latino Immigrant Civic Engagement Trends,'' click here.
The project benefits from the generous support of the John D. and Catherine T. MacArthur Foundation.
National Report
Charlotte, NC