Image Credit
Derrick Kollie and Thomas N. Gmaelue Jr., used with permission of the World Monuments Fund
Commemorating 200 Years of U.S.-Liberia Ties: Moving Forward Together
Overview
Two hundred years ago, in 1822, a group of free black men, women, and children from the United States established a settlement on Providence Island in what would become the city of Monrovia and, in 1847, the Republic of Liberia. As two of the oldest continuous republics in the world, the United States and Liberia share a unique and significant history, offering both lessons learned and sustained successes.
The Wilson Center's Africa and History and Public Policy Programs jointly hosted Commemorating 200 Years of U.S.-Liberia Ties: Moving Forward Together, featuring reflections by five former U.S. Ambassadors to Liberia who served during the country's post civil war years. U.S. Ambassador to the United Nations Linda Thomas-Greenfield provided opening remarks, followed by a panel discussion including distinguished Ambassadors John W. Blaney, Donald E. Booth, Deborah R. Malac, and Christine A. Elder. Ambassador Michael A. McCarthy provided closing remarks.
Key Takeaways
The United States has invested heavily in Liberia's democracy, security, and economic development since its devastating 14-year civil war. Strong diplomatic engagement and Liberian willingness to partner with the United States reflect our 200-year history of close bilateral ties. The panel of former U.S. Ambassadors to Liberia noted that there had been critical inflection points where U.S. interventions had been decisive in advancing peace, democratic institutions, and economic recovery in Liberia, including the negotiated settlement to end the civil war and the assistance provided during the Ebola epidemic. Divisions in the country today may be most significant between so-called "book and non-book" members of the society, suggesting that education will be a key to success in Liberia's continued development and peacebuilding.  
 
 Liberia can be proud of major accomplishments over the last 20 years, including its transformation from a UN peacekeeping mission recipient country to a troop contributing country and its active role in UN fora, where the country is a strong voice for democracy and human rights. U.S.-Liberian cooperation in fighting the Ebola virus disease in 2014-2015 taught the world the importance of infectious disease prevention and response, lessons that have been applicable to both the Zika virus and the COVID-19 pandemic. And Liberia's now-multiple peaceful election contests, including the election of Africa's first woman president in 2005 and the transfer of political power between parties in 2017, demonstrate the democratic values and processes that the country has embraced at all levels of society, notable when considering the democratic backsliding seen in some African countries today.
 
Liberia continues to struggle with corruption and mismanagement.  This issue, while not new, is even more pressing and prominent now because of its impact in the face of the economic setbacks caused by Ebola and the COVID-19 pandemic. Corruption must be addressed by the leaders of Liberia, with backing and pressure from the people of Liberia who are determined to improve their lives and their future.
Opening Remarks
Ambassador Linda Thomas-Greenfield is the U.S. Permanent Representative to the United Nations, nominated by President Joseph R. Biden and confirmed by the U.S. Senate in 2021. Thomas-Greenfield served as Ambassador to Liberia from 2008 to 2012, overseeing the opening of a state-of-the-art new U.S. Embassy compound in Monrovia and supporting efforts to pursue accountability for Liberian war crimes. During her distinguished 35-year-career with the U.S. Foreign Service, Ambassador Thomas-Greenfield served as Assistant Secretary of State for African Affairs (2013-17); Director General of the Foreign Service (2012-13); Principal Deputy Assistant Secretary in the Bureau of African Affairs (2006-08) and Deputy Assistant Secretary of the Bureau of Population, Refugees, and Migration (2004-06).
Moderator
B. Elias Shoniyin is concurrently Managing Director of African Development Management Associates (ADMA), and Acting Dean of Cuttington University's School of Global Affairs & Policy, in Monrovia, Liberia respectively. Shoniyin held multiple roles in the Liberian Ministry of Foreign Affairs including as Principal Deputy Foreign Minister from 2014 to 2019 during the administrations of both President Ellen Johnson Sirleaf and President George Weah.  Shoniyin was selected as a Yale World Fellow in 2019.
Panel
John W. Blaney served as Ambassador to Liberia from 2002 to 2005, a period during which he led U.S. efforts to end over a decade of civil war in the country, promote democratic transition and support national recovery. During his foreign service career, he also served as Deputy Chief of Mission and Charge in South Africa; Economic Counselor in Moscow; and Deputy Representative to the UN Economic and Social Council. Blaney's tenure in Liberia is chronicled in The Embassy:A Story of War and Diplomacy by Dante Paradiso.
Donald E. Booth served as Ambassador to Liberia from 2005 to 2008, leading the U.S. Embassy's support of the country's first post-war elections, which were deemed free and fair and voted in the first African woman president, Ellen Johnson Sirleaf . Booth later served as Ambassador to Zambia (2008 -10) and Ethiopia (2010-13), and was Special Envoy to Sudan and South Sudan in both the Obama and Trump administrations.
Deborah R. Malac served as Ambassador to Liberia from 2012 to 2015, the period during which the Ebola virus disease devastated the country. She coordinated U.S. interagency support to fight the deadly disease and contain its spread. President Obama nominated Malac to a second Ambassadorship in Uganda, where she served from 2016-20. Earlier in her career, Malac was Deputy Chief of Mission in Ethiopia.
Christine A. Elder served as Ambassador to Liberia from 2016 to 2020, leading the U.S. Embassy's support of Liberia's peaceful and democratic transfer of power from President Sirleaf to President Weah in 2017 and the departure of the 15-year UNMIL peacekeeping mission in 2018. Ambassador Elder later served as the most senior Foreign Service Officer in the Office of the State Department Inspector General and led on components of the inter-agency U.S. effort in 2021 to assist in the relocation of Afghan citizens fleeing Taliban rule.  She will take up her next posting as Consul General in Sydney, Australia in March.
Closing Remarks
Michael A. McCarthy has been U.S. Ambassador to Liberia since January 2021.  Previously, he served as Consul General of the U.S. Consulate General, Johannesburg, South Africa.  He has also served as the Director of the Office of Retirement in the Bureau of Human Resources in the State Department and the Deputy Chief of Mission for Embassy Juba in South Sudan. Ambassador McCarthy's earlier assignments included Management Counselor at the U.S. Consulate General in Frankfurt, Germany; the U.S. Embassy in New Delhi, India; and the U.S. Embassy in Asmara, Eritrea.  
Keynote Speaker
Ambassador Linda Thomas-Greenfield
U.S. Permanent Representative to the United Nations
Moderator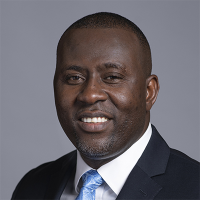 B. Elias Shoniyin
Former Principal Deputy Foreign Minister of Liberia, 2014-2019
Panelists
Ambassador John W. Blaney
Former US Ambassador to Liberia, 2002-2005
Ambassador Donald E. Booth
Former US Ambassador to Liberia, 2005-2008
Ambassador Deborah R. Malac
Former US Ambassador to Liberia, 2012-2015
Ambassador Christine A. Elder
Former US Ambassador to Liberia, 2016-2020
Ambassador Michael A. McCarthy
US Ambassador to Liberia
---
Hosted By
Africa Program
The Africa Program works to address the most critical issues facing Africa and U.S.-Africa relations, build mutually beneficial U.S.-Africa relations, and enhance knowledge and understanding about Africa in the United States. The Program achieves its mission through in-depth research and analyses, public discussion, working groups, and briefings that bring together policymakers, practitioners, and subject matter experts to analyze and offer practical options for tackling key challenges in Africa and in U.S.-Africa relations.   Read more
History and Public Policy Program
The History and Public Policy Program makes public the primary source record of 20th and 21st century international history from repositories around the world, facilitates scholarship based on those records, and uses these materials to provide context for classroom, public, and policy debates on global affairs. Read more