Common Crime and Organized Crime in Latin American Cities: Commonalities and Differences
A conference to deepen the understanding of the connection between existing levels of common crime and the growing presence of organized crime in the region.
Common Crime and Organized Crime in Latin American Cities: Commonalities and Differences
The Latin American Program held the conference, "Common Crime and Organized Crime in Latin American Cities: Commonalities and Differences," on May 19, 2010, to deepen the understanding of the connection between existing levels of delincuencia, or common crime, and the growing presence of organized crime in the region.
Ana María Sanjuán of the Universidad Central de Venezuela highlighted three trends contributing to increased levels of insecurity in Venezuela: the rise in homicide rates in Caracas and the underlying causes; the changing roles of organized syndicates operating in Caracas; and the negative statistics as a result of recent organized crime trends in Venezuela. Emphasizing Venezuela's security problem, Sanjuán indicated that while reported crime figures have remained mostly consistent over the past two decades, the homicide rate for Venezuela has quadrupled since 1999, with the homicide rate in Caracas triple the national average.
Criminal organizations, generally small in size, with limited operational capacity, and lacking organization, are becoming increasingly more violent. Sanjuán stated that while figures for drug trafficking and illegal arms have decreased steadily since 1994, less complex operations, such as kidnapping, have increased. She also emphasized the rising level of human rights violations committed by state security officials. Although police reform was initiated in 2006, very little legislation has been passed and implemented. Given this failure and rampant police abuse, individuals and companies are turning more towards private security personnel. In contrast to the 190,219 registered police, there are more than 700,000 registered private security forces, a ratio which poses a viable threat to state control over security. This deterioration of public security and involvement of public security officials in illegitimate actions poses a serious threat to Venezuelan citizens.
Marcelo Saín, former chief of the National Airport Police for Argentina, described a different picture of how common and organized crime operate in Buenos Aires. Common crime in the larger metropolitan area has increased over the past 20 years, peaking in 2002 following the previous year's economic meltdown. In both absolute and relative numbers, criminal acts against property and persons, including homicide, reached their highest levels during this time, but have since fallen, corresponding with improvements in national economic and social indicators. Saín explained that based on data from victimization surveys, the majority of murders committed during the peak years were not isolated or random acts but rather were connected to armed robberies and auto thefts.
Saín identified three issues currently impacting the public perception of crime in Buenos Aires. First, upper and middle class populations are increasingly the victims of armed robbery, extortion, kidnapping, and assaults. Second, the increased and at times sensationalized media coverage of criminal activity exacerbates public fear. And third, the increased role of youth in criminal behavior is affecting the dynamic of crime in Buenos Aires. Saín concluded that the cooperation between common crime and organized crime is at best at a very modest, low level. In contrast to common crime, organized crime is run as an economic enterprise; the internal structure of a criminal organization facilitates the provision of low cost or absent products as well as satiating the demand for illegal products for a specific clientele. These organizations enjoy a high degree of police protection due to the kickbacks they pay to supplement the limited state funding and support for police forces.
Beginning in the 1980s, organized crime in Brazil has gained a foothold in the country's two largest cities: Rio de Janeiro and São Paulo. These two urban centers account for 19 and 14 percent, respectively, of national homicides. While national murder rates have declined since 2003, figures still remain high relative to historical and international levels. Focusing on Rio de Janeiro, Michel Misse of the Universidade Federal do Rio de Janeiro described how problematic reporting of crime data by state authorities, the emergence of criminal factions in Rio de Janeiro, and state involvement in criminal activity have severely hampered the state's ability to effectively tackle illegal markets and criminal activity in the nation's second largest metropolis.
Misse argued that homicide rates reported by the Ministry of Health fail to accurately reflect the panorama of murders in Rio de Janeiro in that they do not reflect the dramatic spike in the number of civilians killed by the police since 1999. Civilian deaths by the police have averaged 1,100 per year since 2002, while police officer death rates have remained generally consistent, at 20 deaths per year since 1998. Misse concluded this significant disparity demonstrates that a portion of these civilian deaths are executions committed by the police.
The relationship between organized crime and the state security forces in Rio de Janeiro is dependent both on violence and the control of illegal markets. Organized crime syndicates have established a wide ranging network, including police officials, for the purpose of trafficking in pirated goods, sexual services, and drugs. To protect these markets, criminal groups have gained control over the critical "market of violence, intimidation, and pressure," often through the use of private security forces. The state's inability to control violence, exacerbated by the private security forces which outnumber police and military personnel combined, permits the "venture capitalist" criminal organization to capture and continually operate illicit markets.
Linkages between common crime and organized crime are apparent in Rio. Misse explained that as much as Rio is a drug-trafficking city, it is also a large drug-consuming city; addicts are often recruited by organized crime for various tasks in return for illegal drugs. Auto and cargo theft involve not only common criminals and organized crime syndicates, but also the police. Utilizing drug trafficking routes, criminal organizations are engaging in small- to military-grade weapons trafficking, which has both increased violence generally and has led to the creation of sniper and assassin groups for hire.
Guaracy Mingardi of the United Nations' Latin American Institute for the Prevention of Crime and Treatment of Offenders (ILANUD) detailed the rise and current status of the Primeiro Comando da Capital, or PCC in São Paulo, Brazil. Unlike the oligopoly of criminal syndicates in Rio de Janeiro, São Paulo's criminal underworld is controlled principally by the PCC. Founded in 1993 at the Piranhão maximum security prison, PCC leaders adopted the Comando Vermelho's slogan of "peace, justice, and liberty." Over time, the PCC slowly began to incorporate the 20-30 existing criminal organizations into one united front, founded on the belief that united they could exert greater influence and would be able to "beat the system" and fight the government's oppression within the penitentiary system. Current figures estimate 80 percent of all prisons, or roughly 120,000-130,000 prisoners in São Paulo, are internally controlled by the PCC. From 2000 – 2006, the criminal organization began to gain power and influence in São Paulo and from 2002-2003 the violence between state security forces and PCC members escalated, including attacks on police stations, 28 simultaneous prison riots, and the murder of a judge, an act which had not occurred in 100 years.
Along with controlling two penitentiary systems, the PCC is increasing its influence and presence in broader criminal activity in São Paulo. Vehemently opposed to drug trafficking activities prior to 2002, the organization has since become the principal drug trafficker within the prison system and occupies a growing portion of the illicit drug market in society in general. Other forms of income for the organization include raffles for cars and apartments, "voluntary" contributions from individuals and businesses, and membership fees for its members. These fees provide certain benefits for members and their families, including free legal representation, free shuttle services for families to visit jailed individuals, and other minor services. Though not obligatory, criminals without membership in the PCC face uncertain futures upon entering prison. This provides a strong incentive for a criminal, knowing that prison is likely in his future, to preemptively become a member and enjoy protection once in jail.
Eric Olson of the Woodrow Wilson Center's Mexico Institute argued that the link between common and organized crime in Mexico stems from the breakdown of state institutions and the blatant inability of the state to control crime. Historically, Mexico's homicide rate had steadily decreased beginning in 1936 and reached its lowest point in 2005, with less than ten murders per 100,000 people. However, since then Mexico has experienced a dramatic increase in homicides as a result of drug and organized crime-related killings. Ciudad Juárez, located on the border with the United States, recently surpassed Caracas, Venezuela, as the most murderous city in the world, with a homicide rate of 189/100,000. Olson emphasized that increases in common crime predate growth in organized crime by nearly two decades. The state's inability to regulate common crime during this period has provided a strong incentive for organized crime syndicates to enter into illicit markets and operate with little fear of punitive action.
Addressing Mexico's institutional shortfalls, Olson detailed the ineffectiveness of the judicial system and police force to properly investigate complaints and prosecute criminals. The high rates of victimization reported at the metropolitan and national levels differ significantly from the far higher unreported crime rates. Nationally, unreported crime rates are estimated at 78 percent, with Ciudad Juárez at 86 percent. When polled as to the principal reasons for these extremely high figures, respondents reported the lack of confidence in and legitimacy of authorities, adding that they viewed the reporting process as a waste of time.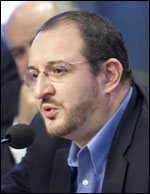 Newly-appointed director of the Open Society Institute's Guatemala office, Fernando Carrera, argued that past governmental actions and the prolonged internal armed conflict have created a favorable environment for organized crime. Guatemala ranks as one of the most violent nations in Latin America, yet conviction rates for homicides range from three percent to an estimated low of one percent. From 1960 to 1996, the government was engaged in a brutal counterinsurgency war in which it acted with total impunity; legal and illegal security groups, together with the profit systems they created—through control of customs, telecommunications, and other services—help explain the infrastructure upon which organized crime is based today. These formative factors, coupled with virtually non-existent government social expenditures on health and education, help explain the favorable environment in which organized crime has flourished in Guatemala today.
Organized crime groups in Guatemala have focused their economic activities on three areas: drug trafficking, arms sales and protection, and money laundering. Analyzing the impact of organized crime in Guatemala, Carrera highlighted trends which groups have used to foster terror and maintain an influential presence in public and private society. These trends include, the continued atrophy of police forces, criminal investigations, and the national judicial system; knowledge of and access to tactical arms within organized crime groups, including information gained during the 36-year period of conflict; the use of violence to gain and maintain territorial control; and the use of force and intimidation to retain control over the flow and generation of funds. As Guatemalan society continues to cope with the aftermath of its prolonged conflict, doubts about the legitimacy and efficacy of state institutions as well as the fragmentation of society will continue to play an integral role in the evolution of organized crime.
Analyzing the evolution and connection between organized and common crime, Juan Carlos Garzón of Colombia's Pontificia Universidad Javeriana argued that criminal groups involved in both types of crime are suffering from what he terms a "schizophrenic insecurity syndrome." Organized crime differs from common crime in that it typically involves the supply of illegal goods and services to a diversified market for sustained capital accumulation; such organizations possess the capacity not only to cooperate but also to defend themselves with violence from other criminal groups and the state. Organized crime's grip on the region can be seen through the following worldwide figures: 66 percent of kidnappings and 42 percent of deaths occurring by firearms occur in Latin America, though the region only accounts for 8 percent of the world's population.
Garzón presented three typologies which broadly highlight the connections between criminal organizations. The first are organic connections, which come about when one criminal organization absorbs or overtakes another, gaining control over all criminal activity occurring in that territory. Second are systemic connections in which criminal organizations attempt to maintain the status quo in order to preserve existing under-regulated, informal markets. And third and most novel is the virtual nexus, facilitated greatly by technology and telecommunication; these connections occur when a prominent criminal organization provides its affiliation and name to a smaller organization, thereby creating legitimacy for the smaller organization while ensuring greater territorial presence and an additional source of income for the established criminal syndicate. Garzón explained that as organized crime groups diversify their businesses, they increasingly look to common criminal organizations for specific security or trafficking roles. And by increasing the number of actors involved or connected to their businesses, Garzón argued, a certain level of organizational control is leveraged for future profit. There is a hierarchical change, emphasized Garzón, caused by technology, both within common and organized crime groups, moving from a formerly rigid pyramid scheme to a horizontal, virtually connected structure, a Facebook-like network. This has its antecedents in Pablo Escobar's Oficina de Cobros or Collections Agencies, which served as the network moderator, helping link parties who wished to be connected.
John Bailey and Daniel Ortega, both of Georgetown University, sought to define the functions of common crime and organized crime, determine the paths of recruitment from common crime to organized crime, and identify the interactions between the two types of criminal organizations. They examined criminal factions on a continuum of complexity and continuity, dividing organized crime into two groups: enterprise and extortion-protection. Both high in hierarchical complexity and desired continuity, enterprise crime is defined as illicit business activity which provides illegal services, goods, or products for the principal goal of generating capital, such as kidnapping, prostitution, and gambling; whereas extortion-protection involves violence in order to control criminal activity for a sustained income and for the purposes of fulfilling its main goal of territorial control.
The growth and overcrowding of prisons in Latin America, coupled with high levels of impunity, argued Bailey and Ortega, create an environment which actually facilitates the transition of a common criminal to a member of a group involved in organized crime. Neighborhood social gangs, increasing both in number and intensity of violence, serve as an additional pool of recruits for organized crime. Third, the growth and inclusion of security forces, both public and private, have continued to influence the flow of actors from common crime to organized crime. The fluidity between organized crime and common crime is not limited to human capital, but also includes economic activity. The ubiquitous informal markets in Latin America serve as platforms for the sale of contraband, some of which is the product of organized crime activity. Bailey and Ortega cite a study in which 80 percent of consumers who purchased pirated goods acknowledged the link between the goods and empowerment of organized crime.
Marcelo Bergman of Mexico's Centro de Investigación y Docencia Económicas (CIDE) hypothesized that increased crime rates are attributable to the development of new markets for stolen goods, the increased role and influence of criminal organizations, and the weakened state control of public security. Citing Mexico and Argentina as case studies, Bergman explained how society's insatiable demand for goods, coupled with either supply or cost restrictions for individuals, have led to uncaptured, secondary markets controlled by criminal organizations. Capitalizing on social demands, criminal organizations procure goods through illegal and often violent means to resell them in the informal marketplace.
Addressing the rapid emergence of organized crime and its link to common crime, Bergman attributed the burgeoning influence of criminal groups to organized crimes' diversification and increased flexibility as well as the latent crippling of police institutional capacity. The development of new markets for stolen goods, low labor costs, increased communication, and evolution towards a horizontal organizational structure are all factors which have accelerated the growth of connections between organized and common crime groups. Bergman argued that Latin America's shift toward democratic governance and the implementation of decentralization processes have entrusted regional and state governments with responsibilities they are often unequipped or institutionally incapable of fulfilling. Without adequate support, local institutions, officials, and police forces are unable to regulate illegal markets, thus allowing criminal organizations to take control. As a result of their inability to oppose the criminal activity, state officials often become complicit in the illegal activity. . Efforts to combat state corruption through police reform have proven ineffective. Without sufficient support for state regulation and security forces, officials will continue to become "captured" by organized crime and unable to deter the growth of criminal activity.
Hosted By
Latin American Program
The Wilson Center's prestigious Latin American Program provides non-partisan expertise to a broad community of decision makers in the United States and Latin America on critical policy issues facing the Hemisphere. The Program provides insightful and actionable research for policymakers, private sector leaders, journalists, and public intellectuals in the United States and Latin America. To bridge the gap between scholarship and policy action, it fosters new inquiry, sponsors high-level public and private meetings among multiple stakeholders, and explores policy options to improve outcomes for citizens throughout the Americas. Drawing on the Wilson Center's strength as the nation's key non-partisan forum, the Program serves as a trusted source of analysis and a vital point of contact between the worlds of scholarship and action. Read more