India: Latin America's Next Big Thing?
At a July 27, 2010, seminar panelists explored how the relationship between India and Latin America can expand. The seminar served to launch the new IDB report, India: Latin America's Next Big Thing?
Overview
With a rapidly growing economy, India is making a greater impact on the world economy as its products and capital increasingly penetrate new markets. In this context, India has begun to forge important economic ties with Latin America, primarily through preferential trade agreements and investment. At a July 27, 2010, seminar co-sponsored by Woodrow Wilson Center, the Asia Society, and the Inter-American Development Bank (IDB), panelists explored how the relationship between India and Latin America can expand. The seminar served to launch the new IDB report, India: Latin America's Next Big Thing? which examines India's path of growth, historic relationships with Latin America, the potential for increased cooperation in the areas of trade, investment, and multinational issues, and the competitive pressures India may place on Latin American economies.
A Symbiotic Relationship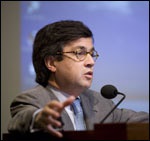 According to Luis Alberto Moreno, President of the Inter-American Development Bank, India and Latin America have been on the periphery of each other's foreign policy historically, having focused on their respective domestic economies and immediate neighbors. However, South-South relations deepen every day, and India and Latin America are beginning to form relationships that "will only grow in time." Moreno contended that these two actors are in an ideal complementary position to cooperate economically and to participate in "mutually beneficial exchanges." India lacks Latin America's abundant natural resources but has a rapidly growing population. Meanwhile, Latin America has made achievements in mining, biofuels, and poverty alleviation, while India can provide examples of success in information and communications technologies (ICT), offshore drilling, and microfinance. Drawing a parallel to Latin America's trade relationship with China, Moreno observed that India and Latin America "have only scratched the surface." He said that the potential is "huge" and that the challenge was to ensure that that potential was realized.
Opportunities and Challenges

Meera Shankar, Ambassador of India to the United States, emphasized that an intellectual exchange of ideas between India and Latin America has flowed for some time, but little has been achieved in terms of real substance. She argued, however, that the liberalization of India's economy in the 1990s, coupled with high rates of economic growth, coincided with Latin America's processes of economic reform and the broadening of participation. The two regions have recently become closer on global political issues such as climate change and reform of global financial institutions and governance bodies. While admitting that India's current economic relationship with Latin America is weak, Shankar claimed that India is seeking to broaden preferential trade agreements with MERCOSUR and Chile, explaining that Indian investment in the region will increase as investors acquire confidence.
India's growth has been more driven by the expansion of domestic demand and investment than by trade, Shankar said, characterizing India's model of development as inward-looking and autarchic. She emphasized the social and political implications within India of lowering agricultural tariffs, given the large numbers of people dependent on subsistence-based agriculture. A predominant feature of India's trade policy has been to protect the livelihoods of small farmers, and lowering tariffs on agricultural products "will be a difficult and incremental process," according to Shankar. The pending challenge for policymakers in India as well as Latin America will be to sustain inclusive growth. India can learn from Latin America lessons in poverty reduction, while India can provide lessons regarding rural development.
Mauricio Mesquita Moreira, coordinator of the report for the IDB's Integration and Trade Sector, claimed that trade, investment, and cooperation are the three main channels for growth in the bilateral relationship between India and Latin America. He argued that there is huge potential for bilateral trade and investment that has not been realized, primarily because of high import tariffs and transportation costs on the part of both parties.
Between 1954 and 2007, Mesquita Moreira, observed, China, India, South Korea, Brazil, and Mexico had similar rates of per capita growth in GDP. He characterized the 1990s as the era of the "big bang" for India, the result of new growth opportunities in information technology (IT) and business, processing, and technical (BPT) services; a "distortion bonus" represented by widespread state intervention; and high rates of domestic investment and savings and of productivity growth. Mesquita Moreira underscored the potential for greater cooperation, but cautioned that India could become a direct competitor with Latin America in a number of sectors. Nonetheless, he argued that the explosive growth of trade between Latin America and China over the last decade could be replicated in the Indian case, particularly in light of Latin America's huge per capita natural resources—land, water, agriculture—as compared to natural resource constraints in India relative to the country's population.
China, India, and Latin America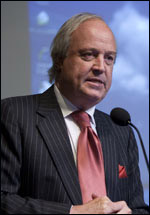 "The rise of the Asian giants, China and India, has been a defining factor" in international relations for the first decade of this century, argued Jorge Heine, Centre for International Governance Innovation Chair at Canada's Wilfrid Laurier University. He cited four dimensions of particular importance to Latin America:
1. Increased demand for the region's exports, especially commodities;
2. A rise in prices of the region's commodities;
3. Export diversification of markets traditionally confined to the United States and Western Europe;
4. The concomitant widening of the region's foreign policy options
Comparing China and India's respective relationships with Latin America, Heine argued that the trade gap is actually a lag. China has more trade with Latin America not because of India's high tariffs and transportation costs, but rather because China's economy opened up before India's. Echoing other panelists, he emphasized the enormous opportunities "if Latin America targets specificities of the Indian market," given "the sheer volume of demand in India." He noted predictions that in twenty years, India will be more populous than China. To understand the potential, Heine suggested looking at specific countries and products, citing India's $2.1 billion investment in an iron ore mine in Bolivia, and its purchase of soya exports from Argentina that were refused by China.
India's Past and Future

Providing background information about India, Arvind Virmani, executive director for India at the International Monetary Fund, outlined the Indian economy's three phases of growth:
1. From 1950 to 1980, there was increasing control of production, investment, and trade and a declining growth rate of 3.5 percent.
2. Starting in 1980 there was gradual liberalization and basic reforms, removing an anti-export bias and freeing up the importation of capital goods from the West. The per capita growth rate nearly tripled.
3. In 1991 there was great focus on comprehensive reforms. These reforms took 10 years to lead to growth, as the entire economy was forced to restructure.
4. However, Virmani indicated that India's current growth rate proves the success of the last phase of reforms, characterizing India's growth as "domestic [and] entrepreneurial led." He also pointed out that there was a boom in all decontrolled subsectors, including manufacturing, telecommunications, and finance.
Looking ahead, Arvind Panagariya, professor of Economics at Columbia University, noted that India is the world's 11th largest economy, and produces about 2 percent of world GDP. Why, then, so much hype? The key has to do with growth. He projected a $5 trillion economy for India in the next 15 years; India is positioned to become the fourth largest economy in the world by 2025, a feat that challenges the theory that democracies cannot grow at rapid rates of 8-10 percent. According to Panagariya, India's growth was spurred when the country turned away from its inward-oriented, domestic command and control model which it had for decades. With this model, the government controlled "virtually all major investments" and placed many restrictions on industry, including labor, land, and capital markets.
Comparing India to Latin America, Panagariya stated that the two regions are "deeply linked by their devotion to import substitution." Since gaining independence from Britain, India's philosophy has been to produce what it consumes so as to be truly independent. By contrast, Latin America has approached import substitution from an export pessimism standpoint; as "exporters of products for which the demand is very elastic," it is counterproductive to export those products because the prices will drop, and the region will earn less revenue.
Panagariya also indicated that India and Latin America have much to gain from agriculture, pending India's liberalization in this area. He drew a parallel between current Indian skepticism regarding agricultural liberalization with past sentiments regarding the manufacturing liberalization of the 1980s. He further explained that while India cannot have a modern economy if 60 percent of its workforce is in agriculture, the country can learn from Latin America's conditional cash transfers and social policies.
Hosted By
Latin American Program
The Wilson Center's prestigious Latin American Program provides non-partisan expertise to a broad community of decision makers in the United States and Latin America on critical policy issues facing the Hemisphere. The Program provides insightful and actionable research for policymakers, private sector leaders, journalists, and public intellectuals in the United States and Latin America. To bridge the gap between scholarship and policy action, it fosters new inquiry, sponsors high-level public and private meetings among multiple stakeholders, and explores policy options to improve outcomes for citizens throughout the Americas. Drawing on the Wilson Center's strength as the nation's key non-partisan forum, the Program serves as a trusted source of analysis and a vital point of contact between the worlds of scholarship and action. Read more
Asia Program
The Asia Program promotes policy debate and intellectual discussions on U.S. interests in the Asia-Pacific as well as political, economic, security, and social issues relating to the world's most populous and economically dynamic region.  Read more