Mixed Signals at the Border: The Future of U.S.-Canada Preclearance Programs
Two panels explored the challenges and initiatives taking place in the United States and Canada to expand preclearance programs. Panelists stressed the need for more sophisticated and efficient programs at the shared border.
Overview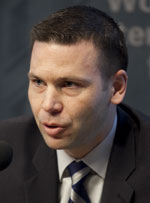 Kathryn Bryk Friedman, University at Buffalo
Anne Drost, Fasken Martineau
Larry Ehl, Washington State's Department of Transportation
Paul Haddow, Canadian Border Services Agency
Kirk Lanz, Booz Allen Hamilton
Kevin McAleenan, U.S. Customs and Border Protection (CBP)
Ron Rienas, Peace Bridge Authority
The United States and Canada need to work together to "thin the border," said Kevin McAleenan of U.S. Customs and Border Protection (CBP) at an event hosted by the Canada Institute. Two panels explored the challenges and initiatives taking place in the United States and Canada to expand preclearance programs. The conference also considered whether lessons learned from implementing preclearance programs on the Mexican-U.S. border, as well as Washington State's and British Columbia's efforts to expand preclearance programs for the Vancouver Winter Olympic Games can be applied more broadly to the Northern border. A luncheon followed panelist presentations. Ron Rienas of the Peace Bridge Authority delivered the keynote address.
In his remarks, Rienas stated that the global competitiveness of Canada and the United States has been threatened by their inability to implement preclearance programs and improve border efficiency. North American manufacturing, said Rienas, depends on shipping components across NAFTA member borders multiple times. The recent thickening of the border has made such production more cumbersome and costly, while North American competitors are able to produce their products without such impediments.
The Federal Perspective
McAleenan stressed the need to make border crossings as efficient and secure as possible for travelers and trade, noting that taking preclearance programs to the next level is an important part of achieving this goal. He stated that the U.S. Secretary of the Department of Homeland Security Janet Napolitano views the Northern border as a priority issue. CBP, said MacAleenan, is working closely and is in frequent contact with Canadian officials to address issues such as information sharing, harmonization, and infrastructure planning.
McAleenan highlighted the value of programs such as NEXUS, C-TPAT, FAST, and Global Entry to facilitate people and cargo efficiently and securely across U.S. borders. All of these programs, he said, have seen increased enrollment—a key indication of their success. Nevertheless, the expansion of such programs faces considerable obstacles. From a U.S. perspective, one concern remains that U.S. officers stationed in Canada do not have the same authority to take action against suspects as they would on U.S. soil. In addition, it is also costly to post officers abroad. McAleenan said that CBP may face budget cuts, and new border infrastructure at areas such as the Blue Water Bridge and Port Union will not receive funding in the near future.
Paul Haddow of the Canada Border Services Agency echoed the importance of preclearance programs, stating that they are an effective tool to reduce border congestion and make more effective use of combined border infrastructures. Looking forward, Haddow argued in favor of implementing tailored preclearance programs to specific border points across the Northern border. Some ports, maintained Haddow, may be better suited only for primary inspection instead of full preclearance.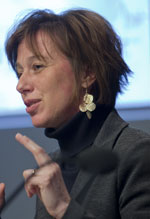 Kathryn Bryk Friedman of the University at Buffalo argued that preclearance programs can and should be designed in a way that is "win-win" from both an economic and security standpoint. She noted that although there is no centralized source for wait time metrics at border crossings, a recent study by the International Mobility and Trade Corridor Project (IMTC) indicated that new trusted traveler programs are effective in reducing border congestion. According to the study, in 2009, the average time at the border using FAST was 8 minutes as oppose to a general wait time of 29 minutes.
Friedman said that for preclearance programs to be effective they must be tailored regionally. FAST, for instance, has seen much higher enrollment rates at the Buffalo-Niagara crossings than the Peace Arch and Pacific Highway. The reason, she said, is FAST was designed to better facilitate manufactured goods like those produced in central Canada and Midwestern states rather than Western states and provinces which produce and ship more agricultural goods.
Taking Preclearance Programs to the Next Level
British Columbia and Washington State are continually working to improve border efficiency, said Larry Ehl of Washington State's Department of Transportation. Ehl highlighted the work that was jointly done by Washington State and British Columbia to prepare for the 2010 Vancouver Winter Olympic Games, noting that average wait times during the games did not exceed 10 minutes on average. Much of the credit for this success, said Ehl, should be given to the IMTC, which served as a forum to share ideas on how to reduce wait times and manage traffic at the border. These efforts culminated in the construction of new highway lanes, increased rail service to and from Vancouver, and new electronic signage that informed travelers of the fastest route to cross the border. Ehl noted that these signs are still in place and have proved extremely valuable in alleviating congestion at the border.
Anne Drost of Fasken Martineau maintained that expanding preclearance programs to rail would vastly improve rail service in North America, allowing Canada and the United States to reap both economic and environmental benefits. She noted that wait times for a trip by rail from New York to Montreal would be reduced by 1.5 to 2 hours if preclearance programs were implemented. Pre-inspection for rail already exists on a route from Vancouver to Portland, a system that should be implemented across the Northern border, said Drost.
Kirk Lanz of Booz Allen Hamilton stated that the U.S. Southern border faces many of the same infrastructure, delays, and congestion challenges as the Northern border. Lanz highlighted San Diego's efforts to address these issues by building regional working relationships among the San Diego Chamber of Commerce, Metropolitan Planning Organization, and the South County Economic Development Council. The results have been the successful implementation of several traveler programs, including SENTRI Vehicular (a dedicated commuter lane at Otay Mesa) and MX Aduanas (allowing easier crossing for C-TAPT members from Mexico). A major challenge with regional border cooperation is connecting and including federal agencies in the development of plans to improve efficiency at the border, said Lanz. He also noted that the Border Trade Alliance (BTA) is working to convince non-border states of the national economic benefits of well managed border trade. According to Lanz, if enough Members of Congress from non-border states are convinced that effective border policies are critical to the economy of their state, the chances of passing effective border policies is vastly increased.
Drafted by Ken Crist
David Biette, Director, Canada Institute
Hosted By
Canada Institute
The mission of the Wilson Center's Canada Institute is to raise the level of knowledge of Canada in the United States, particularly within the Washington, DC policy community.  Research projects, initiatives, podcasts, and publications cover contemporary Canada, US-Canadian relations, North American political economy, and Canada's global role as it intersects with US national interests. Read more