Scaling Up: Chinese Renewable Energy Investments in the United States and Beyond
Speakers will explore drivers of China's renewable investments and the policy, market and financial opportunities and challenges to greater renewable investment in the United States.
Overview
China is already the leading global investor in renewable energy infrastructure and Chinese companies are increasing their overseas investments in renewable energy. China's massive domestic and overseas investments in solar and wind industries can potentially benefit other countries in need of such investments. Chinese energy investment in the United States notably has accelerated over the past five years, with Chinese companies investing heavily in traditional energy as well as in alternative energy. With similarly voracious appetites for energy, the United States and China could strengthen economic and energy security by jointly developing renewable technology, as well as exploring other promising clean energy technologies. On June 10th, China Environment Forum held a meeting that explored drivers of China's renewable investments and the policy, market and financial opportunities and challenges to greater renewable investment in the United States.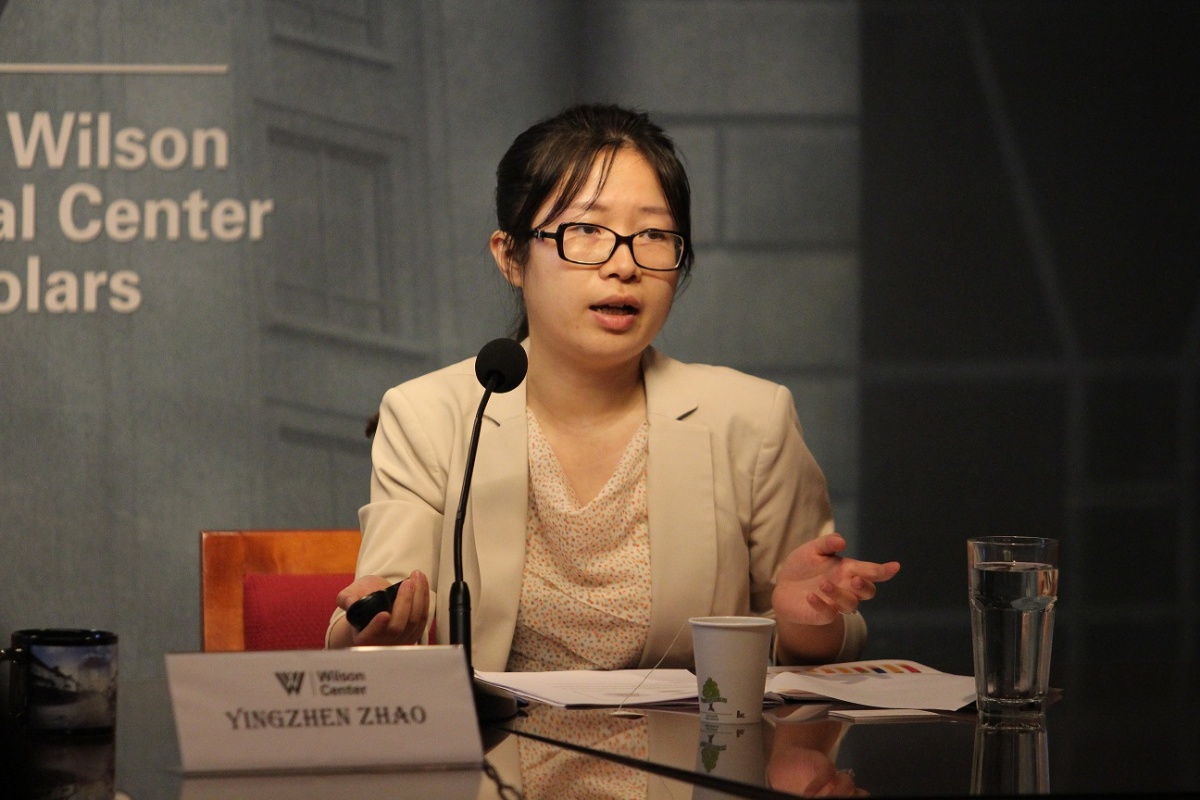 Looking at the Numbers
Zhao Yingzhen, from the World Resources Institute, presented China's trends and drivers of oversees investment in wind and solar industries. The report revealed that China's number one destination for overseas investment is the United States, which nearly doubles the number of investments China made in Germany, the number two destination. The majority of China's investment is in electricity generation. However, surprisingly tied with manufacturing in both solar and wind investment, is investment in sales, marketing, and support. A breakdown of China's wind industry investments shows that the majority of its joint venture investment is in electricity generation, while China's acquisitions are in manufacturing, and the greenfield projects are in sales, marketing, and support respectively. Driving this investment is the industry and market; government policies and financing; and host country drivers. Drivers for investment in both solar and wind include overcapacity, competition, low price, and technology. The government is also driving investment with the appreciation of the RMB, China's "Go Global" strategy, and its dragon heads approach. China Development Bank (CDB) allows for easy credit to energy investment, indeed CDB investment in energy is than Inter-American Development Bank.  Host countries also affect the level of investments, based on regulatory and price incentives, and import restrictions.
The Saudi Arabia of Renewables
Todd Foley, the Senior Vice President of American Council on Renewable Energy (ACORE), discussed the current state of renewable energy finance in the United States. The U.S. has abundant access to renewable energy sources like wind and solar. There is also a dramatic cost reduction in renewable energy. The United States is investing in renewable sources; indeed 49 percent of all new U.S. power capacity of 2012 has come from renewable energy. Government policies are one of the drivers for this investment. Federal and State tax credits along with the EPA MACT rules that require coal plant retirements spur renewable energy investment. There are large incentives to invest in renewable energy, however in the solar industry there is a 50 percent overcapacity in manufacturing. Still solar is the largest renewable investment and it holds the most potential. Wind investment seems to be leveling off, yet with such large tax credit incentive it seems that wind generation will continue to be invested in.
Three Dimensions of Investment
Dr. Hu Tao, of the World Resources Institute, discussed how to invest in the environment, including renewables energy. The first dimension is redefining environmental goods and industry. This means looking at each level of the environment spectrum from the micro to the macro, understanding what the problems are for each level as well as redefining the goods and services that improve the environment. The second dimension is classifying the environmental goods and investments policies.  This involves encouraging investment in certain goods, allowing investment in goods/services, restricting investment, or prohibiting investment all together. The third dimension is regulating the oversees foreign direct investment (OFDI). This is done through work with NGOs (local or international), working with the host countries to promote environmental regulation and finally applying the newly issued oversees investment guidelines that promote sustainable investments.
---
Hosted By
China Environment Forum
Since 1997, the China Environment Forum's mission has been to forge U.S.-China cooperation on energy, environment, and sustainable development challenges. We play a unique nonpartisan role in creating multi-stakeholder dialogues around these issues. Read more
Global Risk and Resilience Program
The Global Risk and Resilience Program (GRRP) seeks to support the development of inclusive, resilient networks in local communities facing global change. By providing a platform for sharing lessons, mapping knowledge, and linking people and ideas, GRRP and its affiliated programs empower policymakers, practitioners, and community members to participate in the global dialogue on sustainability and resilience. Empowered communities are better able to develop flexible, diverse, and equitable networks of resilience that can improve their health, preserve their natural resources, and build peace between people in a changing world. Read more