In Search of a National Security Narrative for the 21st Century
The Center's first National Conversation discussed the need for a new national security narrative. Hosted by Wilson Center Director, President, and CEO Jane Harman, and moderated by New York Times columnist and author Thomas Friedman, panelists discussed options for defense and diplomacy in our increasingly complex and multi-polar world.
In Search of a National Security Narrative for the 21st Century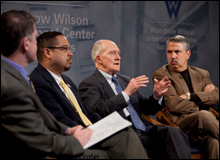 Panelists:
Brent Scowcroft, U.S. national security adviser to President Ford and President H.W. Bush; Representative Keith Ellison (D-Minn.), the first Muslim American to be elected into the U.S. Congress; Steve Clemons, founder of the American Strategy Program at the New America Foundation; Robert Kagan, senior fellow for foreign policy at the Brookings Institution; and Anne-Marie Slaughter, former director for policy planning for the U.S. Department of State and current professor at Princeton University. Moderated by Thomas Friedman, Pulitzer Prize-winning columnist and author.
Watch exclusive interviews with the panelists: Anne-Marie Slaughter, Steve Clemons, and Brent Scowcroft.

The Wilson Center's newest initiative, The National Conversation at The Wilson Center, launched with a discussion of the need for a new national security narrative. Hosted by Wilson Center Director, President, and CEO Jane Harman, and moderated by New York Times columnist and author Thomas Friedman, panelists discussed options for defense and diplomacy in our increasingly complex and multi-polar world.
A key theme was globalization, including the role of information technology—especially social media tools such as Facebook and Twitter—in mobilizing people, from recent revolutions in the Middle East to empowering individuals across the globe. The discussion also touched on such challenges as outdated international institutions as well as defense spending and other investment priorities.
The center of discussion was a white paper written by two active-duty military officers, Captain Wayne Porter (U.S. Navy) and Colonel Mark Mykelby (U.S. Marine Corps). The paper, "A National Strategic Narrative" (pdf), contends that the United States should move away from such outdated Cold War strategies as containment and deterrence toward sustainable prosperity and civic engagement.
At its core, said Anne-Marie Slaughter, "the Narrative says in an interconnected world, the United States should be the strongest competitor and the greatest source of credible influence—the nation most able to influence what happens in the international sphere—while standing for security, prosperity, and justice at home and abroad. So: competition, influence, domestic strength."
Slaughter, who wrote the paper's preface, summarized its five tenets for the panel. They are:
From control to influence. The possibility of controlling international events was more likely in the bipolarity of the Cold War. Today, we should lead by trying to influence outcomes.
 
From containment to sustainable prosperity. "We need to invest in our own sustainable resources," said Slaughter, "our young people, our education, our infrastructure, the environment. That is the secret to our power, the source of our influence going forward."
 
From deterrence and defense to civilian engagement and competition. This involves shifting focus from military assets to civilian assets and the spirit of active competition.
 
From zero-sum to positive-sum global politics. Rather than one winner, we can have many win-win situations. Interdependence creates opportunities and common bonds toward countering threats.
 
From national security to national prosperity and security. Any security narrative should include an emphasis on domestic investment and civilian engagement.
Brent Scowcroft and Robert Kagan debated this framework, comparing the advent of globalization to that of industrialization two centuries ago in which the steamship and telegraph connected people across continents and empowered citizens. But a big difference today is the power of information technology. From demonstrations in the Middle East to the 2008 global financial crisis, "information technology has politicized the world's people in a way they never have been," said Scowcroft. With Facebook, he said, it's possible to recruit a million people for a rally almost instantly.
The existence of new paradigms does not mean "the old tools of power are no longer relevant," said Kagan. Globalization is not new, he argued. People thought the communications revolution in the 19th and 20th centuries would connect people and nations in a way that would end geopolitical conflicts. But "human nature is not new," he said. "You're dealing with the same beast as you've been dealing with for millennia." Some communications tools may be new, he said, but the Internet, for example, brings some people closer together and others farther apart.
Moderator Tom Friedman jumped in to argue that in the 18th and 19th centuries, globalization was sparked by countries, then companies. Today, what's new "is the ability of individuals to compete, connect, and collaborate globally as individuals."
Is globalization withering the nation-state? "I think the epitome of the nation-state system was in the 20th century," said Scowcroft. "I think that globalization is changing that system and is eroding national borders." On issues such as climate change, global health, and terrorism, he said, "you have to reach outside national borders to get cooperation to deal with them." But Kagan said the nation-state has had a resurgence since the 1990s. And Friedman said the nation-state probably matters more in this world. "People still live in communities, in clusters; they need infrastructure. They need rule of law."
Another change from the 19th and 20th centuries is "We have a global order and we have institutions whereby nations actually do take responsibility," said Slaughter. Scowcroft pointed out though, "Most of our institutions were built for a world which has disappeared. He and other panelists argued the need to update, if not overhaul, outdated global institutions such as the United Nations so nations are better equipped to address future global crises and challenges.
Kagan said, "I'm not all convinced we've left either the 20th century or the 19th century in terms of some fundamental issues having to do with power." But, he added, as we look back on a time when the United States was considered the most powerful, "Let's not fantasize about the past as a way of beating ourselves up about the present."
Steve Clemons defined power as a function of future expectations, citing China as an example of a smaller economy that is judged powerful by its projected growth over the coming decades. Clemons asked how we can position the United States to look more like "the Google of nations rather than the General Motors of nations." He said, "There is so much global doubt about America's ability to achieve its objectives…we need to take stock…and recapture the imagination of the American public and the global public."
Congressman Keith Ellison highlighted the challenges ahead given the global youth bubble, in which many countries are seeing a sharp rise in people younger than 20. "They have demands; they have needs; they are going to have expectations," he said. "And when people talk about anti-Americanism, part of what's going on is unmet expectations." The security narrative must incorporate infrastructure and development needs, he said, as we consider "how we bring people along and try to meet those expectations."
Ellison also spoke of the need to improve agility, increase diplomacy, and focus on prosperity. "We have a lot of adjustments to make because where we are and where we want to be is not the same place." He said the United States must evolve from a military structure still rooted in Soviet-era thinking. "We are going to have to go up in the area of foreign aid and down in our military footprint."
Kagan, however, argued that we cannot reduce emphasis on military power, given, for example, a rising China. "You have to posit a hostile, mean, creepy China," he said.
Clemons and Friedman suggested reassessing defense priorities. Clemons said the United States is spending $119 billion this year on deployment in Afghanistan, "an undependable ally." He said, "Whether it's Libya or it's Afghanistan, America is increasingly deployed in cases where these look like traps on American power, not the leveraging of American power."
Friedman questioned U.S. defense spending in Egypt. He said the United States could open this dialogue by saying to Egypt: "You have no natural predators. You're not going to be attacked by Israel, Sudan, or Libya. Actually, you have two predators, poverty and illiteracy." He suggested reallocating the $1.3 billion of U.S. military aid given to Egypt to instead fund retraining the police, creating a justice system, and building schools.
Slaughter underscored the importance of continuing the dialogue on U.S. priorities in national security. "We have to have a more open conversation about the defense budget and our relative priorities and how we're going to spend, investing in our individuals, investing in our society as sources of power," she said. "You can believe we need a strong military, as I do, and still believe we have to have that conversation."
By Dana Steinberg, Outreach & Communications