The Role of ECOWAS in Achieving the Economic Integration of West Africa
On October 19, 2007, the Africa Program hosted Dr. Mohamed Ibn Chambas, President of the Economic Community of West African States (ECOWAS) Commission, speaking on "The Role of ECOWAS in Achieving the Economic Integration of West Africa." Dr. Chris Fomunyoh, senior associate for Africa and regional director for Central and West Africa at National Democratic Institute (NDI), served as moderator.
Overview
On October 19, 2007, the Africa Program hosted Dr. Mohamed Ibn Chambas, President of the Economic Community of West African States (ECOWAS) Commission, speaking on "The Role of ECOWAS in Achieving the Economic Integration of West Africa." Dr. Chris Fomunyoh, senior associate for Africa and regional director for Central and West Africa at National Democratic Institute (NDI), served as moderator.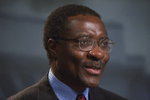 Dr. Chambas first presented a brief history of ECOWAS and then a more detailed perspective of the current regional situations and challenges that are being (or should be) addressed. He pointed out that the original vision of the Founding Fathers of ECOWAS was one of intraregional commerce and cooperation, which was both ambitious and visionary, being 30 years ahead of the current globalization trend.
The original ECOWAS agenda also included a framework for solving inter-state conflicts. Even so, these conflicts throughout the region in the 1990s caught the region and ECOWAS unprepared. In the role of a regional organization, ECOWAS had to respond to the conflicts, shifting its focus away from the original agenda of commerce and economic cooperation. The ad hoc lead up and deployment of ECOWAS forces offered lessons for the future and ECOWAS created a framework mechanism for responding to conflict resolution, prevention, and peacekeeping. In the second Liberia crisis this was applied and seemed to be more effective, professional and organized than previous responses.
However, ECOWAS remained weak in the prevention phase of the conflict cycle and insufficient capacity continues to limit its post-conflict capacities in the region. ECOWAS therefore welcomed the UN Peacebuilding Commission assistance.
Today ECOWAS functions on a regular platform with four pillars: Peace and Security, Developing Infrastructure, Policy harmonization (to facilitate trade) and Good Corporate Governance. One highlight of its current activities is the West Africa Customs Union which will go into effect January 1, 2008. It will integrate regional trade and increase external trade of processed goods, thereby creating jobs. A good deal of emphasis is placed on helping member states understand that adhering to the supra-national level will bring benefits at the national level.
Dr. Chambas also addressed current challenges facing the region and the organization and current responses from ECOWAS.
1) Wide proliferation of small arms and light weapons: He mentioned the estimated 10 million arms that are easily and currently available throughout the community as one of the causes of extended conflicts. ECOWAS has a small arms program that was originally joined with the UNDP. ECOWAS now has more direct ownership with national committees in all member states except Cote d'Ivoire.
2) Respect for Human Rights and Civil Liberties: Human rights and civil liberties abuses stem from bad governments. ECOWAS is building a network of National Human Rights committees with international partners to address respect for human rights.
3) Ensuring credible, transparent, free and fair elections: This is difficult because there are so many crises in this area. There are positive recent examples this year from Sierra Leone and Togo, both countries where ECOWAS was present for the pre-electoral preparations and during the elections, ensuring security and providing observation and monitoring. In the case of Nigeria, everyone, including the President of Nigeria, admits to a disappointing election in terms of credibility at international standards. The Nigerian President promised and has created a committee of credible persons to investigate what went wrong, a promising sign even if the actual elections were not what people had hoped.
4) Migration: Migration is very important because West African youth do not see any future within the region and therefore are risking their lives to reach the EU or U.S. Economic opportunities must be created for the youth to stay and help develop the region.
5) Drug trafficking: West Africa is seen as a soft spot for drug trafficking where organized groups use the region as a transport point. ECOWAS is working with the UN Drug Control regional office in Dakar to address this issue.
6) Tuareg situation: The question of the Tuaregs in northern Mali and Niger is delicate because these are people with a very different culture to bring under the central control of states. Yet one cannot ignore the criminal elements who engage in trafficking of humans, cigars, arms and drugs. ECOWAS intends to work on this issue within the African Union (AU) framework because it is important to bring in non-ECOWAS states including Algeria, Sudan, etc.
7) Global warming: Global warming presents yet another challenge to the region, exemplified by this year's severe flooding across West Africa. Work in this sector must focus on the management of common resources such as river basins, lagoons and other fragile ecosystems.
Questions posed after Dr. Chambas' initial presentation brought up the sustainability of peace in Liberia. Dr. Chambas replied that first we need to see more work in the national reconciliation process. Secondly, there needs to be stronger post-conflict reconstruction to create jobs, especially for those young combatants who are now sitting idly. Thirdly, Liberia's debt problem needs to be addressed because they cannot access low interest rates.
A second question inquired about the potential devaluation of the CFA franc and the situation of the UMOA (Union Monétaire Ouest Africaine - West African Monetary Union) in relation to ECOWAS. Currently there is a need to work on the synergy of the two groups. Dr. Chambas mentioned several points including a West Africa wide currency, the Lagos-Abidjan corridor, energy in the region and West Africa power production. After a meeting in Burkina-Faso to discuss approaches to maintain a credible and sustainable currency, a consultant study is now under way.
When asked when the African Development Bank (ADB) would move back into Sub-Saharan Africa from its Tunis location, Dr. Chambas stated that the move to Tunis is temporary and the offices would be moved back to Abidjan as soon as the situation in Cote d'Ivoire is back to normal. The timeline currently has the ADB offices moving back to Abidjan in 2010 if successful elections are held in Cote d'Ivoire in Oct-Dec 2008. There was also a question of ADB work on regional integration. While this had not been a service until recently, for the past three years there has been a Regional Integration Forum in the ABD but they are still looking for financing of the instruments.
Another question raised concerns about the Open Skies policy. Dr. Chambas mentioned the frustration that the Yamoussoukro accord had not yet been implemented as ECOWAS advocates full implementation. Yet there is still a lingering question of national sovereignty and subsidized national airlines even as ECOWAS pushes for allowing competition, improved services and lowering costs.
When questioned about the cost of medications, specifically the 40% tariffs on vaccines, Dr. Chambas replied that when the Customs Union is in effect this will be lowered to 20%. It is important to encourage efficiency but there must be a transition period.
Responding to a question on the European Union, Dr. Chambas noted that relations with the EU are good but talks are at a critical phase. The upcoming summit in December will be important to address the outstanding issues for West Africa including company measurement and the fiscal impact on states, especially Ghana and Cote d'Ivoire, regular funding of capacity building and increased competition.
In relation to the United States, ECOWAS would first like to strengthen their capacity in trade negotiations in order to take advantage of its positions both geographically and historically towards the US market.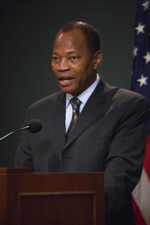 Dr. Fomunyoh summarized the discussion with a final question on how to avoid overshadowing the positive examples in the region by the negatives. Dr. Chambas concluded that is essential to work with partners to strengthen effective intervention in member states and that through dialogue we can focus not only on states but the region as a whole.
Drafted by Alicia Ranck, Intern and Roseline Fodouop Tekeu, Program Assistant, Africa Program.
 
Hosted By
Africa Program
The Africa Program works to address the most critical issues facing Africa and U.S.-Africa relations, build mutually beneficial U.S.-Africa relations, and enhance knowledge and understanding about Africa in the United States. The Program achieves its mission through in-depth research and analyses, including our blog Africa Up Close, public discussion, working groups, and briefings that bring together policymakers, practitioners, and subject matter experts to analyze and offer practical options for tackling key challenges in Africa and in U.S.-Africa relations.   Read more