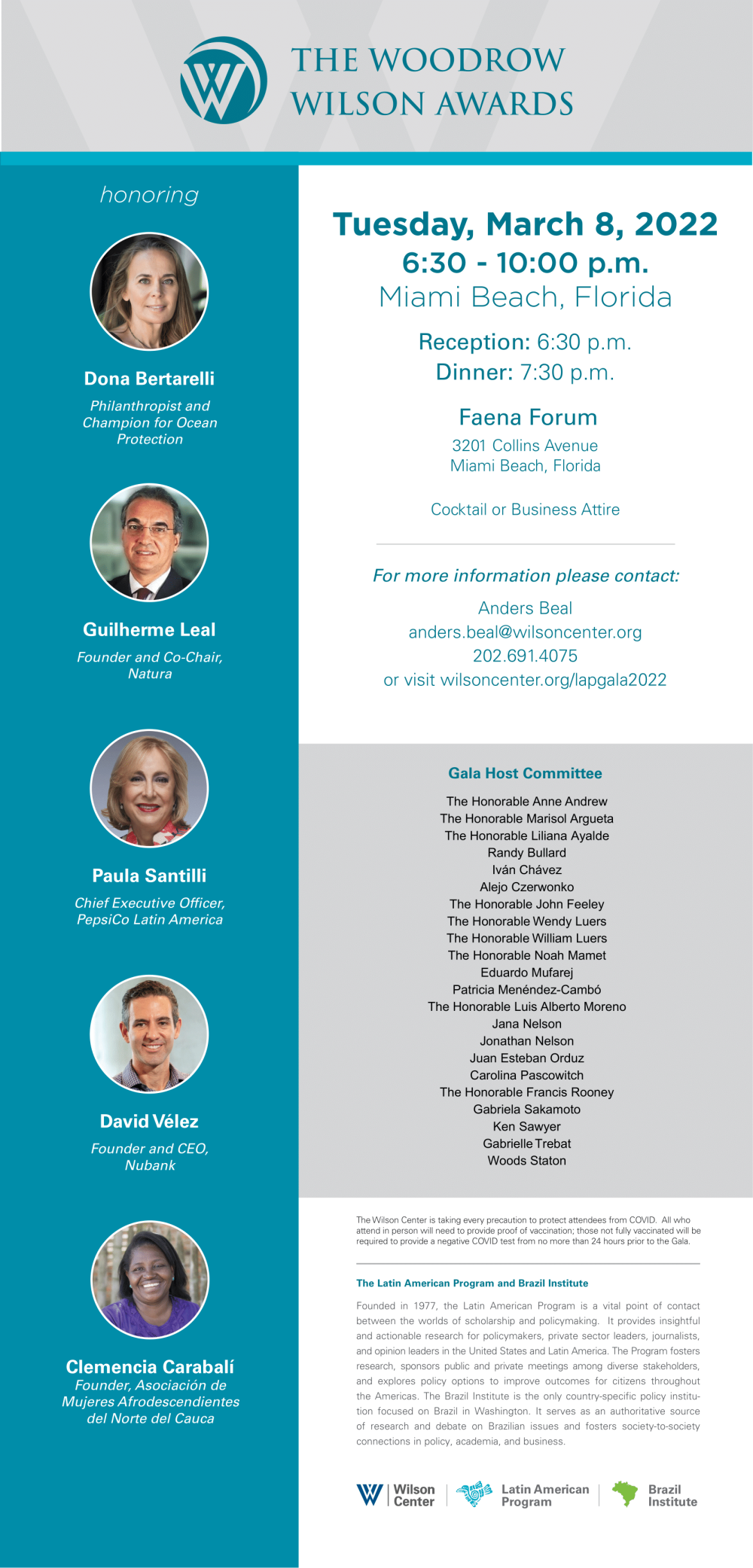 Since 1998, the Woodrow Wilson International Center for Scholars has recognized leaders who work tirelessly to improve the quality of life of others with the Woodrow Wilson Awards. The Center nominates those who have shown extraordinary commitment to service in the spirit of Woodrow Wilson, the 28th president of the United States.
At a dinner Gala on March 8, 2022, in Miami, Florida, the Wilson Center and its Latin American Program and Brazil Institute will honor four outstanding individuals with the Award for Corporate Citizenship:  Dona Bertarelli, Philanthropist and Champion for Ocean Protection; Guilherme Leal, Founder and Co-Chair, Natura; Paula Santilli, Chief Executive Officer, PepsiCo Latin America; and David Vélez, Founder and Chief Executive Officer, Nubank. Clemencia Carabalí, Founder, Asociación de Mujeres Afrodescendientes del Norte del Cauca, will be honored with the Wilson Award for Public Service.
Founded in 1977, the Latin American Program provides insightful and actionable research for policymakers, private sector leaders, journalists, and opinion leaders in the United States and Latin America. The Program fosters new inquiry, sponsors high-level public and private meetings among diverse stakeholders, and explores policy options to improve outcomes for citizens and businesses throughout the Americas. Drawing on the Wilson Center's strength as the nation's key non-partisan forum, the Program serves as a trusted source of independent analysis and a vital point of contact between the worlds of scholarship and policymaking.  The Brazil Institute—the only country-specific policy institution focused on Brazil in Washington—serves as an authoritative source of research and debate on Brazilian issues. The Institute enhances understanding and cooperation between Brazil and the United States in areas of mutual interest and fosters society-to-society connections in policy, academia, and business.
For sponsorship opportunities or to purchase a table please contact Anders Beal via email at anders.beal@wilsoncenter.org or via phone at 202.691.4075.