Chronology 2011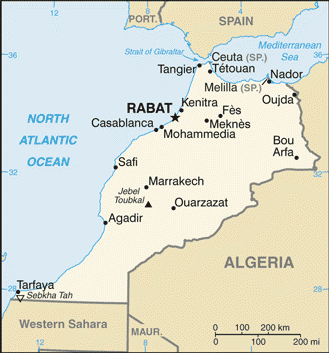 Morocco's protest movement was launched on Feb. 20, 2011 by a youth coalition. The demonstrations spread to major cities – including Rabat, Casablanca, Tangier, Fez and Marrakesh – in March and April. Unlike other regional leaders, Morocco's King Mohammed VI responded to the burgeoning opposition with political initiatives. On March 9, he announced that Moroccans would go to the polls in July to vote on constitutional reforms, including provisions to diffuse his sweeping powers as head of state and mosque.
But in early June, protester Kamal Amari died of injuries suffered when security forces cracked down on a protest in Safi. By June 5, demonstrations had grown to unprecedented numbers, with 60,000 people turning out in Rabat and Casablanca to rally against police brutality.
Anger dissipated after the July 1 constitutional referendum was approved by a majority of voters. The constitutional revisions transferred some of the king's powers to the prime minister, although the monarch remained Morocco's highest religious authority.
In Nov. 2011, the Justice and Development Party (PJD)—a moderate Islamist movement that had run and won seats in earlier elections—won a plurality in parliamentary elections for the first time. The PJD then formed a coalition government with two secular parties.
Feb. 20: More than 37,000 people protested in Rabat, Casablanca, Marrakesh, and Tangier to protest the king's powers. The first protest on Feb. 20 gave the new opposition its name—the February 20 Movement. Five died after trying to loot a bank that was set on fire during the demonstrations.
March 9: King Mohammed VI announced a July referendum on proposed constitutional revisions.
March 13 and 20: Tens of thousands in more than 60 cities protested corruption and demanded reform. Police injured dozens in Casablanca on March 13.
March 22–25: Several hundred teachers demonstrated in Rabat for better pay and benefits. On March 25, several were injured by police.
April 14: The king pardoned or shortened the sentences of 190 prisoners, including affiliates of an Islamist political party.
April 24: Thousands attended February 20 Movement protests.
April 27: The government raised public sector salaries and pensions, private sector minimum wages, and state subsidies.
April 28: A Marrakesh café frequented by foreigners was bombed, killing 16 and wounding more than twenty. The bombing was attributed to al Qaeda in the Islamic Maghreb (AQIM).
April 29: Rachid Nini, editor of al Massae newspaper, was arrested and accused of threatening national security. Nini published articles exposing government corruption. He was later sentenced to a year in prison.
May 1–29: On Sunday throughout May, thousands protested the April 28 bombing and demanded further reforms. Trade unions participated for the first time since February. Police beat protesters on May 15, 22, and 29. Kamal Amari, a Safi protester, sustained major injuries on May 29.
May 6: Police arrested three for the April 28 Marrakesh bombing.
May 13: Youth and Sports Minister Moncef Belkhayat announced a series of youth meetings to involve young activists in the reform process.
May 25: In Rabat, 8,000 doctors protested to demand better work conditions and health insurance but were forcefully dispersed.
June 2: A protestor, Kamal Amari, died of injuries sustained on May 29 in Safi.
June 5: In Rabat and Casablanca, 60,000 people turn out to protest Amari's death.
June 9: The government launched an online forum on constitutional reform. The majority of respondents opposed the king's absolute executive powers.
June 12–July 3: Thousands marched in Casablanca and Rabat on Sundays to demand further reform. On June 26, violence broke out between supporters and opponents of the monarchy. Police also prevented 2,000 from joining the anti-monarchy protests.
June 17: The king proposed constitutional reforms for the referendum. They included requiring the king to appoint a prime minister from the largest party elected to parliament; giving the prime minister the power to appoint officials and dissolve parliament; and making Berber a national language. But one provision also acknowledged the king as the highest religious authority in Morocco.
June 29: The February 20 Movement, three leftist parties and two banned Islamist parties called for a referendum boycott.
July 1: The constitutional revisions won approval from 98 percent of voters. The turnout was reportedly 73 percent.
July 3–24: Every Sunday in July, thousands in Casablanca, Rabat, Oujda, Agadir and Tangier demonstrated to demand greater reforms.
July 9–14: Protesters demanded work block a railroad between the phosphate mines in Youssoufia and the chemical plants in Safi. Protests ended when the state-run phosphate monopoly promises to consider them for jobs.
July 13: The independent Moroccan Human Rights Association (AMDH) questioned the validity of the constitutional referendum.
Aug. 15: The government moved up parliamentary elections from Sept. 2012 to Nov. 2011.
Aug. 23: The new Moroccan Youth Movement for Political Representation Now met with Youth Minister Belkhayat to demand that parliamentary seats be reserved for youth.
Aug. 24: Parliament passed a judicial reform bill to increase transparency.
Sept. 9: Parliament passed a law reserving 60 seats for women and 30 for candidates under age 40.
Sept. 11–25: Throughout Sept., protests erupted in major cities on Sundays to demand reforms and an end to corruption, with 100,000 protestors in Tangier on Sept. 25.
Sept. 30: The Ministry of Islamic Affairs raised the salaries of 46,000 imams.
Oct. 2-16: Every Sunday in Oct., thousands protested corruption and call for greater freedom. On Oct. 9, dozens of imams protested state control of their preaching.
Oct. 5: Parliament ratified a witness-protection law for whistle-blowers on corruption and embezzlement cases.
Oct. 11: Justice and Charity, an Islamist movement, called for a boycott of the parliamentary elections.
Oct. 23: The February 20 Movement organized thousands in Rabat, Casablanca, Fez and Tangier to demand an election boycott. In Rabat, riot police kicked and beat protesters with truncheons.
Oct. 25: In Casablanca, 4,000 unemployed graduates demanded public sector jobs.
Oct. 28: Nine Moroccans accused of the Marrakesh bombing on April 28, 2011 were convicted. The ringleader was sentenced to death.
Nov. 12: Parliamentary campaigning began. On Nov 20, thousands protested in Tangier, Casablanca, and Rabat to demand an election boycott.
Nov. 25: Morocco held parliamentary elections. The moderate Islamist Justice and Development Party (PJD) won a plurality of parliamentary seats and the right to name the prime minister. But voter turnout was only 45 percent.
Nov. 30: PJD Secretary-General Abdelilah Benkirane was appointed prime minister by the king.
Dec. 8: The PJD formed a coalition that includes two secular parties, the Popular Movement and Istiqlal. Together, they held 199 seats, one more than a majority.
Dec. 9: Prime Minister Benkirane listed the coalition's priorities as "justice, education, unemployment, health and housing." He said that no female dress code will be imposed.
Dec. 19: Justice and Charity pulled its youth wing out of the February 20 Movement on grounds that the protest movement had marginalized Islamic ideology. 
2012
The PJD struggled to appease conservative Islamists – by introducing strict rules for state television programs, for example – as well as secular and liberal forces. Tensions flared particularly in April 2012 when Amina el Filali, 16, killed herself after being abused in her marriage to a man she had accused of rape. The case, which sparked protests, petitions, and a general public outcry—prompted the government to alter a so-called family law that had allowed rapists to escape prosecution if they married their victim. Other comparatively smaller protests in Morocco continued almost weekly in the larger cities.
Jan. 3: The king named PJD members to several ministries but kept the powerful ministries of interior, defense, agriculture and religious affairs for his close advisers. A woman was named Minister of Social and Women's Affairs.
Jan. 26: Parliament approved the new government's five-year budget centered on greater economic growth to boost job creation.
Feb. 5: On the Prophet Mohammed's birthday, the king pardoned several prisoners, including ultra-conservative Salafists accused of the 2003 Casablanca bombings.
Feb. 14: Abdelsamad Haydour, a student from Taza who posted an anti-monarchy video online, was sentenced to three years in prison.
Feb. 22: Justice Minister Mustapha Ramid presented a 13-point plan to make the justice system "modern, independent, and transparent."
Feb. 20: The February 20 Movement marked its anniversary with nation-wide rallies.
March 2: Bachir Benchaib, a February 20 Movement leader, was arrested. State-run news calls Benchaib "a gang member who is implicated in criminal activities."  His arrest sparked 10 days of protest in Beni Bouayache, a small town in the Rif Mountains.
March 10: Amina el Filali, 16, killed herself after months of abuse in her forced marriage to a man she had accused of rape.
March 14–22: Activists created Facebook pages to protest el Filali's death and demand changes to Article 475 of Morocco's family law, which allows a rapist to avoid jail if he marries his victim.
March 15: Communications Minister Mustapha el Khalifi said the government will revise Article 475.
March 26: Benkirane met with businessmen to draft a law regulating strikes.
March 29: The Supreme Court of Audits found evidence of graft, corruption and insider trading in state-owned firms. For the second time, rapper El Haqed was arrested and charged with insulting public authorities, this time in a song about police corruption that aired on YouTube. He was later sentenced to a year in jail; he began a hunger strike on July 9.
March 31: Communications Minister el Khalifi announced new rules for state television. They include: a ban on gambling; required broadcast of the call to prayer; shows for youth featuring a religious official; and reduced use of the French language.
April 4: Activists presented lawmakers with a petition signed by 780,000 demanding the repeal of Article 475 allowing a rapist to avoid jail by marrying his victim.
April 9: Parliament passed budget amendments expanding the so-called social solidarity tax on companies. New revenues were pledged to develop poor communities.
May 7: More than half of Morocco's judges signed a petition calling for prosecutors to operate independently of the executive branch.
May 15: Almost 3,000 judges launched a week-long strike to protest judicial corruption and interference from the executive branch.
May 27: Organized by trade unions, tens of thousands protested in Casablanca.
July 14: At the first PJD conference since the Nov. 2011 elections, Prime Minister Benkirane was reelected head of the party. The conference was attended by Khaled Mashal, the politburo chief of Hamas.
Aug. 10: An unspecified number of police and customs officials were arrested and accused of corruption.
Aug. 12: Hundreds protested in main cities against corruption and the high cost of living.
Aug. 31: A court sentenced a young protestor to three months in prison for eating in public during Ramadan. He wanted to express his right to not fast.
Sept. 1: Moroccan authorities banned the closing ceremony of the PJD's youth conference in Tangier.
Sept. 13: Hundreds peacefully protested the anti-Islam film outside the U.S. Consulate in Casablanca.
Sept. 17: Human Rights Watch urged the government to determine if February 20 movement activists were tortured while in custody of the police.
Sept. 23: At least 500 demonstrators from the February 20 Movement marched in Rabat to protest against political detentions.
Sept. 26: The World Bank confirmed a $300 million loan to deal with youth unemployment and expanded economic opportunities and services for women.
Dec. 14: Abdessalam Yassin, leader of Justice and Charity, died and left no clear successor.
2013
In 2013, the PJD faced two major challenges. In July, the secular Istiqlal party quit the ruling coalition, leading to months of political gridlock. That same month, the ouster of Egyptian President Mohammad Morsi put the PJD on the defensive. Party leaders rushed to appease both the monarchy, which supported Morsi's ouster, and the PJD's base of supporters, which strongly opposed it.  Both events distracted Islamist politicians from pursuing a meaningful political agenda.
July 9: The secular Istiqlal party quit the PJD's ruling coalition, leading to months of political gridlock.
Early Aug.: Tamarrod Maroc, a movement emulating the Egyptian Tamarrod movement that led to President Mohammad Morsi's ouster, planned protests to force the PJD's resignation. It canceled them on Aug. 14, after the crackdown on pro-Morsi protesters in Egypt turned violent.
Sept. 6: The PJD formed a coalition with the centrist National Rally of Independents party, after months of negotiations.
2014
Morocco expanded its counter extremism and terrorism efforts through new laws, revisions and continued efforts by security personnel.
May-June: Officials dismantled two ISIS recruitment cells in Fez and along the Mediterranean coast.
June 18: Benkirane said that women belong at home and not in the workplace, provoking backlash from secular politicians.
July: Moroccan members of ISIS released a video condemning the PJD and Justice and Charity, warning that ISIS "intends to bring jihad to Moroccan soil."
July 1: King Mohammed VI banned religious leaders from participation in political activities, as part of a strategy to counter extremism.
Aug. 14: The Interior Ministry announced that police dismantled a recruiting cell channeling Moroccans to fight with ISIS. The cell was based in the Spanish enclave of Melilla.
Sept. 11: The government issued revisions to Morocco's anti-terrorism law, with new punishments for Moroccans who joined armed groups outside the country.
Sept. 26: Authorities dismantled another ISIS recruitment cell, which had been operating in Tetouan, Fez, and Fnideq.
2015
By 2015, Morocco was one of the few places where Islamists still dominated elected government. But they had done little to boost their real power and authority, still trapped in a subservient role to the monarchy.
Jan. 17: Authorities dismantled another ISIS recruitment cell.
March 22: A terrorist cell was dismantled near Agadir.
April 13: Authorities dismantled a terrorist cell near Nador that had been plotting attacks in Morocco and the Netherlands.
Sept. 4: The PJD won several major cities in local elections, but was edged out by secular rivals in rural areas.
Dec. 11: Authorities dismantled an ISIS cell and arrested nine people in several towns.
2016
Protests erupted early in the year over proposed job cuts. Negotiations to form a coalition government were complicated with the election of moderate Islamists to parliament in October.
Jan. 8: Moroccan security forces arrested seven suspected ISIS militants.
Jan. 18: The Interior Ministry announced the arrest of a Belgian-Moroccan national reportedly linked to the attacks in Paris in Nov. 2015.
Jan. 24: Thousands of Moroccans protested in Rabat against proposed government public job cuts.
February 19: Moroccan authorities arrested ten suspected ISIS militants, one of which is a French citizen. Authorities also seized weapons and bomb-making materials after a raid on their hideout.
March 7-24: Authorities dismantled two ISIS cells. They arrested nine suspected ISIS militants with ties in Libya in connection with one of the cells.
April 16: Spanish authorities arrested a Moroccan man with ties to the Islamic State trying to leave for Morocco with a Spanish woman and his son in the southern port of Algeciras.
May 3: Spain arrested three Moroccan men outside of Madrid for promoting Islamist militancy on social media.
June 2: Authorities dismantled ISIS cells operating in Tetouan, Martil, and Casablanca.
June 23: Authorities dismantled ISIS-inspired militant cell in the city of Oujda on the Algerian border.
July 19: Authorities arrested 52 people with suspected links to ISIS.
Oct. 3: Authorities foiled an election day suicide attack with the arrest of 10 suspected Islamic State militant women. This was the first time a group of female suspects have been arrested.
Oct. 7: Moderate Moroccan Islamists won Parliamentary elections, complicating negotiations to form coalition government.
Oct.- Nov.: Protests emerged across Morocco after a fishmonger in the northern town of Al-Hoceima is crushed to death by a garbage truck. Protestors demanded greater justice and denounced Moroccan authorities.
Dec. 3: Authorities arrested a suspected Islamic State militant connected to a French cell that was dismantled last month.
2017
After a five-month failure to form a coalition government, King Mohammed VI replaced the PJD Prime Minister Abdelilah Benkirane with another PJD member and former Foreign Minister Saeededdine El Othmani. The PJD also assumed the leadership of the king's cabinet after a reshuffle.
Jan. 16: Spain arrested a Moroccan man suspected of leading an Islamist militant cell, which recruits volunteers to travel to Turkey for training by the Islamic State.
Jan. 27: Authorities arrested seven suspected Islamic State militants and seized weapons in a raid in the coastal town of El-Jadida.
Jan. 31: Morocco rejoined the African Union after 33 years outside of the regional body.
February 6: Police and protestors clashed during a demonstration in the Rif region, commemorating an anti-colonialist activist who fought against Spanish and French occupation.
Mar. 17: King Muhammad VI named Saadeddine El Othmani as the new prime minister after removing 'Abdelilah Benkirane from office on March 15. Othmani, a member of the PJD, vowed to build an inclusive governing coalition, which his predecessor failed to do. The PJD won the most seats in the October 7 parliamentary elections and was tasked with forming a coalition with opposition parties.
Mar. 25: Prime Minister Saadeddine El Othmani announced the formation of a coalition government with five opposition parties, breaking six months of deadlock. Othmani said the new government would prioritize reinforcing stability, justice reform, education, rural development, and energy.
April 5: King Mohammed VI named a new cabinet led by the PJD. The cabinet included members from the PJD, National Rally of Independents (RNI) party, Constitutional Union (UC) party, conservative Popular Movement (MP) party, and the socialist parties Socialist Union of Popular Forces (USFP) and Party of Progress and Socialism (PPS). After negotiations with the opposition, the PJD lost control of the key Ministry of Justice and Public Freedoms.
Sept. 6: Spanish and Moroccan authorities arrested six individuals suspected of belonging to an Islamist group in Morocco and the Spanish enclave of Melilla. The cell, which had ties to ISIS, was reportedly in the advanced stages of plotting large-scale attacks in Morocco and Spain.
Oct. 14: Security forces dismantled an ISIS cell in Fez and arrested two suspected terrorists. Authorities seized hand guns, hunting rifles, explosives, knives, communication equipment, and a large sum of cash stored in a safehouse in the city. Shortly after, the Central Bureau of Judicial Investigations (BCIJ), Morocco's anti-terrorism bureau, arrested 11 additional suspects across the country with links to the Fez cell.
Oct. 25: Police arrested four additional individuals linked to ISIS in Fez. The suspects were planning attacks in the kingdom and were found with knives and electronic devices, according to the Ministry of Interior.
Dec. 11: The PJD elected Saadeddine El Othmani as its new secretary general. The 61-year-old psychiatrist was previously PJD's secretary general from 2004 until 2008. He also served as Minister of Foreign Affairs from January 2012 to October 2013.
2018
Jan. 22: King Muhammad VI approved an amendment to an existing law to allow women to become Islamic public notary officials, a position previously reserved for men. The motion, which would permit women to perform a number of legal duties in accordance with Islamic law, was passed after approval by the Superior Council of the 'Ulama.
Feb. 15: Security forces arrested three suspected members of an Islamic State cell operating in the city of Marrakesh, the northern city of Salé, and Western Sahara's capital of Laayoune. On February 24, six additional suspects were arrested.
May 1: Morocco's foreign ministry said that the kingdom was cutting diplomatic ties with Iran over Hezbollah's support for the separatist Polisario Front in the Western Sahara. Hezbollah is a Lebanese political party and militia backed by Iran. "Hezbollah sent military officials to Polisario and provided the front with...weapons and trained them on urban warfare," said Foreign Minister Nasser Bourita. He added that Hezbollah's support was "fairly vague but persistent," based on intelligence reports.
May 5: Abdelhak Khiam, director of Morocco's Central Bureau of Judicial Investigations, said that the government had detained more than 200 ISIS returnees. He said that the convicted militants were sentenced to between 10 to 15 years in prison. An estimated 1,600 Moroccan foreign fighters joined jihadist groups in Iraq and Syria in 2015.
Aug. 20: The Council of Ministers, chaired by King Mohammed, approved a draft law that would reinstate compulsory military service for young men and women. "Female and male citizens aged between 19 and 25 years are obliged to do military service for 12 months," said an official statement by the Royal Palace. The government said the law aimed to "promote patriotism among the young," while critics viewed the law as an attempt to curb anti-government unrest. It went into effect on February 8, 2019.
Oct. 15: Germany deported Munir al Mutasaeddiq, an accomplice to the al Qaeda network that carried out the September 11 attacks in the United States, to Morocco after serving 15 years in prison. Al Mutasaddiq was part of a cell in Hamburg that helped plan the attacks, which killed nearly 3,000 people.
Dec. 21: Moroccan authorities detained 13 individuals in connection with the murder of two Scandinavian hikers found dead on December 16. Four of the suspects professed allegiance to the Islamic State in a video, according to the prosecutor. Mustapha Khalfi, a government spokesman, called the killings an act of terror.
2019
Jan. 23:  The Central Bureau of Judicial Investigation arrested 13 individuals accused of belonging to a cell linked to ISIS. Security officials said the group was plotting attacks across the country. Authorities seized electronic devices, knives, and masks along with documents pledging allegiance to the Islamic State.
Jan. 11: Lawmaker Amina Maelainine of the PJD party acknowledged that she had removed her hijab while on a trip to Paris in December.  Pictures of her without the traditional veil caused controversy amongst the party's hardline followers. "Having suffered all these attacks and having seen the robust means deployed to harm my reputation, I am more than ever convinced that the path to militancy must be followed with determination and commitment. The battle should be fought in Morocco or abroad, with or without a veil, for the sake of democracy, freedom, justice, and human rights," Maelainine said.
Mar. 30: Pope Francis visited Morocco to broaden the interreligious dialogue between Muslims and Christians. He met with the country's Muslim leaders and called on Moroccans to "oppose fanaticism" and "live as brothers." He told Catholics in the country that "conversion is not your mission."
April 24: Moroccan security forces arrested six extremists connected to the Islamic States in the coastal town of Sale. The men, aged between 22 and 28, were allegedly "supporters" of the terrorist group and were found with electronic devices, bladed weapons, and "extremist" documents.
July 18: An anti-terrorism court sentenced Abdelsamad al Joud, Younes Ouziad and Rashid Afati to death for the murder of two Scandinavian hikers in December. A fourth convict, Abderrahmane Khayali, was sentenced to life in prison. The men had all pledged allegiance to the Islamic State.
Oct. 4: Senior Progress and Socialism Party (PPS) members announced the decision to leave the governing coalition, led by the PJD, and join the opposition. Analysts said that the reshuffle would allow the PJD to more easily distribute cabinet positions to other parties in a manner the king approves.
Oct. 25: The Central Bureau of Judicial Investigation arrested six suspects with ties to ISIS during raids on two extremist cells in Dar Bouazza and Chefchaouenon. The militants were reportedly plotting attacks in Casablanca and Ouazzane. Security forces seized knives, guns, ammunition, and explosive materials during the operation.
Cyana Chilton, Oula Alrifai, Avideh Mayville, Garrett Nada, Cameron Glenn, and Alex Yacoubian contributed to this chronology.