Financial Inclusion in the COVID-19 Era: Policy Responses in West Africa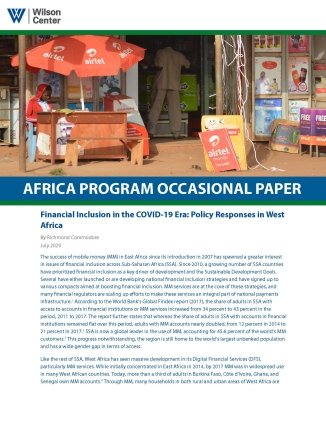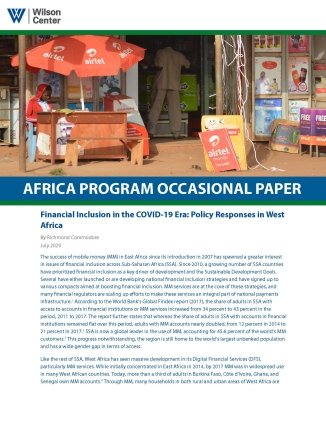 According to the World Bank's Global Findex report (2017), the share of adults in Sub-Saharan Africa (SSA) with access to accounts in financial institutions or mobile money (MM) services increased from 34 percent to 43 percent in the period, 2011 to 2017. Since 2010, a growing number of SSA countries have launched or are in the process of developing national financial inclusion strategies, and MM services are at the core of these strategies. In recent years, West Africa has seen tremendous progress in digital financial services (DFS), in addition to massive development in MM services. However, the COVID-19 pandemic poses serious threats to West Africa's financial inclusion agenda, and could possibly derail current growth.
In this paper, Southern Voices Network for Peacebuilding and Africa Program Scholar Richmond Commodore, explores the financial inclusion perspective of COVID-19-related interventions in West African countries, with a specific focus on DFS. He examines the impact of COVID-19 on the DFS market in West Africa and assesses how various financial regulators and financial service providers (FSPs) have responded to the pandemic. He also provides recommendations for boosting DFS and MM services during the pandemic.
About the Author
Richmond Commodore
Former Southern Voices Network for Peacebuilding Scholar;
Research and Policy Analyst, African Center for Economic Transformation (ACET), Ghana
Read More
---
Africa Program
The Africa Program works to address the most critical issues facing Africa and U.S.-Africa relations, build mutually beneficial U.S.-Africa relations, and enhance knowledge and understanding about Africa in the United States. The Program achieves its mission through in-depth research and analyses, public discussion, working groups, and briefings that bring together policymakers, practitioners, and subject matter experts to analyze and offer practical options for tackling key challenges in Africa and in U.S.-Africa relations.   Read more