Further Integration with North America is Beneficial for Mexico: Looking at Foreign Direct Investment in Mexico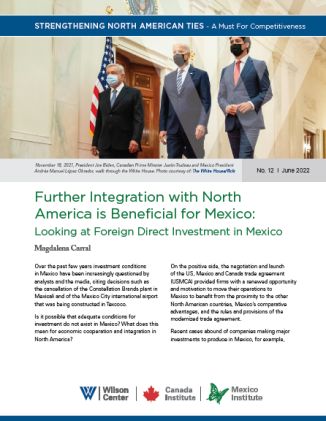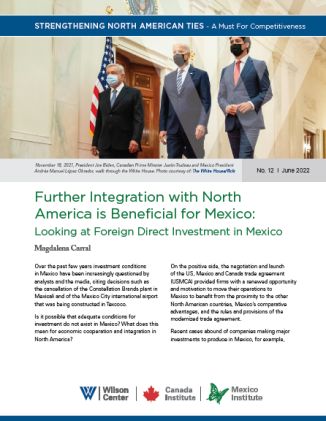 Over the past few years investment conditions in Mexico have been increasingly questioned by analysts and the media, citing decisions such as the cancellation of the Constellation Brands plant in Mexicali and of the Mexico City international airport that was being constructed in Texcoco.
Is it possible that adequate conditions for investment do not exist in Mexico? What does this mean for economic cooperation and integration in North America?
This essay is part of the series, "Strengthening North American Ties - A Must For Competitiveness," by the Wilson Center's Mexico and Canada Institutes. 
About the Author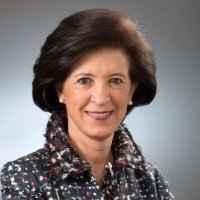 Magdalena Carral
Mexico Institute, Advisory Board Member;
Partner, Carral, Sierra y Asociados S.C.
Read More
---
Mexico Institute
The Mexico Institute seeks to improve understanding, communication, and cooperation between Mexico and the United States by promoting original research, encouraging public discussion, and proposing policy options for enhancing the bilateral relationship. A binational Advisory Board, chaired by Luis Téllez and Earl Anthony Wayne, oversees the work of the Mexico Institute.  Read more
Canada Institute
The mission of the Wilson Center's Canada Institute is to raise the level of knowledge of Canada in the United States, particularly within the Washington, DC policy community.  Research projects, initiatives, podcasts, and publications cover contemporary Canada, US-Canadian relations, North American political economy, and Canada's global role as it intersects with US national interests. Read more