The Impact of COVID-19 in South Africa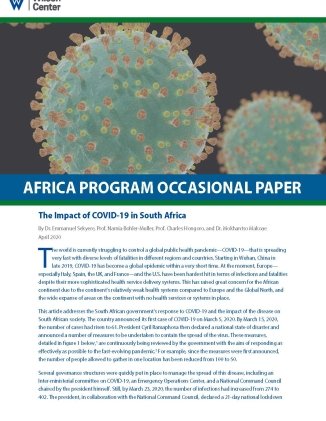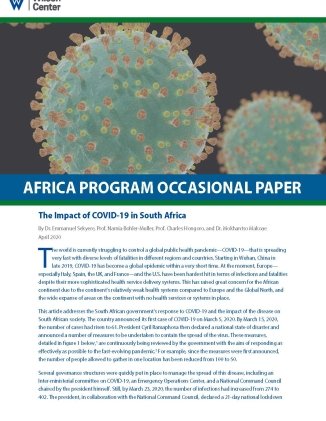 COVID-19 has rapidly spread across the globe, reaching every continent. While Africa was among the last regions the virus touched, with the first case of COVID-19 reported in Egypt on February 14, 2020, it has more than 34,000 confirmed cases as of the end April (BBC Coronavirus in Africa). South Africa announced its first case of COVID-19 on March 5, 2020 and currently has one of the highest case incidences on the continent. As of April 22, 2020, the number of confirmed cases had risen to 3,635, with 65 deaths.
In this paper, Dr. Emmanuel Sekyere, Prof. Narnia Bohler-Muller, Prof. Charles Hongoro, and Dr. Mokhantso Makoae examine COVID-19's impacts and implications on South African society in the social, economic, health, environmental, and technological realms. They show how the pandemic has upended the lives of millions in South Africa and the measures that President Cyril Ramaphosa and his government have taken, including declaring a national state of disaster and other measures to effectively respond to, contain, and curb the spread of the virus. Even with these measures, COVID-19 has brought to the fore systemic weaknesses, highlighted a lack of capacity in addressing COVID-19-related challenges, and underscored disparities in South Africa. The authors emphasize the need for documenting lessons learned and addressing capacity issues that have been exposed by COVID-19 in order for the country to better combat the next pandemic when it occurs.
About the Authors
Emmanuel Sekyere
Research Director, Developmental, Capable and Ethical State, Human Sciences Research Council 
Narnia Bohler-Muller
Executive Director, Democracy, Governance and Service Delivery Research Programme, Human Sciences Research Council (HSRC)
Charles Hongoro
Strategic Lead, Developmental Capable and Ethical State, Human Sciences Research Council
Mokhantso Makoae
Research Director, Developmental, Capable and Ethical State, Human Sciences Research Council
---
Africa Program
The Africa Program works to address the most critical issues facing Africa and U.S.-Africa relations, build mutually beneficial U.S.-Africa relations, and enhance knowledge and understanding about Africa in the United States. The Program achieves its mission through in-depth research and analyses, public discussion, working groups, and briefings that bring together policymakers, practitioners, and subject matter experts to analyze and offer practical options for tackling key challenges in Africa and in U.S.-Africa relations.   Read more