Narrowing the Gap between Local and International Peacebuilding Efforts in South Sudan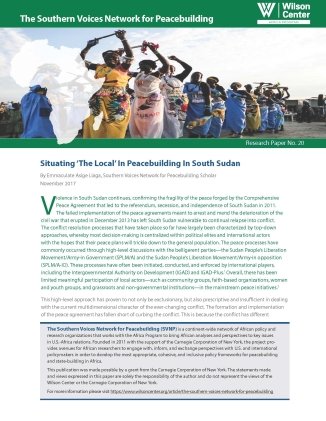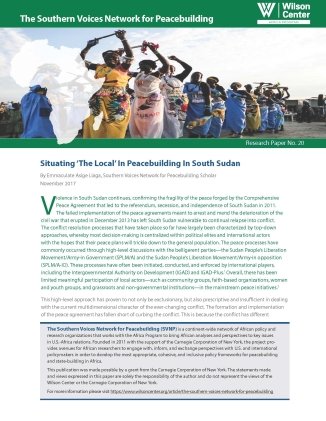 South Sudan's current civil war, which began in December of 2013, remains of great regional, continental, and international concern. The escalation of the conflict has led to approximately 2.4 million internally displaced persons, tens of thousands of civilian deaths, food insecurity, sexual violence, and a refugee crisis that has strained the region and humanitarian efforts. The conflict resolution processes that have taken place so far have largely been characterized by top-down approaches, whereby most decision-making is centralized within political elites and international actors. This high-level approach has proven to not only be exclusionary, but also prescriptive and insufficient in dealing with the current multidimensional character of the ever-changing conflict. The gap between internationally led efforts and local processes has undermined peace in South Sudan. Sustainable peace has yet to be reached, and the conflict requires finding peacebuilding strategies that narrow the gap between bottom-up and top-down approaches.
In this paired paper and policy brief, Southern Voices Network for PeacebuildingEmmaculate Asige Liaga examines peacebuilding efforts in South Sudan, focusing on the gap between locally led and international processes. She provides policy recommendations on how the Government of South Sudan, international state actors, and international non-governmental organizations can ensure sustainable peace through peacebuilding projects that include local organizations and communities. 
About the Author
Emmaculate Asige Liaga
Short-term Scholar, Southern Voices African Research Scholar,
Doctoral Candidate, University of Pretoria
Read More
---
Africa Program
The Africa Program works to address the most critical issues facing Africa and U.S.-Africa relations, build mutually beneficial U.S.–Africa relations, and enhance knowledge and understanding about Africa in the United States. The Program achieves its mission through in-depth research and analyses, including our blog Africa Up Close, public discussion, working groups, and briefings that bring together policymakers, practitioners, and subject matter experts to analyze and offer practical options for tackling key challenges in Africa and in U.S.-Africa relations.   Read more