Pakistan's Urbanization: Housing for the Low-Income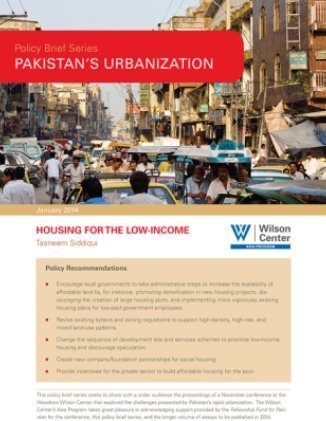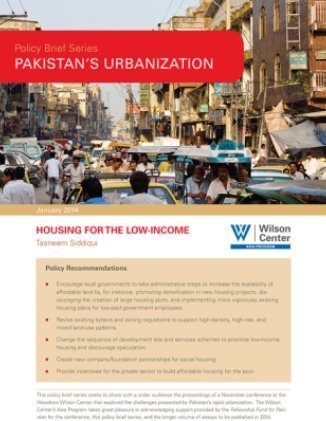 Pakistan is South Asia's most rapidly urbanizing country. In barely 10 years, nearly 50 percent of its 180 million people will live in cities (a third do today). Tasneem Siddiqui, former chief secretary of the government of Sindh Province, looks at how Pakistan can provide affordable housing to its rapidly growing urban population.
This publication marks the first of four policy briefs on Pakistan's urbanization. The series seeks to share with a wider audience the proceedings of a recent Wilson Center conference that explored Pakistan's urbanization challenges. 
About the Author
---
Asia Program
The Asia Program promotes policy debate and intellectual discussions on U.S. interests in the Asia-Pacific as well as political, economic, security, and social issues relating to the world's most populous and economically dynamic region.  Read more
Urban Sustainability Laboratory
Since 1991, the Urban Sustainability Laboratory has advanced solutions to urban challenges—such as poverty, exclusion, insecurity, and environmental degradation—by promoting evidence-based research to support sustainable, equitable and peaceful cities. Read more