Polar Perspectives No. 4 | Smart as SILK: An innovative advisory body for implementing the knowledge-based requirements of the Central Arctic Ocean Fisheries Agreement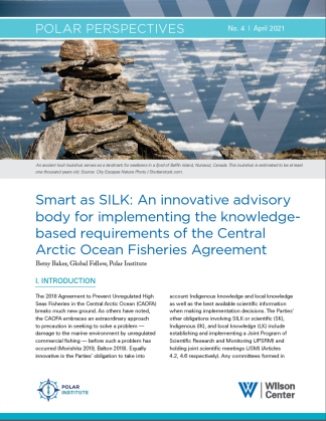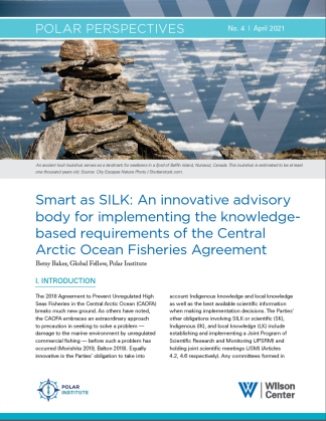 The Agreement to Prevent Unregulated High Seas Fisheries in the Central Arctic Ocean (2018) is one of the first international agreements obligating Parties to take into account Indigenous knowledge and local knowledge as well as the best available scientific information when making implementation decisions. However, the Agreement offers little guidance on what type of body will assist the Parties in carrying out their knowledge-based obligations. 
In the fourth edition of Polar Perspectives, Dr. Betsy Baker proposes a design and working title for such a body: the SILK Committee, where "SILK" is the acronym for scientific knowledge, Indigenous knowledge and local knowledge (distinguishing each as distinct knowledge sources). This paper highlights examples and best practices from the scientific committees of select Regional Fisheries Management Organizations, Regional Fisheries Management Arrangements, and other living marine resource advisory bodies in order to provide foundation for the SILK Committee's proposed mandates, representation, funding and independence.
About the Author
---
Polar Institute
Since its inception in 2017, the Polar Institute has become a premier forum for discussion and policy analysis of Arctic and Antarctic issues, and is known in Washington, DC and elsewhere as the Arctic Public Square. The Institute holistically studies the central policy issues facing these regions—with an emphasis on Arctic governance, climate change, economic development, scientific research, security, and Indigenous communities—and communicates trusted analysis to policymakers and other stakeholders. Read more