Preventing and Countering Violent Extremism in Eastern Africa in the COVID-19 Era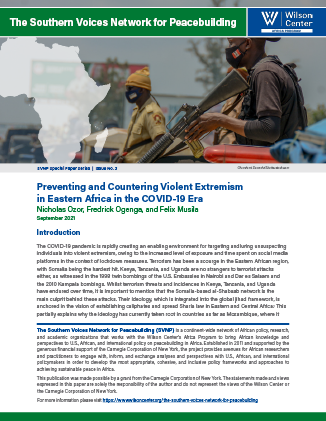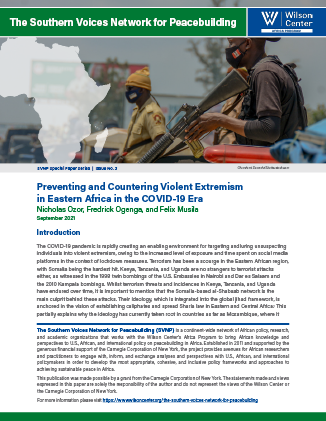 Over the past few decades, the world has experienced waves of violent extremism that have subsequently led to terrorism. This calls for coordinated efforts at research, policy and practice levels to curb the menace, which is now being exacerbated by the COVID-19 pandemic due to increased exposure and time spent on social media platforms during lockdowns. This paper examines the immediate and remote causes of violent extremism and the strategies for preventing and countering violent extremism (PCVE) in Eastern Africa, especially in the COVID-19 era. Both secondary and primary data were obtained from grey literature and high-level stakeholder dialogues. Results show that recruitments into extremism were widespread in both traditional and non-traditional hotspots. Both males and females were involved in radicalization and recruitment, with youth being the main target group. COVID-19 presented an opportunity and accelerated recruitment of new members. Corruption in security institutions led to border porosity that made it easier for extremism to traverse across countries and regions. The paper recommends that strong regional collaboration as well as investments in research, training, advocacy, information sharing, law enforcement, and psychosocial support are required for PCVE.   
---
The Southern Voices Network for Peacebuilding (SVNP) is a continent-wide network of African policy, research, and academic organizations that works with the Wilson Center's Africa Program to bring African knowledge and perspectives to U.S., African, and international policy on peacebuilding in Africa. Established in 2011 and supported by the generous financial support of the Carnegie Corporation of New York, the project provides avenues for African researchers and practitioners to engage with, inform, and exchange analyses and perspectives with U.S., African, and international policymakers in order to develop the most appropriate, cohesive, and inclusive policy frameworks and approaches to achieving sustainable peace in Africa. This publication was made possible by a grant from the Carnegie Corporation of New York. The statements made and views expressed in this paper are solely the responsibility of the author and do not represent the views of the Wilson Center or the Carnegie Corporation of New York.
This research paper was submitted for the 2021 SVNP Joint Research Award Competition. To mark the SVNP's 10th anniversary and as part of its mission to strengthen collaboration among members and share African knowledge about peacebuilding and state-building,  the SVNP established a competition for co-authored research papers analyzing key existing or emerging issues in peacebuilding in Africa, highlighting issues and lessons learned, and offering concrete actions that African and international policymakers can take to advance peacebuilding on the continent.  
---
Africa Program
The Africa Program works to address the most critical issues facing Africa and U.S.-Africa relations, build mutually beneficial U.S.-Africa relations, and enhance knowledge and understanding about Africa in the United States. The Program achieves its mission through in-depth research and analyses, public discussion, working groups, and briefings that bring together policymakers, practitioners, and subject matter experts to analyze and offer practical options for tackling key challenges in Africa and in U.S.-Africa relations.   Read more