Food Security as a Driver of Sustainable Peace: The Case of Kenya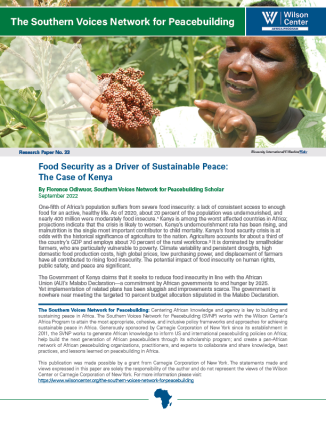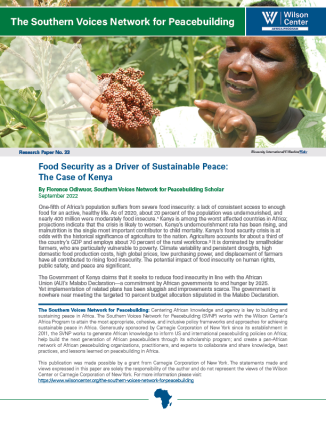 One-fifth of Africa's population suffers from severe food insecurity: a lack of consistent access to enough food for an active, healthy life. Kenya is among the worst affected countries in Africa; projections indicate that the crisis is likely to worsen. Kenya's undernourishment rate has been rising, and malnutrition is the single most important contributor to child mortality. Kenya's food security crisis is at odds with the historical significance of agriculture to the nation. The potential impact of food insecurity on human rights, public safety, and peace are significant. 
In this paired paper and policy brief, Southern Voices Network for Peacebuilding scholar Florence Odiwuor focuses on the root causes behind the current crisis in Kenya's food system and speculates on possible consequences for peacebuilding. She also provides policy recommendations for entities including the African Union, United Nations, the Government of Kenya, civil society, food system actors, and peacebuilding organizations in effort to implement initiatives to enhance food security and the stability of the country.
About the Author
Florence Odiwuor
Former Southern Voices Network for Peacebuilding Scholar;
Lecturer, School of Agriculture, Natural Resources and Environmental Studies, Rongo University, Kenya
Read More
---
Africa Program
The Africa Program works to address the most critical issues facing Africa and U.S.-Africa relations, build mutually beneficial U.S.-Africa relations, and enhance knowledge and understanding about Africa in the United States. The Program achieves its mission through in-depth research and analyses, public discussion, working groups, and briefings that bring together policymakers, practitioners, and subject matter experts to analyze and offer practical options for tackling key challenges in Africa and in U.S.-Africa relations.   Read more