Tackling the Challenges of Peacebuilding in the Eastern Nile Basin: A Regional Security Complex Approach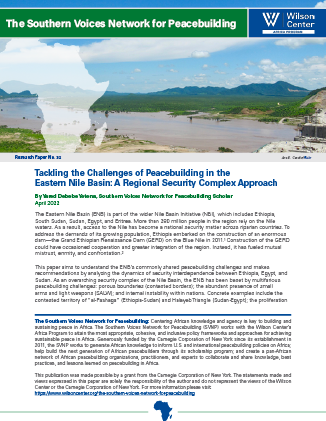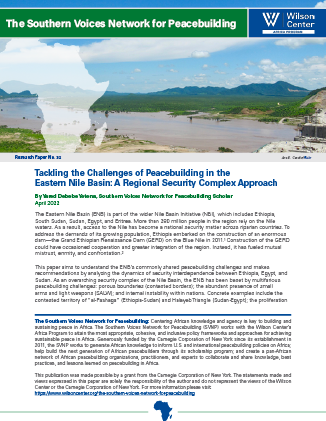 The Eastern Nile Basin (ENB) is part of the wider Nile Basin Initiative (NBI), which includes Ethiopia, South Sudan, Sudan, Egypt, and Eritrea. More than 280 million people in the region rely on the Nile waters. As a result, access to the Nile has become a national security matter across riparian countries. To address the demands of its growing population, Ethiopia embarked on the construction of an enormous dam—the Grand Ethiopian Renaissance Dam (GERD) on the Blue Nile in 2011. Construction of the GERD could have occasioned cooperation and greater integration of the region. Instead, it has fueled mutual mistrust, enmity, and confrontations.
In this paired paper and policy brief, Southern Voices Network for Peacebuilding scholar Yared Debebe Yetena examines the ENB's commonly shared peacebuilding challenges as a Regional Security Complex including border disputes and negotiations. He also provides policy recommendations by analyzing the dynamics of security interdependence between Ethiopia, Egypt, and Sudan.
About the Author
Yared Debebe Yetena
Former Southern Voices Network for Peacebuilding Scholar;
Ph.D. Candidate in Peace and Security Studies, Institute for Peace and Security Studies, Addis Ababa University, Ethiopia
Read More
---
Africa Program
The Africa Program works to address the most critical issues facing Africa and U.S.-Africa relations, build mutually beneficial U.S.-Africa relations, and enhance knowledge and understanding about Africa in the United States. The Program achieves its mission through in-depth research and analyses, including our Africa Up Close blog, public discussion, working groups, and briefings that bring together policymakers, practitioners, and subject matter experts to analyze and offer practical options for tackling key challenges in Africa and in U.S.-Africa relations.   Read more