Transnational Organized Crime and Peacebuilding in East Africa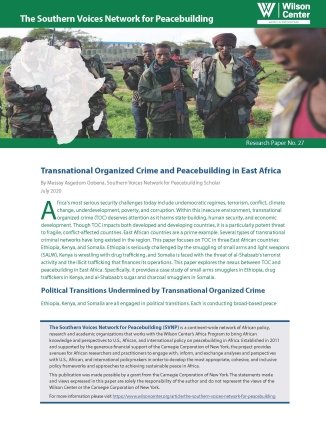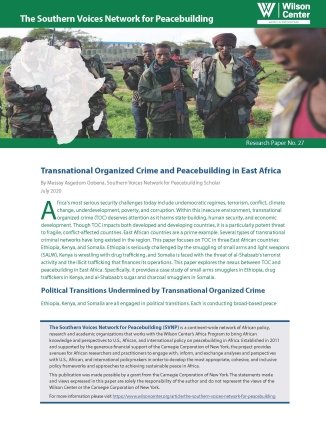 Transnational organized crime (TOC) is a pervasive global issue, including Africa. It is especially prevalent and damaging in conflict-affected and fragile states in East Africa. TOC in East Africa takes many forms, including organized violence, financial crimes, narcotics and human trafficking, piracy, and cybercrime. The issue of TOC is deeply connected to security and peacebuilding as it thrives in insecure environments with weak rule of law, corrupt state institutions, and limited cross-border law enforcement collaboration.
In this paired paper and policy brief, Southern Voices Network for Peacebuilding Scholar, Messay Asgedom Gobena, assesses the relationship between TOC, conflict, and peacebuilding in East Africa. He highlights the state of play and underlying issues fueling TOC in Ethiopia, Kenya, and Somalia. He also provides policy recommendations for how the governments of Ethiopia, Kenya, and Somalia, the African Union, and key stakeholders can tackle transnational organized crime and support peace and security efforts in East Africa.
The Southern Voices Network for Peacebuilding (SVNP) is a continent-wide network of African policy, research and academic organizations that works with the Wilson Center's Africa Program to bring African knowledge and perspectives to U.S., African, and international policy on peacebuilding in Africa. Established in 2011 and supported by the generous financial support of the Carnegie Corporation of New York, the project provides avenues for African researchers and practitioners to engage with, inform, and exchange analyses and perspectives with U.S., African, and international policymakers in order to develop the most appropriate, cohesive, and inclusive policy frameworks and approaches to achieving sustainable peace in Africa.
About the Author
Messay Asgedom Gobena
Former Southern Voices Network for Peacebuilding Scholar;
Ph.D. Candidate in Peace and Security Studies, Addis Ababa University Institute for Peace and Security Studies, Ethiopia
Read More
---
Africa Program
The Africa Program works to address the most critical issues facing Africa and U.S.-Africa relations, build mutually beneficial U.S.-Africa relations, and enhance knowledge and understanding about Africa in the United States. The Program achieves its mission through in-depth research and analyses, including our Africa Up Close blog, public discussion, working groups, and briefings that bring together policymakers, practitioners, and subject matter experts to analyze and offer practical options for tackling key challenges in Africa and in U.S.-Africa relations.   Read more